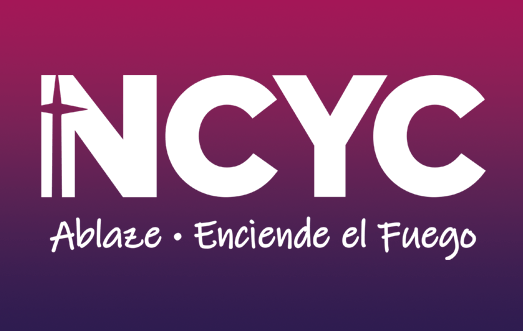 Fifty-nine teens representing 11 parishes throughout the Diocese of Nashville are preparing to be "set Ablaze for the Lord" as they plan to head to the 2021 National Catholic Youth Conference Nov. 18-21 in Indianapolis.
The National Catholic Youth Conference "gives the youth a great opportunity to grow in their personal relationship with Jesus Christ," said Shelby Conner, diocesan assistant director of faith formation for youth and young adult ministry. "It gives them a mountaintop experience that they might not otherwise be able to have, and it is also a great way for them to make new friends who are striving to live the same faith-filled life that they are."
"Ablaze" is the theme for the 2021 event and uses "the coming of the Spirit at Pentecost to illustrate Acts 2, and the Pentecost vigil to narrate our theme in each session," according to the National Federation for Catholic Youth Ministry website.
This year's event includes several general and breakout sessions covering topics ranging from Baptism to the descent of the Holy Spirit to "trusting in a God we cannot see" to Heaven and Hell. Keynote speakers include Chika Anyanwu, Catholic evangelist and author of "My Encounter: How I Met Jesus in Prayer;" Noelle Garcia, Catholic speaker and musician; Archbishop Gustavo Garcia-Siller of the Archdiocese of San Antonio, Texas; and more.
The 70 teens from the diocese and the accompanying 24 adults will join nearly 12,000 Catholics from around the country.
"To be surrounded by 12,000 Catholics showing their love for Jesus, I hope they see that they're not alone in striving to live out their faith in a world where it is oftentimes a hard thing to do," Conner said. "I hope it encourages them to come home and spread their faith to those at their parishes and within their youth groups."
That's what Seton Catholic Home Study School senior Maxwell Benefield, parishioner at Sacred Heart Church in Lawrenceburg, said he's most looking forward to about the conference.
"It's an amazing experience seeing (12,000) Catholic youth all there for the same reason; all sharing the same love for God and our faith. There's nothing quite like it," Benefield said. "I'm looking forward to further strengthening my faith along with the other youth from all over the country, and of course to see the many good friends I have in the Diocese of Nashville."
Pope John Paul II Preparatory School junior Aubree Franklin, a parishioner of St. Stephen Catholic Community in Old Hickory, said she thinks attending NCYC will make a "positive impact on my faith life."
"I am looking forward to … strengthening my faith in God in a community full of young lives where God is the main focus," Franklin said. "My Catholic faith is important to me because it is something I can always improve on. I am always working to become a better individual, and my faith is something I can always depend on."
Teens who would like to attend can still do so by registering at https://soundscatholic.com/ncyc.
"I ask that everyone pray that, throughout the conference, the teens and adults are set ablaze with the love of Jesus," Conner said. "We also ask for prayers of safety as we travel to and from the event."
The use of face coverings and other COVID-19 preventative measures will be enforced throughout the conference. For more information, visit https://nfcym.org/featured-events/ncyc/, and click on "COVID-19 guidelines."