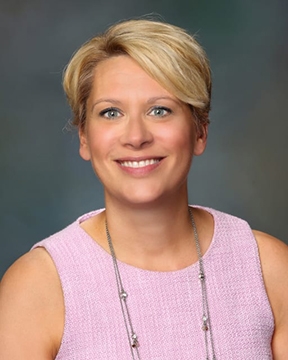 St. Bernard Academy has announced the selection of its next Head of School, Leigh Toomey, the middle school director at Frederica Academy in St. Simons Island, Georgia.
"During the search process, it quickly become clear that Leigh is the leader we need to build upon SBA's already strong foundation of excellence and guide us forward," said Brigid Carpenter, president of St. Bernard's Board of Trust. "With the enthusiastic recommendation of our search committee and overwhelmingly positive feedback from the parents, faculty, staff and students she met, the board unanimously chose Leigh to be our next Head of School.
"We are confident that her collaborative leadership skills, alongside her strong Catholic identity and personal commitment to nurturing students spiritually, personally and academically, will benefit our entire school community," Carpenter said.
"I am thrilled and humbled to be named St. Bernard Academy's next Head of School," said Toomey. "From the moment we stepped onto campus, my husband Michael and I felt the warmth of hospitality and the conviction of the school's mission-driven purpose. I am proud to join the SBA family and am confident that together with faculty, staff, students and families, we will continue to ensure SBA sets, meets and exceeds the high aspirations we hold for it."
Toomey will succeed Chuck Sabo, who will retire at the end of this academic year following 15 years leading SBA. Under Sabo's leadership, St. Bernard Academy reached record enrollment, expanded and upgraded facilities, and is on solid financial standing.
She first learned about St. Bernard from the Head of School of Frederica Academy, who led the re-accreditation evaluation for St. Bernard about 10 years ago, she said. After he heard Sabo was retiring, "he said, 'You have to apply for this job,'" Toomey said.
When she started inquiring about the position, "all the feedback was incredibly positive," Toomey said. Descriptions of the school's inclusivity and sense of community "came up over and over again," she said. "Who wouldn't want to be a part of that?"
While listening to conversations in the classroom during her visit to St. Bernard, she recognized that the lessons were experientially based, which is part of her own educational philosophy. "We all know students learn by doing," she said. "The teachers are definitely doing it right there."
Toomey, who will begin in her new position on July 1, 2022, brings to St. Bernard strong experience as an academic administrator coupled with a background in business management. She previously served as the Assistant Head of School at The Village School of North Bennington in Vermont, a pre-K through sixth grade independent school, where she was responsible for development, admissions and day-to-day operations.
In her current role, she led the middle school at Frederica Academy to its first growth in enrollment since 2003 and achieved 100 percent teacher and staff retention.
Toomey also co-created and implemented a social and emotional learning curriculum and advisory program in addition to chairing the school's re-accreditation by the Southern Association of Independent Schools.
She serves on the Frederica Academy Board of Trustees' strategic planning, admissions and finance committees and is an inaugural member of the school's Justice Equity Diversity and Inclusion group.
Toomey served as the interim Fine Arts Director for all grades at Frederica Academy and was recently awarded the Georgia Thespian Society Administrator of the Year award for 2021.
Prior to her career in education, she was in sales and marketing, owned for-profit businesses, and founded a not-for-profit that assists underprivileged children in her community. Toomey has also served on community boards throughout her career.
Toomey holds a Master of Advanced Studies in Educational Administration, a Master of Science in Teaching, a Master of Business Administration, a Bachelor of Public Communications, and is currently pursuing a doctorate in education from Johns Hopkins University with an emphasis on entrepreneurial leadership through a social justice lens.
She holds New York State teaching certifications in Elementary Education (Grades 1-6), Social Studies (Grades 7-12), Business and Marketing (Grades 7-12), Coordinator for Work-Based Learning Career Development (Grades 11-12), and continues to teach classes yearly.
"I always wanted to be a teacher," Toomey said. But in high school, the counselor convinced her to go into business, which she did. When she was ready to return to the workforce after raising her children, Toomey pursued her interest in education.
"What draws me to education every single day is the relationships I have with the people," Toomey said.
As an administrator, "I've learned over the years to be a really good listener and to pause on occasion and not just react," Toomey said. "And to be involved with the people in the community, someone who values relationships."
She co-created and implemented a social and emotional learning curriculum and advisory program for the Frederica Academy Middle School. The curriculum should go beyond simply academics to include character development, Toomey explained.
"We spend a lot of time (discussing) what involves good character," she said. "It's ingrained in everything we do. … That really is a part of our culture."
When Toomey starts her new position at St. Bernard, she plans to have conversations with many people to get a sense of the school and its culture, she said.
Toomey and her husband, Michael, have two children. Her daughter, Raegan, a semi-professional ice dancer that resides in New York, and her son, Sean, who is a sophomore at Brown University.
St. Bernard Academy is an independent, Catholic, co-educational elementary school serving children in junior kindergarten through eighth grade. It was founded in 1866 by the Sisters of Mercy. In 1988, a group of parents bought the school from the Sisters of Mercy and have continued to operate it since as an independent Catholic school in the tradition of the Sisters of Mercy.