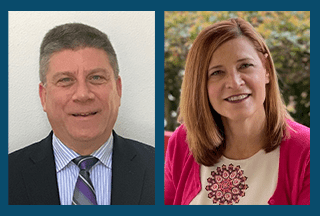 The Catholic Schools Office of the Diocese of Nashville has hired two new assistant superintendents in a move toward a new operational structure designed to further advance the educational excellence of Catholic schools in Middle Tennessee.
Dr. Rebecca Hammel, superintendent of schools for the diocese, has announced the hiring of Dr. Anthony Bonta, president and principal of Bishop Machebeuf High School in Denver, Colorado, as the new assistant superintendent of operational vitality, and Kim White, principal of St. Bonaventure School in Huntington Beach, California, as the new assistant superintendent of curriculum and instruction.
"We are thrilled to welcome Dr. Bonta and Mrs. White to the Diocese of Nashville," said Hammel. "With their varied experience and past successes, they will be key additions to our team as we work to build on the excellence of our Catholic schools, providing our students an education rooted in the search for goodness, beauty, and truth."
Bonta and White were hired after an exhaustive national search that produced a deep pool of excellent candidates, Hammel said.
"Filling both of these positions will bring the Schools Office into closer alignment with the framework for the betterment of Catholic schools developed by the National Catholic Educational Association," Hammel said. "The core pillars of that framework are mission and Catholic identity, governance and leadership, academic excellence, and operational vitality."
The current five-year strategic plan for the Catholic Schools Office calls for expanding the size and expertise of the staff to reflect the NCEA's framework, Hammel noted. "The addition of two such experienced and qualified candidates accelerates our efforts to implement the structure outlined in our strategic plan," she added.
The assistant superintendent of operational vitality is a new position, and the responsibilities of the assistant superintendent of curriculum and instruction position have been reformulated.
As assistant superintendent of operational vitality, Bonta's responsibilities will include working with Catholic schools in the diocese to develop and implement best practices and policies for fiscal management, enrollment management, institutional advancement, and local governance.
"I am excited to be joining the Diocese of Nashville, which has shown such remarkable vitality and growth," Bonta said. "We have a wonderful opportunity to bring Christ to the people of Middle Tennessee through our excellent Catholic schools. I am eager to help the schools become even stronger academically, financially, operationally, and in serving their mission to help our community know, love, and serve God and neighbor."
During his career, Bonta has worked as a theology instructor and administrator at Catholic colleges and universities in Indiana, Florida, Wisconsin, and California. He also served as principal and president of Andrean High School in the Diocese of Gary, Indiana, and as chief of staff for the Diocese of Gary, working directly with the bishop. He has served as the chief administrator and educational leader of Bishop Machebeuf High School since June 2020. He earned a bachelor's degree in philosophy from St. Meinrad College in Indiana, a master's degree in divinity from the University of Saint Mary of the Lake in Mundelein, Illinois, and a doctorate in historical theology from Marquette University in Milwaukee, Wisconsin. Bonta begins his work in the Diocese of Nashville May 2, 2022.
As assistant superintendent of curriculum and instruction, White's responsibilities will include leading a collaborative process to regularly review and revise the prekindergarten to grade 12 curriculum standards for Catholic schools in the diocese, coordinating diocesan-wide assessments and assisting schools in deciphering the results, setting goals for improvement, planning professional development opportunities for teachers and staff, and managing the diocesan accreditation process.
"Throughout my career as a Catholic school educator, I have found an incredible joy in sharing Christ's message of love with the children in my care," White said. "I look forward to experiencing that same joy in the Diocese of Nashville working with the accomplished teachers and administrators in the Catholic schools there, as together we work to provide an education that offers our students mental, social, physical, and spiritual nourishment. Our students must know that Christ is the reason for their school."
White taught first grade at St. Bonaventure School for five years before she was named vice principal. She served in that role for four years and has been principal since 2018. During her tenure at St. Bonaventure, enrollment increased from 470 students to nearly 600, a 28 percent jump. Before becoming a teacher, White was director of operations for an equipment supply company.
She earned a bachelor's degree in business administration from National University in San Diego, California, a master's degree in education from Concordia College and the University of Delaware, and teaching and administrative credentials from the University of California, Irvine, the University of California, Riverside, and the University of La Verne in Southern California. White is currently working toward a doctorate in education from the University of Southern California. White will finish the school year at St. Bonaventure and join the Catholic Schools Office staff on July 1, 2022.
The Diocese of Nashville has 16 diocesan and parochial schools serving more than 5,000 students in prekindergarten through grade 12. Additionally, the diocese is home to three independent Catholic schools.