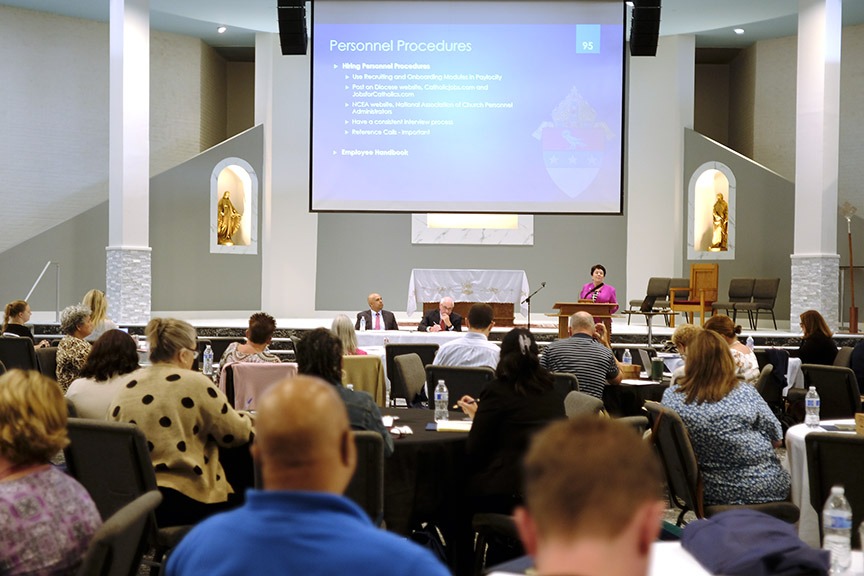 "Work is a good thing for man – a good thing for his humanity – because through work man not only transforms nature, adapting it to his needs, but he also achieves fulfillment as a human being and indeed, in a sense, becomes 'more a human being.'" – St. John Paul II
Dozens of pastors, as well as church and school leaders across the Diocese of Nashville gathered for a Hiring for Mission Human Resources Conference on Wednesday, Oct. 4, at the Catholic Pastoral Center in Nashville.
The all-day conference began with Mass celebrated by Most Reverend J. Mark Spalding, Bishop of Nashville. Then, following remarks from Bishop Spalding and Julie Perrey, vice chancellor and chief mission integration officer for the diocese, attendees learned about the consistencies and changes to come with 2024 benefits from Laurie Cooper, HUB International employee benefits consultant, and Kathy Wright, assistant director of human resources for the diocese; the Empower 403(b) Plan from Jamye Hemken, senior relationship manager at Empower; "Recruitment and Retention" from Kevi Mikus, area vice president of Arthur J. Gallagher and Co.; "Human Resources and Legal Updates and Review" from Gino Marchetti and Antonio J. Aguilar of Taylor Pigue, Marchetti, and Blair, PLLC; as well as Perrey.