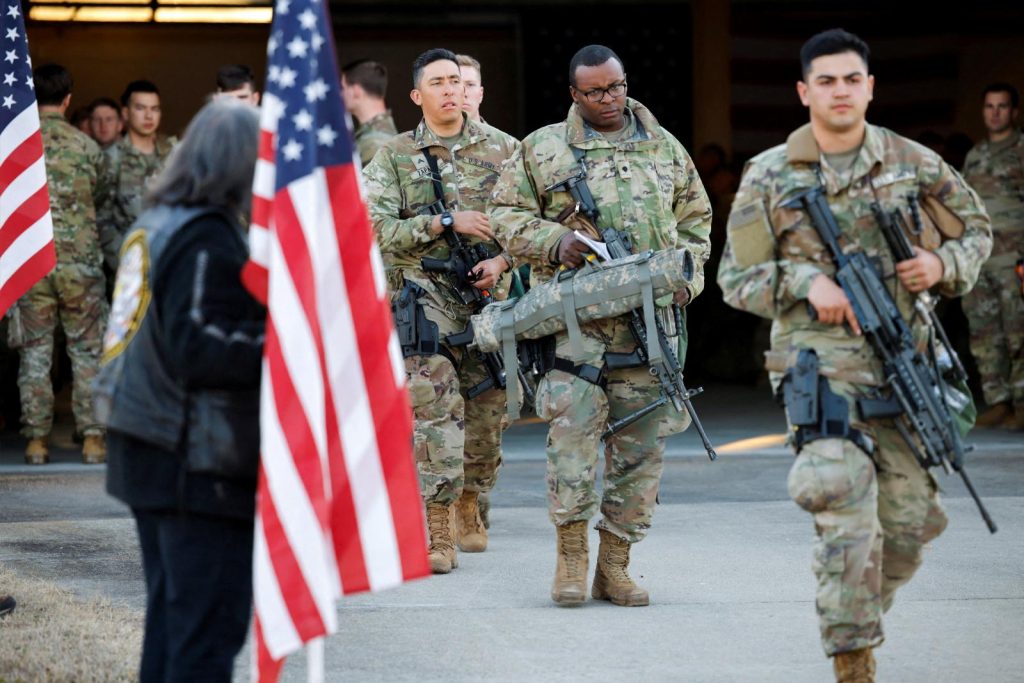 For months, the world has kept a wary eye on the buildup of Russian troops on the border of Ukraine, fearing an invasion that would have serious repercussions far beyond Eastern Europe was imminent. As the Tennessee Register goes to press, the situation is very much in doubt.
The concern is more than academic for the soldiers stationed at Fort Campbell, just outside Clarksville, and their families, many of whom are Catholic and who worship at churches in the Diocese of Nashville. Hundreds of soldiers with the 101st Airborne Division (Air Assault) at Fort Campbell are reportedly preparing to deploy to Europe as part of NATO's counter to the more than 150,000 troops Russia has amassed on the Ukrainian border.
Those soldiers and their families are our friends and neighbors. We keep them in our prayers that this danger will pass and they will be able to return home safely.
The best path to peace is for the leaders of the United States, Russia and the members of the NATO alliance to continue to pursue dialogue and diplomacy. An invasion does not have to be inevitable.
Russian President Vladimir Putin points to the military forces of the NATO countries deployed near his border and sees a threat to his country. That is his justification for the Russian buildup of forces encircling Ukraine. Putin also has demanded NATO reduce its military forces in Eastern and Central Europe, which the United States and its allies have refused to do.
Putin and Russia have shown little regard for Ukraine's borders or sovereignty in the past. In 2014, Russia seized Crimea from Ukraine and since then has backed separatists in the Donbas region fighting the Ukraine Army. The war that has dragged on for eight years already has claimed the lives of more than 14,000 people.
Catholic leaders, including Pope Francis and bishops in the United States and Europe, fearing for the people who would be trapped by any escalation of the conflict in Ukraine, have called on both sides to continue to pursue dialogue and a diplomatic solution.
"With the alarming situation in Ukraine, we appeal to all leaders to respect the territorial integrity and political independence of Ukraine and to engage in constructive dialogue to peacefully resolve this conflict that impacts the lives and livelihoods of 43 million Ukrainians," Bishop David J. Malloy of Rockford, chairman of the U.S. Conference of Catholic Bishops' Committee on International Justice and Peace, said in a recent statement.
Pope Francis made a similar plea in remarks after the Angelus on Jan. 23. "I make a heartfelt appeal to all people of good will, that they may raise prayers to God Almighty, that every political action and initiative may serve human brotherhood, rather than partisan interests." The pope called for Jan. 26 to be a day of prayer for peace.
Throughout his papacy, Pope Francis has called for dialogue between nations – and individuals for that matter – to provide a path to peace. In 2016, the pope said, "If there is one word that we should never tire of repeating, it is this: dialogue. We are called to promote a culture of dialogue by every possible means and thus to rebuild the fabric of society."
In his statement, Bishop Malloy echoed the pope. "Let us join with the Holy Father who, in his 2022 address to the diplomatic corps, said, 'Reciprocal trust and readiness to engage in calm discussion should inspire all parties at stake, so that acceptable and lasting solutions can be found in Ukraine.'"
Bishop Malloy also said in his statement: "In this time of fear and uncertainty, we stand in solidarity with the Church in Ukraine and offer our support. We call on all the faithful and people of good will to pray for the people of Ukraine … that they may know the blessings of peace."
We join our prayers to those of the pope and U.S. Conference of Catholic Bishops that all nations will continue to pursue peace through dialogue and spare the people of Ukraine any more pain and violence.