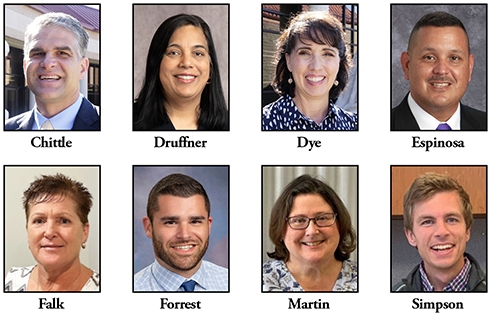 As the 2023-24 school year begins, the Diocese of Nashville's Catholic Schools Office is welcoming eight new school leaders throughout the 16 diocesan schools.
• Dr. Erick Chittle, president of Pope John Paul II Preparatory School in Hendersonville
Dr. Chittle has been in education since 1997. Over the years, he has served as principal of St. Francis High School in Traverse City, Michigan, and interim superintendent of Catholic schools for the Diocese of Gaylord in Michigan.
Dr. Chittle has also been an English teacher with the Franciscans in inner-city Chicago and rural Louisiana. Prior to coming to Michigan and after working with the Franciscans, he took a two-year hiatus from education to take part in the Volunteer Missionary Movement in Guatemala.
Dr. Chittle earned his doctorate in contemplative leadership from the Catholic University of America in Washington, D.C., in 2017, after successfully defending his doctoral dissertation, "Contemplative Leadership in Catholic Schools: Employed by Principals, Experienced by Teachers, and Its Impact on Teachers' Care for the Spiritual Lives of Students."
• Shana Druffner, inaugural principal of St. Michael Academy in Nolensville
Druffner began her educational career in 2006, tapping into her bachelor's degree in music performance from Rutgers University in New Brunswick, New Jersey, to teach music at All Saints Catholic School in Dallas. In 2018, armed with her master's in educational leadership from Creighton University in Omaha, Nebraska, she took over as principal of All Saints School, maintaining the position through last school year.
During her tenure as principal, Druffner helped All Saints School grow from 265 students to 325, constructed a new innovation lab, started a Mandarin language program, enhanced award-winning fine arts program, and added an honors program for students in fourth through eighth grades.
She is currently a doctoral candidate in educational leadership and administration at Saint Louis University.
• Jennifer Dye, interim principal of Pope Prep
Dye has been a member of the Pope Prep community since its inception in 2002 and is one of the founding members of the faculty that helped open the school.
For her first 15 years at Pope Prep, Dye served as chairperson and teacher in the Science Department. She was director of the Innovation and Entrepreneurship Program for the next seven years. In 2021, she was named the dean of faculty and instruction.
In 2022, she was honored with the Christ the Teacher Award at the annual Advancement in Catholic Education (ACE) Gala, for her efforts to bring the Haiti 180 Mission Program to Pope Prep, sew and distribute hundreds of masks to frontline workers at the start of the COVID-19 pandemic, and her general efforts to show genuine compassion towards students.
Dye holds a bachelor's degree in biology from Middle Tennessee State University in Murfreesboro, and a master's degree from Vanderbilt University in Nashville.
Prior to coming to Pope Prep, Dye began her teaching career at Meigs Academic Magnet School in Nashville, and later as a biology teacher at Gallatin High School in Gallatin. Dye remains an active member of the science community, serving as president of the Tennessee Science Teachers Association.
• Frank Espinosa Jr., principal of Father Ryan High School
Espinosa comes to Nashville from Baltimore where he has most recently served as principal of Mount St. Joseph High School since July 2020.
His 30 years' experience also includes time as principal and senior vice president of St. Xavier High School in Louisville, Kentucky, during which time he also taught world history, U.S. history, geography, and freshman remedial English to students.
Throughout his tenures as principal, Espinosa also led initiatives to revitalize purposeful and rigorous curriculum, develop faith and spiritual opportunities for the community, restructure daily operations to improve faculty collaboration, and evaluated school culture to create a more diverse and inclusive climate.
Espinosa holds a bachelor's degree in history from the University of Louisville and a master's in secondary education and administration, as well as a certification in school leadership-principalship from Spalding University in Louisville.
He is a member of the board of directors of Xaverian High School in Brooklyn, and chair of its Educational Programs Committee.
• Kathleen Falk, principal of Immaculate Conception School in Clarksville
Falk holds a Bachelor of Arts degree from St. Francis University in Loretto, Pennsylvania, and a master's in educational leadership from the University of North Florida in Jacksonville, Florida.
She has 16 years of experience as a classroom teacher, 16 years of experience in school leadership and administration, as well as two years serving as associate superintendent for the Diocese of St. Augustine in Florida.
• Brady Forrest, principal of St. John Vianney School in Gallatin
Forrest first came to Nashville six years ago from Massachusetts where he received his bachelor's degree in liberal arts psychology from Elms College in Chicopee. He is currently pursuing additional graduate classes.
Moving to Nashville to seek "a better faith and family environment for my growing family," Forrest started at St. John Vianney as a third- and fourth-grade teacher, as well as the athletic director. He has also served as the physical education teacher before serving as director of admissions and advancement for two years.
Forrest also spent two years as the director of religious education at St. John Vianney Church in Gallatin.
• Mary Martin, principal of Holy Rosary Academy in Donelson
Martin has spent most of her educational career in Ohio, where she most recently served as a middle school science teacher for St. Andrew-St. Elizabeth Ann Seton Catholic School in Milford, Ohio.
Martin is the former principal of St. Michael School in Ripley, Ohio, and Holy Angels School in Sidney, Ohio. During her tenure at St. Michael, Martin led a significant increase in student participation in school intervention programs and the establishment of professional learning communities to better support teachers.
Martin has also taught science, social studies, math, and religion at several schools, including St. Patrick School in Troy, Ohio, and Holy Family School and St. Mary School in Cincinnati.
During her time at the latter, she co-developed a kindergarten through fifth-grade Spanish language program and mentored children in the creation and broadcast of a student-produced foreign language podcast.
Martin holds a bachelor's degree in elementary education with a science-middle school endorsement from Purdue University Calumet in Hammond, Indiana, and a master's degree in education administration from Xavier University in Cincinnati. She also is a fellow of the University of Notre Dame's ACE Principal Academy.
• Dr. Anthony Simpson, principal of St. Matthew School in Franklin
Dr. Simpson is a Nashville native, and a graduate of both St. Henry School, class of 2006, and Father Ryan High School, class of 2010.
Most recently, he served as vice principal of students for Overbrook Catholic School in Nashville. Along with his duties both in the classroom and the administration, Dr. Simpson also founded the track and field program at Overbrook Catholic and served as the cross country and track and field coach for Overbrook and St. Cecilia Academy.
Dr. Simpson has a bachelor's degree in history and secondary education from Bryan College in Dayton, Tennessee; a master's in education with a focus on social science from the University of Tennessee in Knoxville; and a doctorate in education in learning organizations and strategic change from Lipscomb University in Nashville.
All eight school leaders officially began their roles on Saturday, July 1.