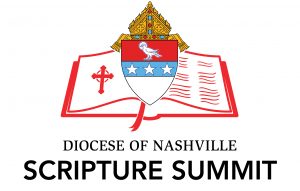 At the Diocese of Nashville's upcoming catered dinner on Friday, Oct. 1, the night's special will be the Word of God.
The Office of Faith Formation will be hosting the 2021 Scripture Summit Oct. 1-2 at the Catholic Pastoral Center. The summit will kick off with a dinner on Friday night with keynote speaker Jeff Cavins.
Cavins is recognized both nationally and internationally as an exciting public speaker and Bible teacher. He communicates the Catholic faith at a level that everyone can understand, taking theological truths and expressing them in a practical way.
His many accomplishments include creating the Adventure Bible Study Series, hosting EWTN's weekly program "Life on the Rock", and authoring several books.
This will be the first year that the event will include a dinner. Dr. Brad Peper, director of the Office of Faith Formation, acknowledged that this was an intentional departure from previous years.
"We added it in order to create a more relaxed setting," Peper said. "Our keynote speaker for this year's dinner, Jeff Cavins, is an internationally recognized author and speaker. He is especially skilled in communicating deep theological truths in a practical and approachable way, which helps people rekindle their fervor toward the Word of God."
This year's Scripture Summit will be taking the place of the usual catechetical conference that takes place every year.
Peper emphasized the ways that the adjustments this year are aiming to expand the reach of the event.
"The idea for the Summit is that we want to re-root the faithful in the bedrock of Scripture," he said. "We wanted to provide more formation opportunities for both catechists and laity. Looking at the speakers for the weekend, you'll see that they range from academic to more spiritual."
Following the Friday dinner with Cavins, there will be four speakers on Saturday. The morning speakers will be Sonja Corbitt, a bestselling author and Telly award winning broadcaster, and Dr. Michael Dauphinais, the Father Matthew Lamb Professor of Catholic Theology at Ave Maria University, Ave Maria, Florida.
Following a lunch break there will be presentations by Joan Watson, a Catholic speaker, writer, and podcaster, and Dr. James Protho, Assistant Professor of Scripture and Theology at the Augustine Institute. The Summit will then conclude with a vigil mass with Bishop J. Mark Spalding.
This year's summit is part of a two-year plan to celebrate and study both Scripture and the Eucharist, Peper said.
"The USCCB (United States Conference of Catholic Bishops) is planning a Eucharistic Revival, and so next year we will host a Eucharist Summit," he said. "The two conferences will then stand as word and sacrament, the foundations of our faith."
Anyone interested in attending either or both days of the Scripture Summit, can register by visiting the "Upcoming Events" section of the diocese's website: www.dioceseofnashville.com. Seating for the Friday dinner will be limited to 200.