J. Samuel Hammond, a fixture on the campus of Duke University for more than 50 years and the father of Father John Hammond, Vicar General and Judicial Vicar of the Diocese of Nashville and pastor of St. Patrick Church in Nashville, died on Thursday, Feb. 25, 2021, at his home in Durham, North Carolina. He was 73 years old.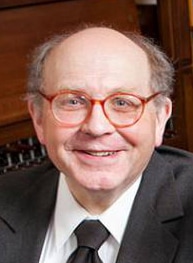 Mr. Hammond learned to play the 50-bell carillon in the Duke Chapel as a student at the university and began to play the instrument regularly at 5 p.m. to signal the close of the workday with a 15-minute concert. The performances continued for more than 50 years until he retired in 2018.
He would start the performances with five strikes of the largest bell to mark 5 p.m. and then typically would play hymns. But he often would select music to fit the day, such as "La Marseillaise" on Bastille Day, "God Save the Queen" for the Diamond Jubilee of Queen Elizabeth II, and the Duke fight song for each basketball game against the Blue Devils' archrival, the University of North Carolina.
Mr. Hammond also played for Duke Chapel's Sunday morning worship services and university ceremonies.
"It is fitting that Sam made music in the tower (of Duke University Chapel) because he was a towering human being, full of grace, charm, humility, dignity, wisdom and faith," the Rev. Dr. Luke A. Powery, dean of Duke University Chapel, said in a statement released by the university. "When he retired, the Board of Trustees dedicated the 50-bell carillon in honor of Sam. This means that every tone and note that rings out from the carillon in the future is a part of the melody of his incredible legacy at Duke. Sam will be missed but his musical resonant life will reverberate in our hearts and lives for many years to come."
Mr. Hammond was born on Aug. 22, 1947, in Americus, Georgia, the son of Archie Virgo Hammond and Lorice Phillips Hammond. After graduating from Duke in 1968 with a degree in history, Mr. Hammond went to work at the university as a music librarian and the chapel carillonneur. He was named the university carillonneur in 1986, only the second person to hold that title. At his retirement, he was named university carillonneur emeritus, and the carillon was named in his honor.
He also earned a master's degree in library science from the University of North Carolina and a master's degree in theological studies from Duke. Mr. Hammond retired from the university library system as the Curator of Rare Books, Manuscripts and Special Collections.
Mr. Hammond served as organist at Methodist, Episcopal and Catholic churches, substitute organist at Duke Chapel, and accompanist for the Duke University String School youth orchestras, the Triangle Jewish Chorale, the Durham Savoyards, the Longleaf Opera Company, and other groups. He especially enjoyed playing piano with young solo performers in voice, violin or cello.
He was remembered by his family as "a good and faithful husband, a loving father and grandfather, and a dear friend to many."
A memorial service will be held at a later date.
Survivors include his wife of 42 years, Marie Elisabeth Katz Hammond; his sons, Christopher N.B. Hammond (Kelli) and Father Hammond; four grandchildren, Thomas, Paul, Martha and Betsy; his brother-in-law Bill Katz; sister- and brother-in-law Kathy and Charles Register; and many nieces, nephews, and cousins.
Memorial contributions can be made to Urban Ministries of Durham, Triangle Land Conservancy, or a charity of your choice.
The Hall-Wynne Funeral Service in Durham was in charge of arrangements.
Photo by Duke Today staff.