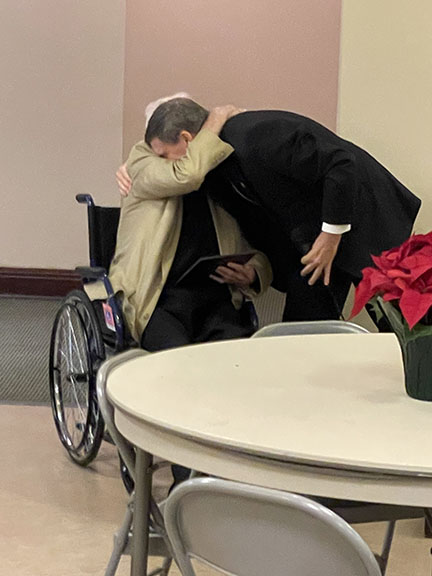 Father Joe Pat Breen has lived his life supported by his large extended family. It was through his family's example and faithfulness that his vocation to the priesthood was nurtured.
"I'm so grateful to my family, who are so wonderful, and also to the number of friends who have made me who I am," said Father Breen. "God bless 'em."
Father Breen will celebrate the 60th anniversary of his ordination to the priesthood on Monday, Dec. 20. Father Breen and Father Joe McMahon, pastor of Holy Family Church in Brentwood, will celebrate a Mass to mark the anniversary at 6 p.m. at Holy Family Church.
Father Breen was born in Nashville on March 28, 1935, the eighth of Anna Marie and Paul Breen's nine children. He grew up in Christ the King Church and graduated from the parish school and Father Ryan High School in 1954 before leaving for the seminary at St. Ambrose College in Davenport, Iowa.
He completed his seminary studies at the North American College in Rome and was ordained on Dec. 20, 1961, at St. Peter's Basilica at the Vatican.
Growing up in his family, "we were lucky," Father Breen said of he and his siblings. His parents set the example, he said. It was always with kind encouragement that his parents invited their children to be faithful Catholics, Father Breen said.
But it wasn't just his parents. His mother's brother, Father Thomas Nenon, was a priest of the Diocese of Nashville, serving as pastor of Sacred Heart Church in Lawrenceburg as well as at several parishes in Memphis, which was then part of the diocese.
Two of his cousins, Sister Maris Stella Mogan and Sister Mary Thomasetta Mogan, were both Sisters of Mercy. Father Breen still fondly recalls their mother, his Aunt Dolly Mogan, coming to the Breen home to play music with her sister, Mrs. Breen. "She would play the violin and mother would play the piano," Father Breen said. "It was so beautiful."
And his younger brother, Father Philip Breen, who died in 2016, was the long-time pastor at St. Ann Church in Nashville. "I really miss my brother Philip," Father Breen said. "He was a great priest and a wonderful brother."
Others of his siblings followed their parents' example and were active in their parishes and in ministries in the diocese throughout their life.
His own experience showed Father Breen the importance of growing up in a loving family. "When kids come out of love-filled families from the beginning," Father Breen said, they have the foundation to build fulfilling lives.
'The greatest opportunity'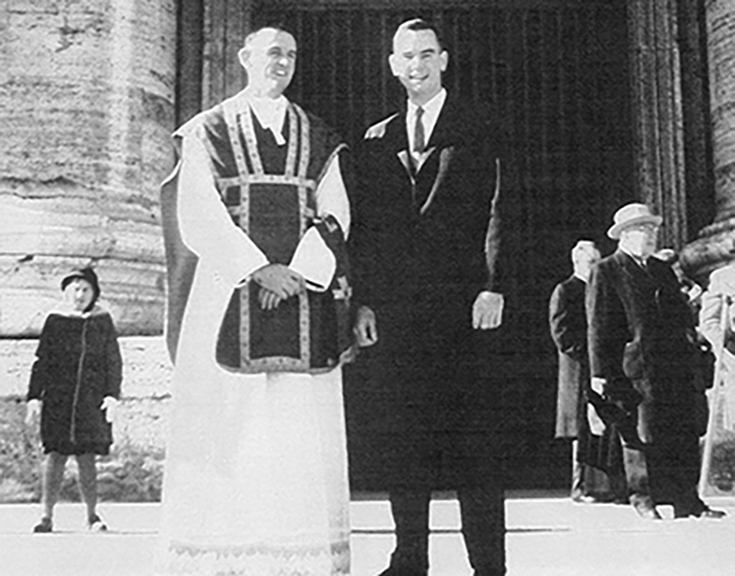 After graduating from Father Ryan, Father Breen left Nashville to begin his seminary studies at St. Ambrose and later in Rome.
"Rome was the greatest opportunity of my life," Father Breen said. "When I left for Rome, I thought, 'I haven't been anywhere and now I'm going to Rome.'"
While a seminarian in Rome, Father Breen befriended a priest who served as secretary to St. John XXIII. The pope who convened the Second Vatican Council was "the best" example of the priesthood for the young seminarian, Father Breen said. "I was so impressed with John XXIII. He spoke to us. He was a great one. He was quite similar to Pope Francis."
After his ordination, Father Breen joined other new priests in meeting with St. John XXIII. "We went one at a time," Father Breen said. "He gave us a rosary, and we wished him well."
Before his ordination, Father Breen received a gift from his aunts, a chalice with a cross at its base made with the diamonds from their wedding rings.
St. John XXIII used the chalice to celebrate Mass, and Father Breen donated it to Father Ryan High School, where it is on display.
After his ordination, Father Breen served in Memphis as Associate Pastor at Holy Rosary Church and as a teacher at Memphis. He then served at St. Peter and Paul Church in Chattanooga while also serving as assistant principal and teacher at Notre Dame High School.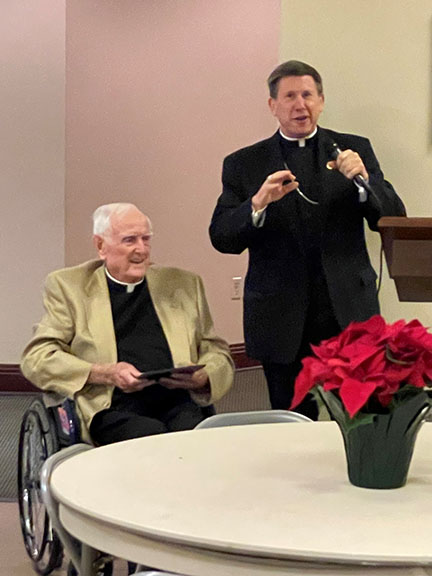 In 1969, he became pastor of St. Therese of Lisieux Church in Cleveland and was responsible for the missions in Copperhill and Athens.
From 1974-84, he was pastor at St. Rose of Lima Church in Murfreesboro. That assignment was followed by 30 years as the pastor of St. Edward Church in Nashville until his retirement in 2014.
While pastor at St. Edward, Father Breen was instrumental in the founding of Our Lady of Guadalupe Church on Nolensville Road in Nashville, the diocese's first parish for Spanish-speaking Catholics.
St. Edward had a large and thriving Hispanic ministry when representatives of Radnor Baptist Church approached Father Breen to ask if the church was interested in buying their facility.
"I'd never done that in my life," Father Breen recalled.
But he led an effort to raise the money to buy the property and renovate it for use as a Catholic church with help from the diocese, the Hispanic ministry at St. Edward, and many of his friends.
"That's the greatest thing I've done," Father Breen said.
The day the new congregation moved into its new church, "I said, 'This is your church. You do not owe one penny. It's all yours,'" which was met with shouts of joy, Father Breen said.
Supporting Catholic schools
Throughout his priesthood, Father Breen has been an ardent supporter of Catholic education.
Catholic schools provide the added dimension of teaching students what it means to be a Christian and how to live their lives, Father Breen said. "That's the one difference that makes a difference."
The spiritual component of Catholic schools has an impact that lasts a lifetime, Father Breen said. "I don't have any doubt at all. I see it in people … the spirit still lives within them."
While he was pastor at St. Edward, he always encouraged the students to "do what's right and do your best." It became a motto for the school.
"It's simple. If you carry that out throughout your life, you'll never have any regrets," Father Breen said.
Even in his retirement, Father Breen continues to support Catholic schools. St. Edward has established the Father Breen Scholarship Program, and he was the first donor to the program and continues to be a donor.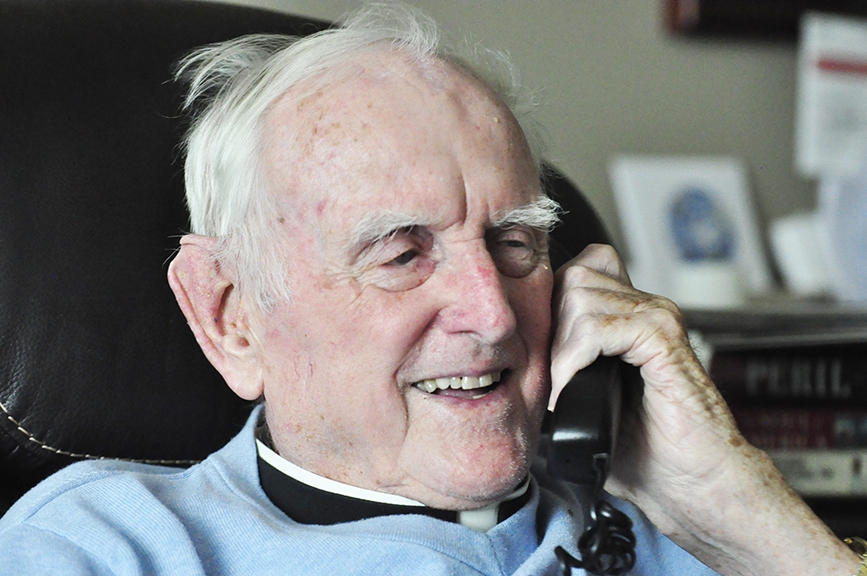 Father Breen is trying to help the diocese's new school, St. Michael Academy, which will be built on property in Nolensville that will also be the site of the new parish, Mother Teresa Church.
"I encourage anyone, especially those who had a good Catholic education, to support St. Michael Academy with your financial donation … which I'm going to do," Father Breen said.
Father Breen acknowledged the difficulty in raising money to build a new church and school. "It's a real challenge … to raise millions of dollars. If you are looking for a Christmas gift, make a donation to Mother Teresa Church and St Michael Academy. I would be most grateful and appreciative."
In retirement, Father Breen lives at Mary, Queen of Angels Assisted Living Facility. He looks back on his priesthood and his life fondly. "I've had a real good life," he said, "very fortunate, no regrets."