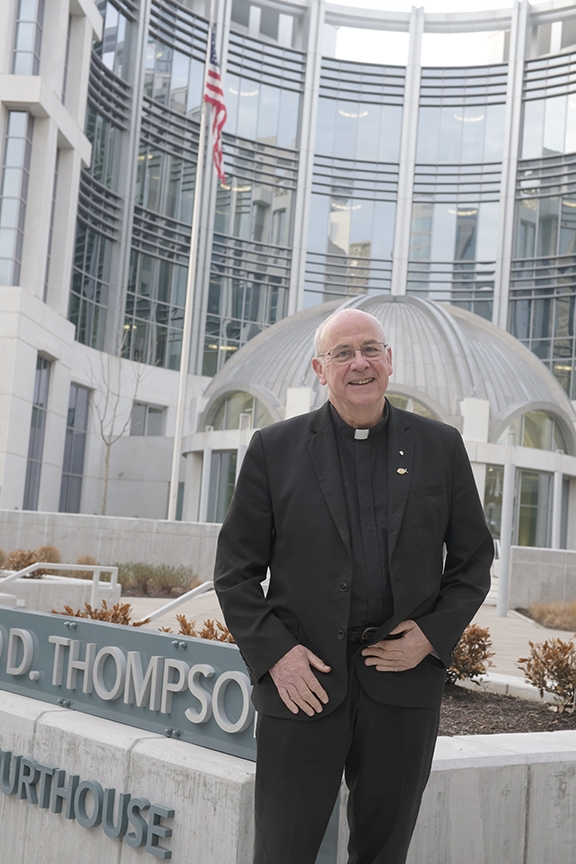 After 30 years in the United States, Father John O'Neill is officially an American citizen after taking his Oath of Allegiance during his Naturalization Ceremony on Wednesday, Jan. 18, at the Fred D. Thompson Federal Building and Courthouse in downtown Nashville.
"It's a homecoming," Father O'Neill said. "Not unlike the day of my ordination, I'm in a complete daze this morning. It's super overwhelming, but maybe that's a good thing because it's so serious and so important."
Father O'Neill, who serves as pastor of Holy Trinity Church in Hohenwald, Christ the Redeemer Church in Centerville, and St. Cecilia Church in Waynesboro, is a native of Dublin, Ireland, who came to the United States in 1993.
Before immigrating, he was working as a vascular surgery resident in Ireland, England, and even Pakistan, but all the while pondering the idea of becoming a priest. Both the attending surgeon he was working under at the time, and the sister in charge of the emergency room gave him the same advice when he made his thoughts known.
"The surgeon said to me that being a Catholic priest was far more important than anything I could do with them," Father O'Neill recalled. "The sister said, 'There are plenty of surgical residents, but not enough priests.'"
Once he finally made his choice, through the sister's connections with the bishop of the Diocese of Knoxville at the time, Father O'Neill began his seminarian studies. Initially coming to the United States on a work visa, he studied at Conception Abbey in Northwest Missouri for two years and another four years in St. Louis, before being ordained as a priest for the Diocese of Knoxville on July 3, 1999.
He served as an associate pastor for several parishes throughout the diocese for the next five years, particularly Holy Ghost Church, where he founded its Legion of Mary Chapter.
He switched his service to the Diocese of Nashville in 2005 when he became chaplain for Overbrook School and St. Cecilia Academy, both owned and operated by the Dominican Sisters of St. Cecilia Congregation. Additionally, he served as a pastoral care chaplain for Ascension Saint Thomas Midtown and Saint Thomas West Hospitals for several years.
But he still was quite content remaining in America on his work visas and green cards. Things only began to change when he was assigned as pastor of Holy Trinity, Christ the Redeemer, and St. Cecilia on Aug. 1, 2018, his first pastoral assignment.
It was around that time that his mother passed away, and he began to deeply ponder what she once said to him while he was taking care of her in Ireland.
"I had permission from the seminary and from several bishops to return to Ireland to look after my mother," Father O'Neill said. "She would have none of it. She said, 'You must stay in America. Don't look after me. The Americans have been too good to you.'"
But he still didn't make the choice to become a citizen right away.
"I used to pray, 'Lord, give me some sign of where I'm supposed to be,'" he said. "I began to think of St. Paul who even in his martyrdom towards Rome claimed very clearly that he was a citizen of Rome, and that's been a great alchemy about dual citizenship.
"St. Paul was a citizen of the kingdom of God, and he was also a citizen of the great power at the time," Father O'Neill said. "That has given me great consolation and peace to finally make up my mind, to act totally freely in obedience."
And planting his roots with his three congregations the past five years seemed to be his final push, he said.
"Five years in the four southwest counties and three parishes of the diocese have been amazing. It's not the easiest appointment in the diocese … but it's good to have a struggle," Father O'Neill said. "It's good to have a place where you have to row uphill all the time, to go out there and cherish every single parishioner with great love and tenderness no matter how things are going.
"You put your flag down today, the flag of the cross is what you're placing down where you want to be, where you believe you should live and die," he said. Being pastor of those three parishes, "made me finally make up my mind. Sometimes, when things are more difficult, God purifies you and helps you finally decide what you really want.
"I want to apologize for taking 30 years to make up my mind," he said, "but it's wonderful to be an American, and God bless our country."
Father O'Neill's naturalization ceremony was the first held in-person in Nashville since COVID, and the first ever for the new courthouse. Because of that, applicants were unable to have their friends and family present for the official ceremony. But that didn't stop Father O'Neill's friends from putting together a celebratory lunch afterward.
The lunch was hosted by Matt and Shawn Curley, who met Father O'Neill at Overbrook where their children attended, at their home in Nashville. Before lunch, Father O'Neill celebrated Mass for attendees, who included some of his fellow priests; Sister Marie Blanchette, principal of Overbrook; some of his parishioners, and more.
"Father O'Neill does so much for our church and the smaller churches down there that we feel like it's good to celebrate him," said Melinda Cothran, a parishioner of St. Cecilia. "He's a very special person."
"I'm retired military, and I just think that it's nice that he wants to be a part of this country in addition to Ireland for dual citizenship," added her husband, Jack Cothran. "It's wonderful that he thinks that much of America."
Francis Horn, a former history teacher at St. Cecilia Academy, who currently works as a part-time assistant of the athletic department, said he had many reasons for wanting to be there to celebrate with Father O'Neill.
"One, is that he was there every day in school and set that example for all of us," Horn explained. "Secondly, four years ago, I had some surgery, and he came and prayed with me.
"Thirdly, the thing I think I'll remember him most for is once several years ago he had to go to the airport, so I drove him. But, before we left, we had Mass, just the two of us, in St. Cecilia Chapel," he said. "It was so quiet with no distractions, and during that whole celebration, I felt like I was transported back to the very first Mass Jesus had. There's no other way to describe it."
"Father O'Neill is quite a man," he concluded.
Matt Curley said he was happy that he and his wife could put together the event for Father O'Neill.
"Father O'Neill is someone who has a great understanding of the principles of liberty and freedom on which the United States was founded, and also a great understanding of the responsibilities of being an American citizen," he said. "It's a great day for Father O'Neill, and it's an even better day for the United States to have gained him as a citizen."