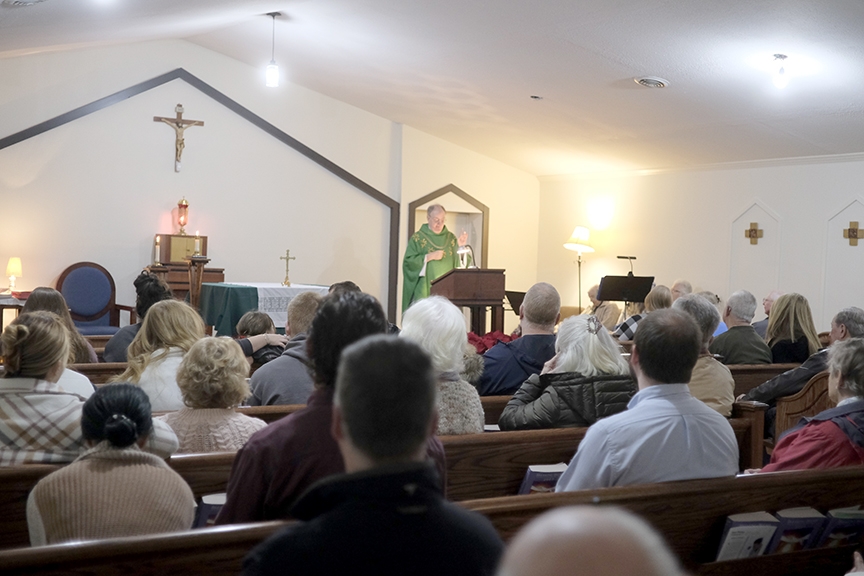 On Christmas Eve, the community of St. Peter the Apostle Church in Carthage, reached yet another milestone as they celebrated Mass for the first time in their new, permanent structure.
The feat comes a little more than a year and a half since they first gathered, finding their beginnings at Carthage United Methodist Church before moving into the congregation's property on Upper Ferry Road in Carthage in time for Palm Sunday celebrations last April.
A month later, renovations began on the next door building to create the church's permanent home.
"We're living the dream," said Glenmary Father Don Tranel, St. Peter's pastor. "I love being in this new structure. It's got a very holy feel."
Over the course of the spring, summer, and fall months, sheet rock was installed, the walls were painted, plumbing was updated, new floors were put in, electrical work was complete, new pews were added, the altar was framed, and more to create a worship space that seats 115.
The former gathering space will be turned into the parish's hall in the coming months. Additionally, within the next few weeks, permanent light fixtures will be installed, and a new front door has been ordered.
Much of the work was thanks in large part to the volunteers who stepped up to make it happen, putting in thousands of hours to create their faith family home.
"The diocese has been good to me and my wife, so when the church started here in Carthage, we knew we wanted to give anything we could," said Chris Brune, who leads RCIA and is in charge of the parish website. "We don't have much except for time, so we just try to donate our time in the areas we feel we're best geared for."
Brune's wife, Snowi Brune, leads religious education for the youth of the parish.
Michael Manor said he filled in anywhere he could, particularly when the big projects came around such as framing, carpeting, and building the altar.
"I've just been the extra guy," he said. "Once our family heard that there was going to be a church established here, we just wanted to be part of the startup, which was just a blessing for us."
Carl Rasmussen, who has put in more than 800 hours, said he was able to do so simply because he had the time.
"I work for myself, and I work for a realtor here in town who doesn't mind that I'm doing other things on the side," Rasmussen said. "I did it mainly because I can do the drywall and I do painting, and we needed all new drywall and all new painting.
"It's one of God's gifts to me that I could give back to the church," he said.
Walt Knochenmus also gave a significant amount of hours to the project, helping where he could whether it was plumbing, electric or carpentry.
"I like hanging with these guys. It's fun working with them," Knochenmus said, referring to his fellow volunteers. "As I got to know the people here more and more, this became family.
"This is the building that put the parish here," he added. "They were just so excited when we had our first wedding, first baptism and then, of course, we started having funerals when people passed, which is always sad. But still, everybody comes together and helps each other out.
"This is definitely the St. Peter the Apostle family parish," Knochenmus concluded. "At least that's what it is for me."
Father Tranel said they wouldn't be where they are without the volunteers.
"We don't have any staff, which makes us unique," Father Tranel said. "We survive and we flourish by sweat equity. We have a gazillion people that volunteer in various ways, and I think because of that there is a propensity to take more ownership of the church and that makes us unique, too.
"We're breaking down stereotypes," he said, noting how their first Mass on July 3, 2021, was the first ever celebrated in Smith County. "As we develop, we'll gradually immerse ourselves more and more into the community, which will be good."
To show their appreciation for their new home, at the end of each Mass the congregation comes together to pray a prayer of thanksgiving and supplication.
"Good and gracious God, we thank you for loving us and blessing us, and for gifting us with life. In your infinite wisdom, you gathered us together as a sign of your saving love and presence in Smith County," the prayer reads. "From humble and historic beginnings in 2021, you have increased our Catholic community and blessed us with our own place to worship.
"As we continue our journey at St. Peter the Apostle Catholic Church, may we continually rely on your guidance. May we be known as people of hospitality, welcoming all who come to us. While we deepen our own Catholic faith, help us to understand and respect people of other Christian traditions," the prayer continues.
"We do not know what the future holds, but we know we are held in the palm of your hand. May we work together and draw strength from one another. As we commit ourselves to the work of building your kingdom, keep us mindful of your goodness and let us share your joy in all we do. We make this prayer in the name of Jesus and through the power of the Holy Spirit. Amen."