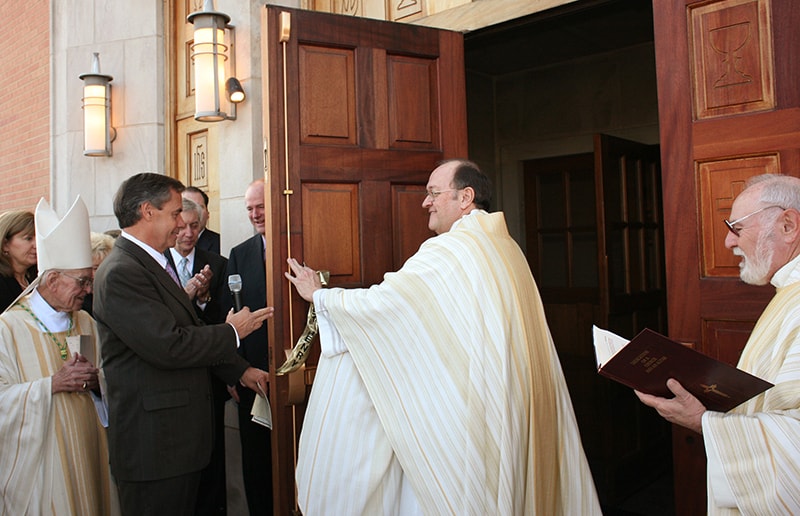 When Father Mike Johnston reflects on his 50 years of priesthood, some of the most significant moments that come to mind involve family, community and St. Henry Church, the parish where he spent half of his life as a pastor before retiring in 2015.
"I think about celebrating my parents' 50th wedding anniversary," in 1981, with Mass at St. Henry, where they were parishioners. It was a joyous occasion that brought his whole family together.
He also thinks about dedicating the new St. Henry church building in 2006, when he was pastor. "That took a whole lot of work on the part of a whole lot of people," Father Johnston said.
The dedication of the new church was "profound," because "it brought together not only the bricks and mortar, but also the forming of community and the relationships that unfolded as a result."
This weekend, Father Johnston will return to St. Henry to celebrate his 50th anniversary of ordination to the priesthood on Dec. 18, 1970. Parishioners will host a drive-by celebration for their former pastor on Friday, Dec. 18, and Father Johnston will celebrate the 5 p.m. Mass on Saturday, Dec. 19. "It's still home," he said of St. Henry.
Voted out of retirement
After he retired, Father Johnston maintained his connection with friends and St. Henry parishioners. He offered spiritual direction and attended retreats for his own spiritual nourishment. He was enjoying a slower pace of life, but then God had other plans for him.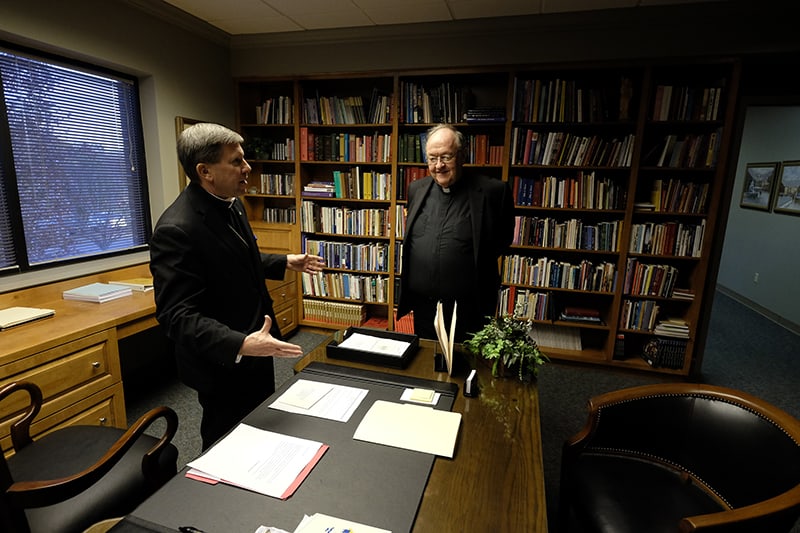 Father Johnston was called out of retirement in 2017 to serve as administrator of the Diocese of Nashville after the death of Bishop David Choby. "That was a challenging experience," he said of the eight months he led the diocese, helping it prepare for a new bishop.
Father Johnston was elected as administrator by the College of Consultors, a group of 12 local priests serving the diocese. The election was held, as required by canon law, when a diocese becomes vacant as it did when Bishop Choby died June 3, 2017.
During that time, Father Johnston said he looked to answer one big question: "What can we do together to prepare the diocese for the next bishop?"
A diocesan administrator does not make new initiatives for a diocese, but he does have to make decisions that impact people's lives.
After Father Johnston was elected, one of his first tasks was to finalize priest assignments, which happens annually in June. As administrator, Father Johnston said, "I got a new appreciation that there's nothing easy about decision-making.
"You realize how everything is connected," he said, "and the complexity of what a bishop has to do."
As administrator, Father Johnston said, he was guided by the same principles that guided him as a pastor: "being respectful, listening, and asking forgiveness when you don't do it well."
Role model and friend
Those who know Father Johnston well appreciate both his pastoral leadership and his authentic friendship.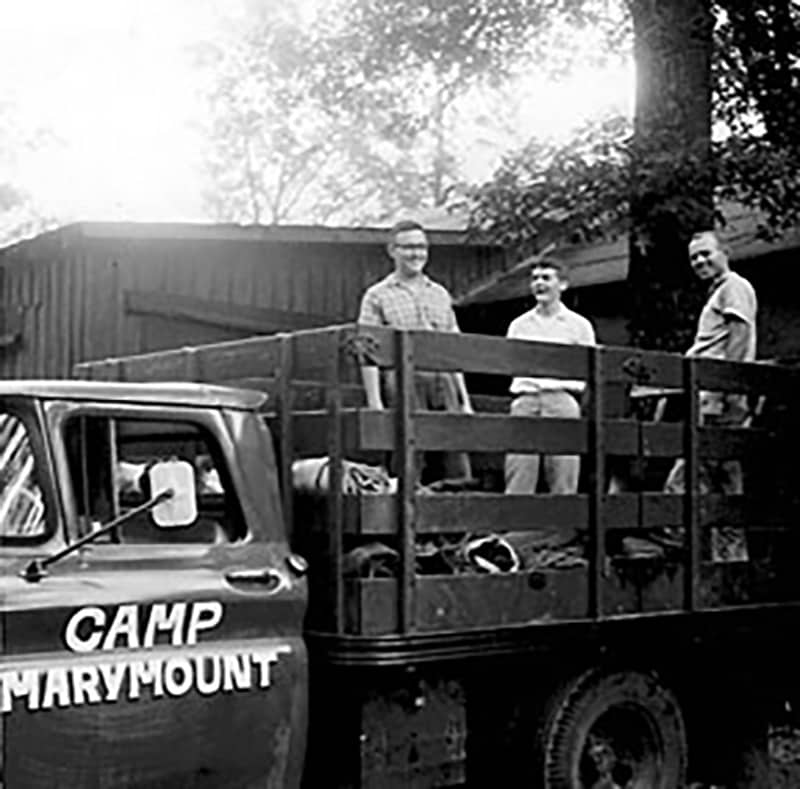 "We love Father Mike," said Tommy Hagey, director of Camp Marymount and former parish council president at St. Henry. When St. Henry was going through the major changes of expanding the school and building a new church, Father Johnston's "pastoral leadership was incredible," said Hagey.
Father Johnston is the kind of priest who can oversee complicated parish and diocesan decisions, but also enjoy a casual conversation and a good meal. "He's down to earth, a real person," said Hagey. He and his wife Margaret and their eight children have enjoyed dinners with Father Johnston over the years; he celebrated a special Mass for the Hageys' 25th wedding anniversary in their home. "It's truly been a blessing for us to have a relationship with him," Hagey said.
With over 2,000 registered families, St. Henry is one of the largest parishes in the Diocese of Nashville, and offers dozens of ministries for parishioners to find their niche. To keep everything running smoothly, Father Johnston relied on a robust combination of deacons, staff members and volunteers.
For the quarter century that he led St. Henry, Father Johnston saw the parish grow and change, relishing the opportunity "to be involved in people's lives in a lot of ways," as they marked the milestones of life from baptisms to funerals.
His successor as pastor of St. Henry, Father Mark Beckman, said that, "to this day I'm impressed with everything he did to make it such a vibrant parish."
Father Beckman was still a transitional deacon when he first served alongside Father Johnston, at. Stephen Catholic Community in Old Hickory in the 1980s. "He really was a role model, the ideal pastor," Father Beckman said. From the way he planned liturgies to how he engaged with parish staff and volunteers, "he's given me a lasting model of how to lead a parish," Father Beckman said.
Vocation and ministry
Father Johnston's roots in the Diocese of Nashville run deep: he grew up in Christ the King Parish, attended Camp Marymount in the summers, and remembers that almost all of the counselors at that time were seminarians. "They seemed to have so much joy and happiness," he said. His first counselor was Father Charley Giacosa, who would later serve the final years of his life alongside Father Johnston at St. Henry.
Msgr. George Rohling, one of Father Johnston's predecessors as pastor of St. Henry, was also an example to him. "There was a great depth of spirituality and involvement in parish life" at St. Henry under Msgr. Rohling's leadership, he said.
"He's always been very loyal to Marymount, speaking on the value of camp and the strong role it played in his development as a person and a priest," Hagey said of Father Johnston's commitment to Marymount, the diocese's overnight summer camp and year-round retreat center.
In addition to model priests and seminarians, Father Johnston's path to the priesthood was also inspired by his parents, "good, solid, involved parishioners at Christ the King," and his three older brothers, who all offered "tremendous support" for his vocation over the years.
After graduating from Father Ryan High School in 1963, Father Johnston entered St. John's Seminary in Little Rock, Arkansas, then went on to spend four years at the North American College in Rome.
His years in the seminary, from 1963-1971, were filled with a sense of excitement about the Church and the future, as the Church was beginning to grapple with the changes of Vatican II.
"Right after Vatican II there was a special spirit in the Church," he said. "With Pope Francis we've re-captured it."
After he was ordained in late 1970, Father Johnston was assigned to teach at Notre Dame High School in Chattanooga and serve as associate pastor at Our Lady of Perpetual Help Church, alongside Father James Niedergeses, who would later become bishop of Nashville. "He was so influential in my life," Father Johnston said of the late Bishop Niedergeses.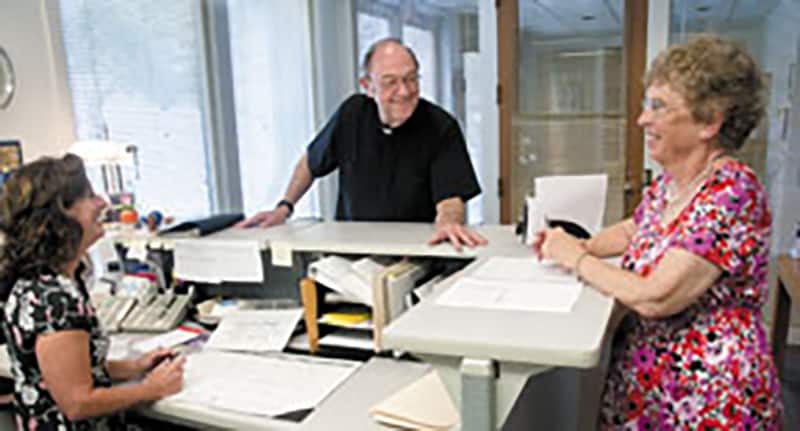 Father Johnston was then named principal at Knoxville Catholic High School, and after that, pastor of St. Stephen. While at St. Stephen, he also served as the vocations director for the diocese.
Father Johnston served at St. Stephen until he began his tenure at St. Henry in 1991, where he remained until his retirement in 2015.
As he reflects on 50 years of ministry, Father Johnston shares one final thought: "The priesthood is not about the priest, it's about the Lord, loving the people and serving them, and celebrating the sacraments in a way that brings life to them."
---
Fr. Mike Johnston will celebrate his 50th anniversary of ordination to the priesthood on Dec. 18th.
St. Henry Church will host a drive-by celebration on Friday, Dec. 18, 1-3 p.m. He will be there to greet people from a distance.
Father Johnston will celebrate the 5 p.m. Mass at St. Henry on Saturday, Dec. 19.
Space is limited in the church, and a live stream of the Mass will be available for people who are unable to attend.
More information is available at https://www.sthenry.org/