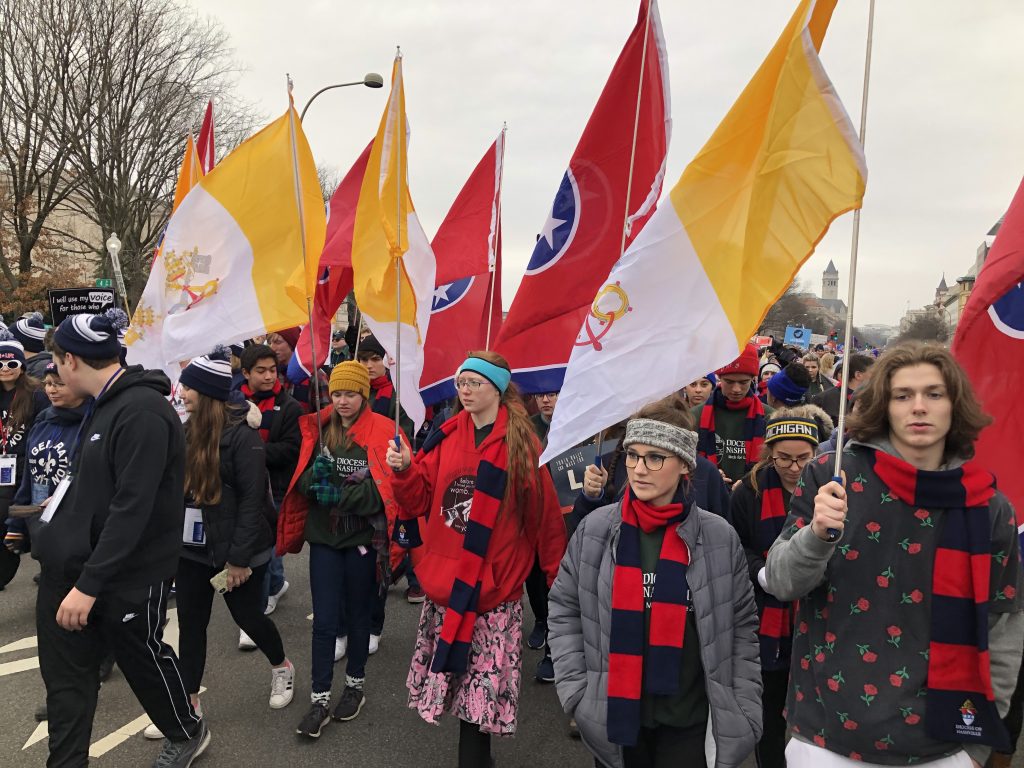 After two years away because of the COVID-19 pandemic, more than 200 students and adults throughout the Diocese of Nashville will join thousands from around the country for the March for Life Friday, Jan. 21, in Washington, D.C.  
Groups from the Diocese of Nashville Office of Faith Formation, Father Ryan High School, St. Cecilia Academy, and University Catholic will all be in attendance.
The diocesan group, which currently consists of 71 students from 16 churches, will be making a pilgrimage to the nation's capital Jan. 19-23, said Shelby Conner, assistant director of youth and young adult ministry for the Office of Faith Formation.
"The Diocese of Nashville Pro-Life and Human Dignity Pilgrimage is an opportunity for high school students to join their peers in standing up for the right to life," Conner said. "During our pilgrimage, we will participate in the highly anticipated March for Life and will also visit and reflect on many important landmarks within the D.C. area.
"Teens will attend Mass daily as well as have multiple opportunities to receive the Reconciliation," she said. "This is a great experience for our students to live out their faith in our nation's capital.
"This pilgrimage is a wonderful opportunity for our young people to experience firsthand that they are not alone in promoting the right to life. There will be people of all ages, from all over the country, present in D.C. striving to promote a culture of life."
Each day throughout the pilgrimage, Conner said, the students will have a Saint of the Day to focus on including St. John Paul II, St. Gianna Beretta Molla, St. Maxmilian Kolbe and St. Edith Stein.
"Every morning we'll talk about the saint and how he or she ties into the day," Conner said.
The Office of Faith Formation is still accepting sign-ups for nine more students.
To sign up, visit soundscatholic.com/pro-life.
St. Cecilia Academy will be taking 34 students to the March Jan. 20-21. John Michael Simpson, vice principal of student life, said it's been an important experience to offer students through the years.
"The march on Capitol Hill is an amazing experience for them – to be part of a gathering of hundreds of thousands of citizens in a joy-filled civil demonstration," Simpson said. "The March for Life gives our students the opportunity to experience our beautiful faith in the public square for the most important issue of our time.
"Many students who have attended past trips to March for Life feel that it changed their life," he said. "Current students are now attending the same March for Life trip that their mothers did when they were students at St. Cecilia."
University Catholic will send a group of 50 students, staff and missionaries to the event Jan. 20-23, and Father Ryan will be sending a group of 84 students.
"Please keep all of the groups traveling to and participating in this wonderful event in your prayers," Conner said. "And continue to pray daily for the right to life, from conception to natural death, to be widely accepted through our country."
For more information on the March, visit marchforlife.org.