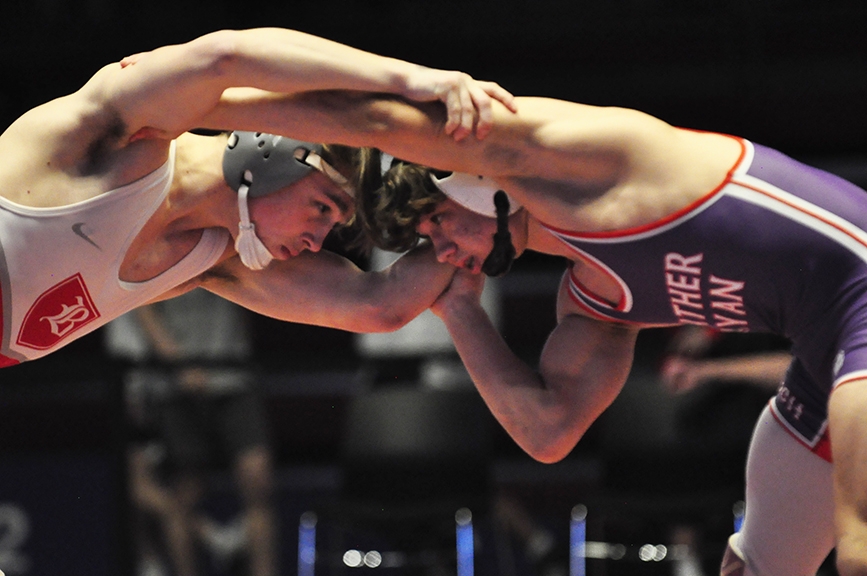 Father Ryan High School wrestlers Calvin Eason and Casen Roark won state championships while leading the Irish to a second-place finish in the team standings at the Division II State Wrestling Tournament Feb. 18-19 at Montgomery Bell Academy.
And Gabe Fisher, a parishioner at the Church of the Assumption, won his second state championship for Montgomery Bell Academy.
Eason, a senior, had to battle injuries through most of the season before claiming the state championship in the 120-pound weight class with a 16-14 decision over Cameron Helton of Lakeway Christian Academy.
He tore his ACL and PCL in January and missed about a month and a half of the season, coming back just in time to compete in the regional tournament, Eason said.
"They said I would most likely not be able to wrestle, and I still did and won," Eason said.
In the championship match, "the whole game plan was score as many points as I could early," Eason said. He was able to do that and then hold off a rally by Helton. It was named the outstanding match of the tournament.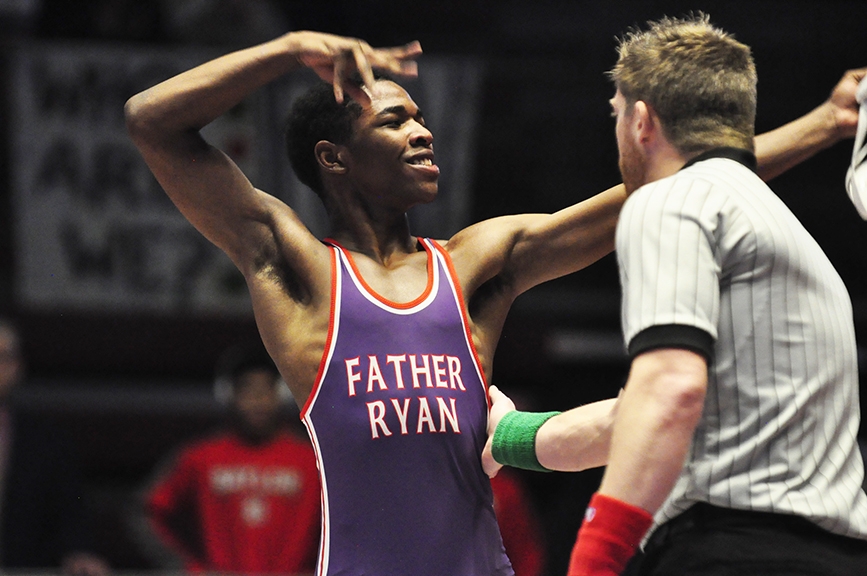 "It's probably one of the best feelings I've had in my life," said Eason, who finished third in the tournament twice before, once at 113 pounds and once at 126 pounds.
While Eason was capping off his high school career with a state championship, Roark, a freshman, was starting his career with one.
When he started the season, Roark said, "my expectation was to win this." 
He claimed the title with a 3-1 decision in overtime over Jackson Bond of the Baylor School in Chattanooga. They had split their previous two matches against each other.
Roark hit a duck under for the takedown that won the state title. "I hit it in the first period, so I knew it was there," Roark said. Only that time, the period ended just seconds before he could complete the takedown and score the points.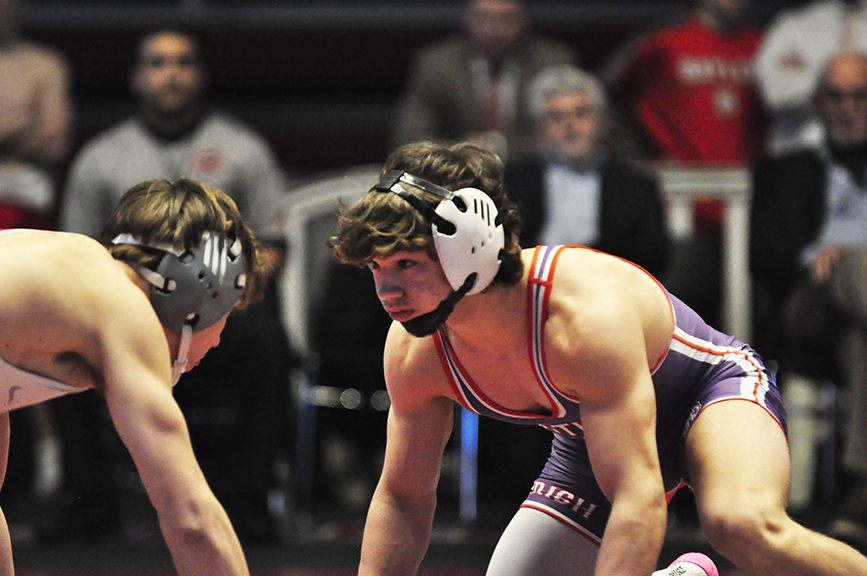 With a state championship in his pocket, Roark competed in the National Prep Wrestling Championships, Feb. 25-26, in Upper Marlboro, Maryland. He finished eighth against some of the top competition in the country.
Roark was part of a freshman class at Father Ryan that Coach Patrick Simpson called "maybe the best freshman class we've had."
For most of the season, five freshmen were in the starting lineup, he said: Roark, Brody Gobbell, Chancery Deane, Sawyer Rutherford and Ethan Lampert. "They made us a much better team," Simpson said.
All 14 wrestlers for Father Ryan placed at the state tournament. Besides the championships won by Eason and Roark, the other placers were: Joe Calvin, sophomore, second, 106 pounds; Brody Gobbell, freshman, second, 113; Chancery Deane, freshman, third, 132; Sawyer Rutherford, freshman, third, 138; Ben Stigamier, senior, third, 145; Matt Oberlander, junior, third, 152; Joe Terry, senior, third, 160; Henry Rodgers, senior, third, 170; Ben Marchetti, senior, third, 182; Abraham Cromartie, junior, third, 285; Tim Brunet, junior, fourth, 195; and William McGrady, junior, fifth, 220.
The Irish finished second in the team standings to Baylor, 256.5 points to 215.
Father Ryan will lose five seniors from this year's team: Eason, Stigamier, Terry, Marchetti and Rodgers, all of whom placed at the state tournament multiple times during their high school careers. The team should be in good shape next year with the returning underclassmen, Simpson said. "We've got some kids who've got a ton of experience."
Fisher, who attended St. Henry School, was the only state champion for Montgomery Bell, winning the title at 220 pounds with a first-period pin of Ronald Garriques of Baylor.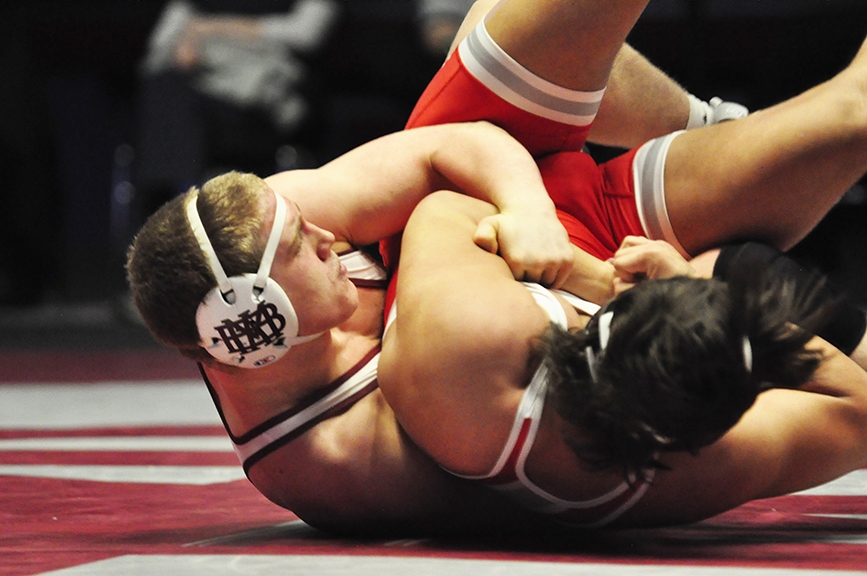 Fisher, a junior, had put Garriques on his back, looking for a pin, when Garriques was able to get out of it and put Fisher on his back. "My brother specifically told me not to do that move," a smiling Fisher said after the match. While on the mat, he was thinking, "I'm not getting pinned."
Fisher was able to flip Garriques back onto his back and finish the pin. He won all three matches at the state tournament by pin, in 1:40, :25 and 1:06, and was named the tournament's Outstanding Wrestler.
"It's awesome," Fisher said of winning the state championship in his hometown and in his home gym. "I think it's just great to do it here in Nashville. All my buddies got to see what wrestling is all about."
Fisher also competed in the National Prep Championships and finished fifth in the 220-pound weight class.
Fisher, Eason and Roark were all products of the Nashville Catholic Wrestling youth program.
Pope John Paul II Preparatory School also had a wrestler place in the state tournament. Freshman Andrew Connow finished fourth in the 120-pound weight class in his first state tournament. Connow went 2-2 in the tournament, with wins through a :25 pin and a 9-5 decision.
In the Division I-A State Wrestling Tournament, held Feb. 24-26 at the Williamson County Ag Expo Center, Gregory Gomez, a parishioner at Christ the King Church, medaled for the fourth straight year.
Gomez, a junior at Martin Luther King Academic Magnet School, finished fifth in the 126-pound weight class. He previously finished sixth at 106 pounds as an eighth grader, second at 113 pounds as a freshman, and third at 113 pounds as a sophomore.
Gomez also is a Nashville Catholic Wrestling product.