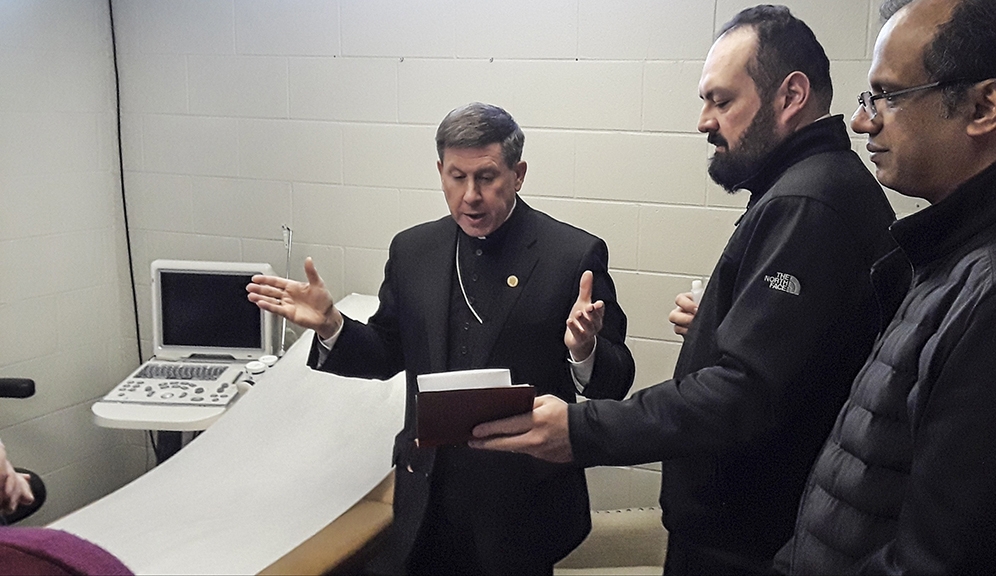 Efforts by the Knights of Columbus Council 11074 at St. John the Evangelist Church in Lewisburg to raise funds for an ultrasound machine for the In His Image Pregnancy Resource Center became a community wide project.
Besides the special collection at St. John, other churches and individuals in the community contributed to raise more than $15,000 for the project to cover half of the price of the purchase and training, said John Rawe, grand knight of the council.
The other half of the cost was covered by a matching grant from the Knights of Columbus Supreme Council's Culture for Life Fund, Rawe explained.
"In 2019, we decided to see if we could raise the money," Rawe said. The council started raising funds in the spring of 2019 and reached its goal by the following Christmas, he said.
"The machine was ordered and then COVID came along. It was delayed in getting manufactured and delivered," Rawe said. "Then the training was delayed because of COVID."
In His Image Pregnancy Resource Center was able to start using the ultrasound machine so women could view their unborn children in 2021, Rawe said.
The Council invited Bishop J. Mark Spalding to bless the machine in January 2022, Rawe said. "We wanted COVID to calm down before we got a bunch of people together."
Also on hand for the blessing were: Father Gervan Menezes, the master of ceremonies for the bishop; Father Regimon Augustine, pastor of St. John, State Deputy Fred Laufenberg and his wife Donna, members of the council at St. John and neighboring parishes, and parishioners from St. John.
In His Image Pregnancy Resource Center was founded as a faith-based, pro-life organization to support women and families experiencing crisis pregnancies with free information, services, referrals and confidential counseling. For more information, visit prclewisburg.com.