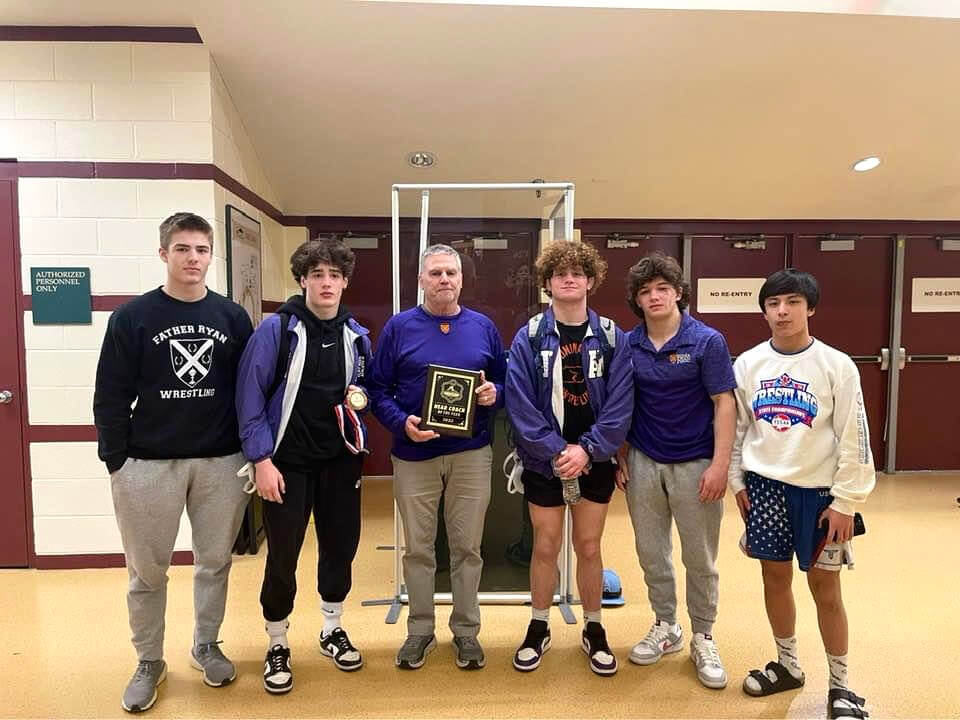 Pat Simpson, Father Ryan High School's head wrestling coach since 1978, was named the 2023 National Prep Coach of the Year during the National Prep Wrestling Championships Feb. 24-25 in Upper Marlboro, Maryland.
Additionally, three of his wrestlers placed in the national tournament over the weekend: junior Joe Calvin in fourth, sophomore Casen Roark in fifth, and sophomore Chancery Dean in eighth place in the nation.
Just in February, Simpson led the Irish wrestlers to the Duals State Championship, beating Baylor, and to the runner-up finish in the State Wrestling Championship, finishing just 10 points behind Baylor. Calvin, Roark, and Dean won individual Tennessee State Championships this year. The Duals Championship this year is the school's 26th TSSAA Wrestling State Title, 22 of which have been won with Simpson as coach.
This is Simpson's second national coaching award. He was also honored as the National Coach of the Year in 2016 by the National Wrestling Coaches Association. Father Ryan Athletic Director Ann Mullins congratulated Coach Simpson on the recognition.
"Coach Simpson has been among the nation's most respected coaches for years," Mullins said. "Over his 53-year Father Ryan career, as a wrestler, as part of the 1971 and 1974 championship teams, and over his 45-year coaching career, he has been an outstanding teacher and coach.
"More importantly, he has been an inspiration and a mentor to hundreds of young student-athletes over his distinguished coaching career," she said. "We are proud of Pat and congratulate him on winning this honor."