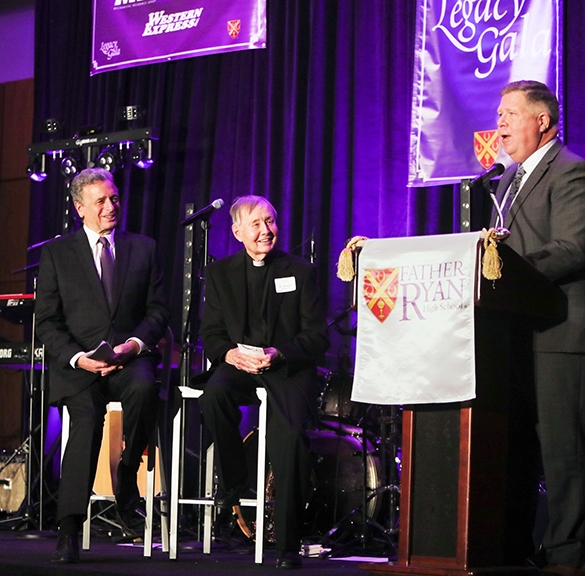 Father Ryan High School honored Father Charles Strobel at the 43rd annual Legacy Gala on Saturday, Feb. 5, at Music City Center.
Father Strobel is a 1961 graduate of Father Ryan and the founding director of Room In The Inn, one of the city's most impactful homeless shelters and soup kitchens.
Father Strobel, a native Nashvillian who grew up in the Germantown neighborhood, was introduced by John M. Seigenthaler, a 1974 graduate of Father Ryan, well-known primetime news anchor, and son of the late journalist John L. Seigenthaler, a 1945 graduate of Father Ryan.
President Jim McIntyre, Superintendent of Catholic Schools Rebecca Hammel, and Diocese of Nashville Bishop J. Mark Spalding were all in attendance to honor Father Strobel before a crowd of more than 600 people.
The event, which raises money for Father Ryan, also featured a live auction, a silent auction, and live music by The Music City Sound. In a nod to Father Strobel's propensity to serve Room In The Inn guests peanut butter and jelly sandwiches when the shelter was just getting started, the dessert was a PB+J inspired cake.