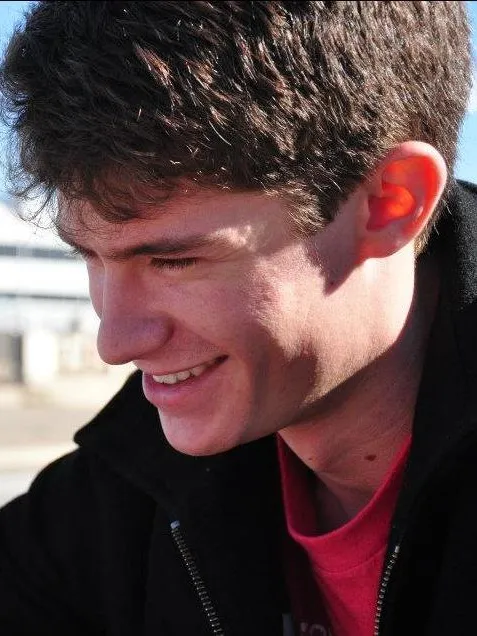 Losing a loved one is never easy, much less burying your own child. But Father Ryan High School President Paul Davis and his wife Teresa did just that in 2012.
Their youngest son, Kevin, was tragically killed in a moped accident during a trip to Mexico.
The day he died, March 19, was the darkest time that Paul, Teresa, and their older son Philip had ever experienced. Their bright-eyed, friendly, constantly smiling Kevin was gone. Aside from his son's funeral, Paul could rarely bring himself to leave his house for about a month afterwards. It was devastating that their world felt so empty with just one person missing from it.
And yet, they have experienced moments of comfort and healing in the 10 years since. They've felt it in the massive outpouring of love and support from their family and many friends in Nashville's Catholic community. They've seen it in the 51 students who have benefitted from the Kevin Paul Davis Memorial Scholarship Fund they established at Father Ryan. And they've experienced it in countless reminders that Kevin is still very much with them in spirit.
They like to call these moments "Kevin-sents," because they believe they are divinely inspired. Whether it's his name showing up in unexpected places, finding a penny on the ground (since Kevin liked to carry lucky pennies with him), a reminder of his March 19 death day, or any small reminder of him, Kevin continues to make his presence known.
There was the time the Davises and their friends from Father Ryan went to New York City in 2012 to cheer on the Father Ryan marching band in the Macy's Thanksgiving Day Parade. Kevin was looking forward to going with them. One night at dinner, Kevin's favorite song, "Never Alone" by Lady Antebellum played over the loudspeakers.
"It seemed as if the volume rose," Teresa Davis said. "Immediately, we all knew he was near. It was very powerful and emotional. Once again confirming that there are no such things as coincidences. These moments of grace prove to us that God is near to the brokenhearted, and we are ever grateful."
In 2018, when Paul and Teresa's nephew Rob and his wife Samantha were in the hospital having their son Bobby, Rob went to buy Samantha a Diet Coke from a vending machine after she had the baby. The name on the bottle was Kevin.
In 2020, Kevin's dog Rowdy passed away. The cost for his cremation was exactly $319, the calendar date for March 19.
There was the time Teresa was working at Paragon Mills Elementary as a librarian. One day, as she was monitoring traffic in the school parking lot, she noticed a stray puppy darting between the cars. She shooed the puppy inside the building and later introduced him to the students to see if any of them recognized it.
Just as she was formulating plans to care for the puppy or find a home for it, one of her students told her the puppy belonged to his neighbor. As Teresa was speaking to the dog's owner, she asked what the puppy's name was. It was Kevin. "KEVIN?!…. WHAT?! My heart soared and my mouth fell open. Who names a dog Kevin? Coincidence? No, another divine hug by means of a Kevin-sent," Davis said.
Perhaps the greatest Kevin-sent the family received were on the day their oldest granddaughter was born. Philip drove his wife Britt to the hospital and parked in space 319 in the parking garage. After being checked in, they were taken to room 3119. When Paul arrived at the hospital, he found a penny on the ground. As he and Teresa kept Philip and Britt company during labor, they noticed there were two sets of initials on the heart rate monitor. One was BD for Britt. The other was KD for the person in the next room. Paul and Teresa wondered if those would be the baby's initials, as Philip and Britt chose to reveal the gender and name at birth.
"Imagine our delight as they introduced us to Penny Frances Davis," Teresa said. "Over the nine months, Paul and I had pondered the name choices they would consider. It never crossed our minds to give a nod to Kevin by way of the name Penny. It is PERFECT. Just as she is. Our hearts beat with Penny perfect joy.
"No doubt Kevin was pleased with this pronounced nod to his spirit," she added. "Each time we speak her name, it is like speaking the divine multiplied. Now when we find pennies and pick them up, the significance is magnified. The saying, 'Penny for your thoughts' has new meaning – new life. And oh how she fills our thoughts with joy."
The Davises are very thankful for the countless Kevin-sents they've experienced since his passing. "The Kevin-sents are significant because they are evidence to us that there is a thin veil between this life and the next; and they are gifts for our hearts made possible through the Holy Spirit," Teresa said. "Matthew 5:4 says 'Blessed are those who mourn for they will be comforted.'"
To celebrate these Kevin-sent moments and remember Kevin and other loved ones who have passed on, the Davis family invites everyone in the diocese to join them at Father Ryan High School on Saturday, Sept. 17, for their 10th annual Raise Your Glass memorial. The evening will begin at 6 p.m. with Mass in the amphitheater, followed by a lantern release and reception.
RSVPs can be made to Teresa Davis at Teresad663@gmail.com. Donations to the Kevin Paul Davis Scholarship fund can be made online at fatherryan.org/KPD.