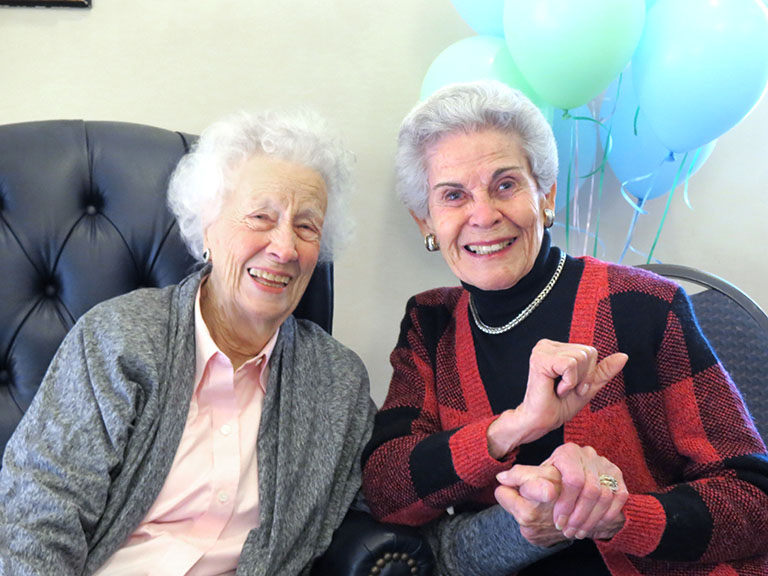 When Nell Ayers gifted her friend, Father Dexter Brewer, pastor of Christ the King Church, her father's violin a few years back, it was simply a gesture between friends. She knew of his love of music.
"I gave it to him thinking it could be a conversation piece in his office," Ayers said, "but he didn't see it that way."
That was made clear as he pulled out the same violin on Saturday, March 12, and played for Ayers during a party at Christ the King celebrating her 100th birthday.
"He continues to play the violin on occasion, and I was delighted that my birthday was one of the occasions," Ayers said.
"That was my gift and celebration of her 100 years of life," Father Brewer said.
Father Brewer's serenade was just one of many surprises Ayers experienced as family and friends came together to celebrate with her. Although Ayers planned the party herself, the turnout, as well as the dozens of bouquets brought by family and friends, was more than she expected.
"Everything was a surprise to me. I just knew I was having a birthday," Ayers said. "All the people have been so wonderful to me, and I love people, so I told my daughter that I would like to have a birthday party at the party room at Christ the King," where she has been a parishioner for the last 70 years.
"No gifts," she added. "I just wanted to thank the people who have been so sweet to me through my life, and it just turned into a big thing" with nearly 100 people attending the party.
"It's just been a very exciting, wonderful time," Ayers said.
"She sat, and she had photographs taken with her guests, which she sent to us with a note thanking us for being her friend," said close-friend Ramona Stejskal. "That's the type of person she is. She's just lovely."
100 years in Nashville
Ayers was born Nell Schindler on March 10, 1922, and has been a resident of Nashville her entire life.
"I was a Depression child. People didn't have money and living was tough," Ayers said. "Then, when I was 6 years old, measles settled in my ears … so I've never been able to fly, and I guess that's the thing that kept me from doing a lot of traveling.
"I've always lived here in Nashville, and I really didn't care to go anyplace else," she added.
Ayers graduated from the Cathedral School in 1936 and St. Cecilia Academy in 1940. She was the recipient of multiple awards upon her graduation from St. Cecilia including being named class valedictorian and that year's St. Cecilia Girl, the school's highest honor.
From there, she went to Peabody College for a year and a half, before leaving to start work. First, she worked with a wartime government operation called Reconstruction Finance Corporation for about three years.
Then, following her marriage to her husband, Dee J. Ayers, Jr., in 1950, and the birth of their children Mike and Jill, she began working in administrative positions at Peabody College and The Kennedy Center at Vanderbilt University.
But it was while she was at Peabody as a student, when she discovered one of her biggest passions – serving others.
Life of service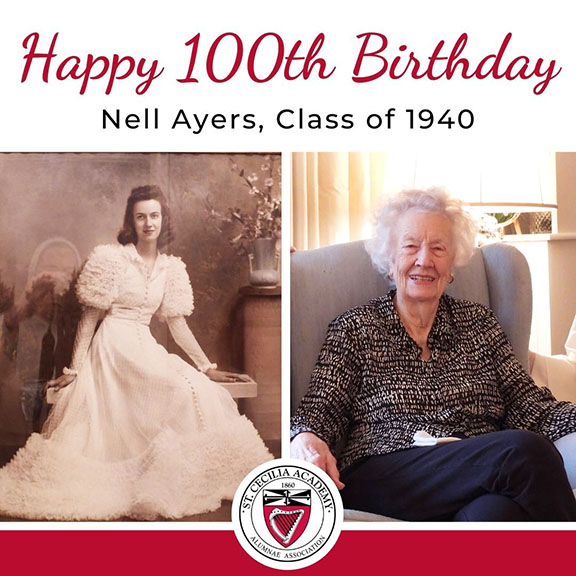 While a student at Peabody College, Ayers was invited by her cousin and a friend to help at a consignment sale at the Ladies of Charity Thrift Shop, which began an 80-year journey with the non-profit organization. Over the years, she's served with the Ladies of Charity in several capacities including assembling Christmas baskets, organizing installation receptions, working at the thrift shop and volunteering at the annual Christ the King luncheons.
"I love everything about the Ladies of Charity," Ayers said. "I think anybody who is going into business ought to talk to the Ladies of Charity. They really know how to run a business, and I think they are the embodiment of camaraderie.
"When you've got that many women in one building who get along and who really like each other, it makes for a fantastic operation," she said.
"I am the Ladies of Charity's best cheerleader," she added in a 2021 interview with Pat McCabe, Ladies of Charity historian.
"Nell has been involved in her parish and in Ladies of Charity for decades and she's just a friend to so many," said Margie Druffel, president of the Nashville Association of the Ladies of Charity. "Everyone who knows her just loves her.
"She's got a wonderful personality, she's open and warm, always willing to say yes and volunteer," she said. "She's a giver and just has a wonderful way of saying, 'yes.' She's just a treasure to the Catholic community."
Along with her work with Ladies of Charity, Ayers has also spent many hours serving her parish family at Christ the King, volunteering in the rectory and completing various other tasks including counting the offertory collection and serving on the parish bereavement committee.
"The service that was dearest to me was her responsibility for preparing the altar linens, which she tended to with meticulous care," said Father Brewer.
"She's just an incredible lady in all the things that she does for the Church," Stejskal added, who is also a parishioner of Christ the King and a member of Ladies of Charity. "She's extremely devoted, and she dearly loves the Blessed Mother."
"She's an inspirational person to anybody who knows her," added another fellow Christ the King parishioner and Ladies of Charity member. "She lives her faith every day, and she is the strongest Catholic woman I know."
Lasting friendships
And it's through her years of service that she's met so many of the people she loves, like Stejskal, who first met Ayers through Ladies of Charity.
"I was working as the corresponding secretary (for Ladies of Charity), so I would send birthday cards to the ladies over 90, and I started sending her the card," Stejskal said. "She was also in my prayer group, and I just always thought she was so lovely. She eventually stopped coming to the prayer group because she was getting older, but I started calling her and, for me, I was going to reach out to this sweet old lady and just tell her we were thinking about her."
But then, when Stejskal's daughter passed away five years ago and her husband passed away two years ago, she said, she really got to know the kind of person Ayers was.
"She has been for me the most consoling, joyful, hopeful, wonderful person in the world," Stejskal said. "If I'm feeling low, I will call her, and she will pull me right out of it. She is just beautiful, and that is the kind of friendship that we have had."
'Just living the good life'
Upon reflection of her last 100 years, Ayers said she can't quite pinpoint the secret to a century of living, noting multiple health issues she's undergone in the last few years, but one thing is clear, she said.
"My doctor said, 'I don't know what will take you. You're just a tough old bird,' and I really am," Ayers said. "God is going to have to be pretty cagey, but until then, I'm just living the good life."