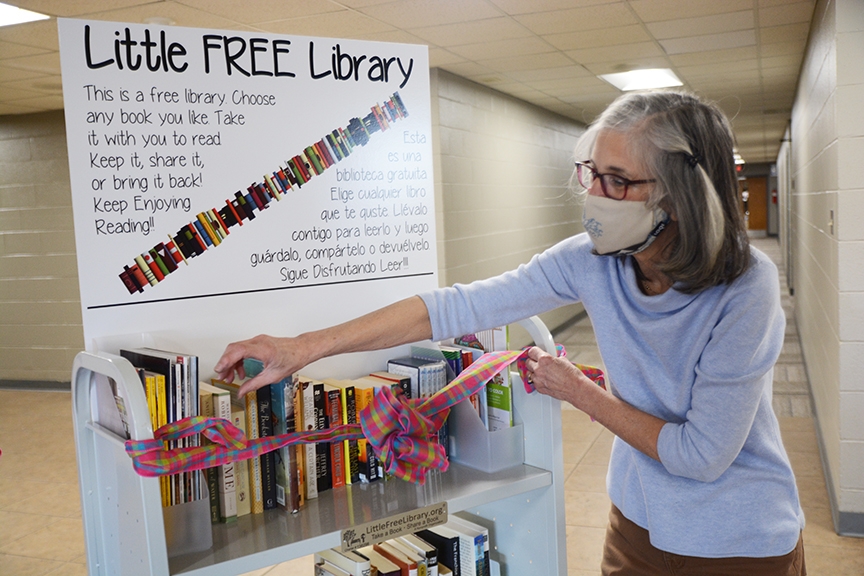 Michele Somers, a parishioner at St. Ann Church in Nashville, wants to nourish not only the bodies of those in need but their minds as well. 
On Tuesday, Feb. 8, Somers set up a Little Free Library at the food box distribution site at the Catholic Pastoral Center so the people who come to pick up food can pick up a book as well.
"The books are totally free," Somers said. "Take a book, share it, bring it back, you can put in a different book."
Somers and her friend, Jane Griffin, set up a cart on wheels to hold the books and other items for the Little Free Library. Besides books, the cart has puzzles, games, magazines and children's books that people can read to their children or grandchildren.
"It's to foster reading," said Somers, a retired Montessori teacher. "I love reading. It's my thing. I love to see people reading."
The Little Free Library is a non-profit organization that has helped people establish mini free libraries around the world. The new library at the Catholic Pastoral Center is the third one Somers has established. She set up one at her home and another at the Loaves and Fishes program at Holy Name Church in East Nashville, where she volunteers.
Somers was looking for a way to reach a greater number of people with her Little Free Libraries and found an answer by establishing them at the sites that serve food to the hungry that are operated by Catholic Charities, Diocese of Nashville.
"With this I could reach a community of people," Somers said.
The library at Loaves and Fishes, which serves breakfast and lunch to hungry people three days a week, has been a success, said Heather Heffner, coordinator of Catholic Charities' Hunger Relief Program.
The library has been so popular among the program's guests, it has run out of books, Heffner said. "They have been flying off the shelves."
Heffner has overheard some of the guests at Loaves and Fishes talking about the books from the Little Free Library that they've read.
Many of the people Heffner's program serves don't have access to libraries or bookstores because of a lack of money or transportation, she said. "This is a perfect place to give them that access."
Catholic Charities uses the Catholic Pastoral Center as a distribution site for a federally funded program administered by the Second Harvest Food Bank that provides food boxes to seniors from 8:30 a.m. to 4 p.m. on Tuesdays and 1:30-4 p.m. on Thursdays.
Catholic Charities' Loaves and Fishes program provides breakfast and lunch, as well as a place to get out of the weather and socialize, to anyone in need from 8:30 a.m. to 12:30 p.m. Mondays, Wednesdays and Saturdays.
Catholic Charities operates another food distribution site at St. Stephen Catholic Community in Old Hickory, and Somers hopes to set up a Little Free Library there as well.
Somers acquires the books for the Little Free Libraries from donations from individuals. "Sometimes I come home and there's a bag of books on the front doorsteps," she said.
The public library also donates some books that it can't use, she added.
Anyone interested in donating books can contact Somers at 615-516-7765 or optim37209@hotmail.com.