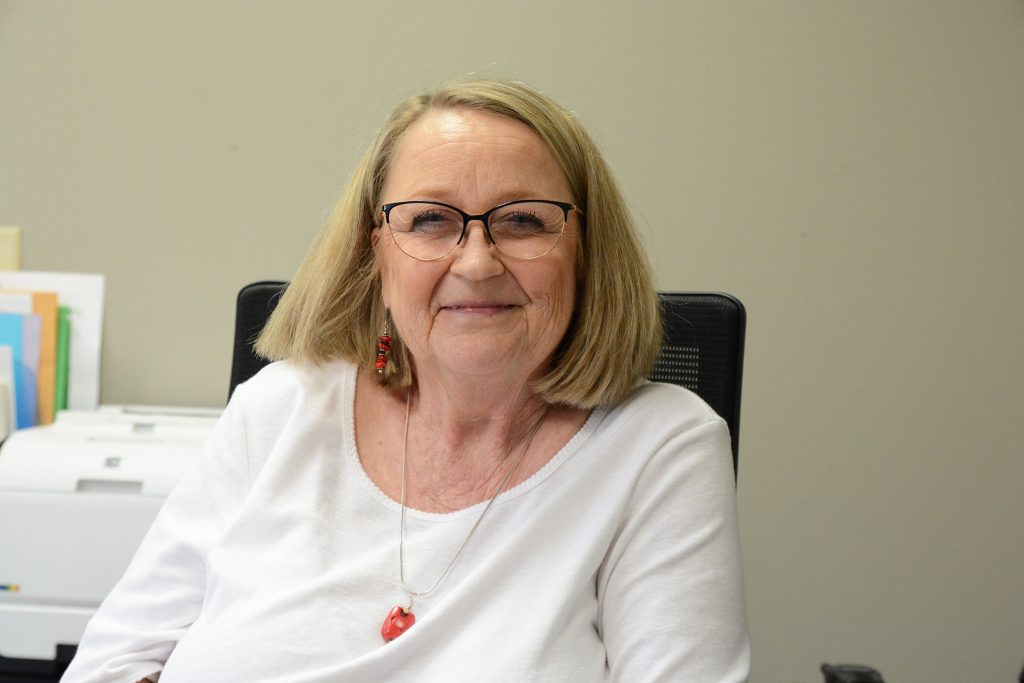 For more than 30 years, Shirley Lopehandia has been working behind the scenes at Catholic Charities, Diocese of Nashville to help the staff provide the array of help people in the community need.
As operations director for Catholic Charities, her latest job at the agency, she has been "supporting the direct service staff and making sure they have what they need to do what they do," Lopehandia said.
"We're working with people with so much distress and trauma in their life. We're here to help them," she said of Catholic Charities' staff. "Someone needs to be in the background to help them do that. It's been a privilege to do that."
On June 30, Lopehandia's career at Catholic Charities came to a close as she moves into retirement.
"I have mixed emotions," Lopehandia said. "I'm excited to be retiring, but I'm going to miss these people a lot."
During her time working for Catholic Charities, she moved from a secretary and receptionist to an office manager and eventually operations director, adding new responsibilities along the way.
"I wouldn't change any of it," Lopehandia said. "It's life changing to do what we do to help the community."
Catholic Charities Executive Director Judy Orr expressed her gratitude for Lopehandia's service to the agency and her best wishes for retirement.
"Shirley took me under her wing from the moment we met April 11, 2019, at the Pathways to Possibilities breakfast at Music City Center," Orr said. "And when I arrived May 13 to start my job, she was sort of the Siri of Catholic Charities. I had a lot to learn and many questions that Shirley patiently answered."
"Thanks to Shirley for helping me and supporting me over these last two years, for being a dedicated colleague, and, most of all, a caring friend," Orr said. "You belong in the Catholic Charities Hall of Fame!"
Lopehandia followed her mother, Sara Parker, and sister McClellan "Mac" Davis, as employees at Catholic Charities. Her mother started working at the St. Mary Villa Child Development Center and ended her career as the program director for the Adult Day Care Program. Davis served as Catholic Charities office manager.
"My sister told me there was a job open, why don't you come over and talk to somebody," Lopehandia said. "I did, and that was 30 years ago."
She started as a secretary and receptionist at the North Nashville Assumption St. Vincent Outreach program in 1989. She left that job after about nine months but returned to Catholic Charities a few months later to work part-time typing home studies. Catholic Charities had a contract with the state to conduct home studies for families interested in caring for foster children, Lopehandia explained.
"That led to full-time work," she said.
"I was the only one in the office who knew how to use Microsoft products. I had to talk them into buying Microsoft," Lopehandia said. "Because I knew Microsoft, I was all of the sudden in charge of computers."
Through the years, she kept picking up new responsibilities. "It was trial by fire," Lopehandia said.
When her sister retired in the late 1990s, Lopehandia was named as her replacement as office manager.
After five or six years in that job, Lopehandia said, she was named operations manager. Orr, the third executive director Lopehandia has worked with following Bill Sinclair and Pam Russo, named her operations director.
In the last year-and-a-half the agency has mobilized to help people through one disaster after another, she noted. "It's like the disasters just won't stop."
During her time with Catholic Charities, Lopehandia has seen many changes. "People never stop needing," she said, "but the needs change."
Although Lopehandia is retiring, she won't forget "the life-long friendships I've made here."