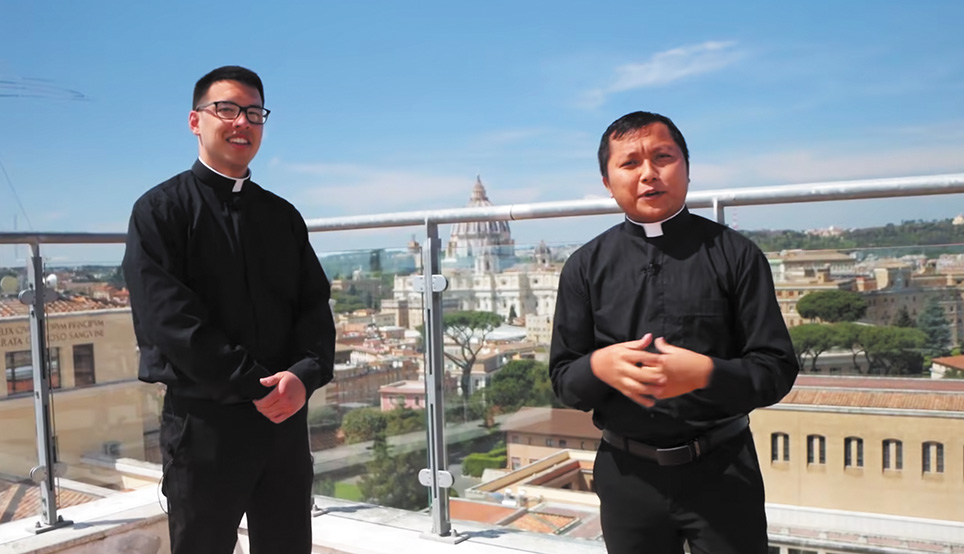 The 2021 Seminarian Education Event and Auction, which was held in May, has reached its goal of $225,000.
"As always, we are extremely grateful for the support for our seminarians from the people of the Diocese of Nashville," said diocesan Director of Development Ashley Linville. "Their support helps to educate and form our future priests and leaders in the diocese."
This year's event and auction, which for the second year in a row was held online because of the COVID-19 pandemic, was held on Tuesday, May 25. It featured videotaped talks from Bishop J. Mark Spalding, Director of Vocations Father Austin Gilstrap and Associate Director of Vocations Father Luke Wilgenbusch.
The event also included videotaped tours of the seminaries the diocese's seminarians attend as well as the annual auction.
"After viewing tonight's program, I hope you have a better understanding of our seminarians and the seminaries they attend," Father Gilstrap said in his videotaped talk.
"The need for priests has never been more important than it is today," he said. Donors' gifts "will allow these young men the opportunity to continue their formation and help us to provide the same opportunity to those who will follow them."
"Over the past 184 years, our diocese has grown and has been able to meet the spiritual needs of the people of Middle Tennessee because of the great priests who faithfully served our Church of Middle Tennessee," Bishop Spalding said in his remarks recorded on the site of the diocese's first cathedral on what is now Capitol Hill.
"Our purpose is to help prepare our future generation of priests that will continue the good work that was started here in the Diocese of Nashville many years ago," he added.
The event was again sponsored by the Serra Clubs of Williamson County and Nashville and the Tennessee Knights of Columbus.
Other sponsors included: Maria Manor East Apartments; Villa Maria Manor; Lloyd and Elizabeth Crockett; Mary, Queen of Angels Assisted Living Community; Catholic Community Investment and Loan Inc.; St. Henry Property Development; Wood Personnel Services; Athens Distributing Co.; Taylor, Pigue, Marchetti, Blair PLLC; Steier Group; Carter Group LLC; Miracle Ford; Miracle Chrysler, Dodge, Jeep, Ram; Father Ryan High School; Knights of Columbus Insurance; and Prenger Solutions Group.
"We're very grateful" for people's support, said transitional Deacon Nonso Ohanaka, one of the diocese's seminarians. "Every little bit is very helpful."
This past school year, the diocese had 20 seminarians studying at the North American College in Rome, St. Meinrad Seminary in St. Meinrad, Indiana, St. Joseph Seminary in St. Benedict, Louisiana, Holy Trinity Seminary in Irving, Texas, and Notre Dame Seminary in New Orleans, as well as serving a pastoral year in a parish.
The cost of educating each seminarian is about $75,000 per year.
Besides proceeds from the annual Seminarian Education Event and Auction, funds from an existing endowment and from the Bishop's Annual Appeal for Ministries cover the cost of educating the seminarians.
People can still make a donation to the Seminarian Education Event or the Bishop's Annual Appeal to support the diocese's vocations program. For more information, contact ashley.linville@dioceseofnashville.com or 615-645-9768.
Next year's Seminarian Education Dinner and Auction will once again be held in-person. The date will be May 24, 2022.