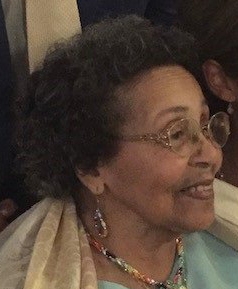 Mary Ann Rutledge Guess, the mother of Deacon Harry Guess Jr. at St. Vincent de Paul Church in Nashville, died peacefully on Thursday, March 17, 2022, in Atlanta, where she had lived for the last nine years. She was 96 years old.
A visitation will be held from 10-11 a.m. Saturday, April 2, at St. Vincent de Paul Church, with the funeral Mass following at 11 a.m.
Mrs. Guess was born on May 17, 1925, in Nashville to the late Jennie Belle (Jordan) Rutledge and Vernon Rutledge.

She received her early education at Hadley School and graduated from Pearl High School, where she achieved stellar academic success. She subsequently mastered the administrative skills necessary to move quickly into management within the hospitality industry. Along with her husband, Harry S. Guess Sr., who died in 1964, they owned and operated Carver Motel for several decades.
Their joint success allowed them to provide Catholic and college educations for their six children.
Mrs. Guess was an active parishioner at St. Vincent de Paul Church for many years. She was also very supportive of St. Vincent School and Father Ryan High School where four of her six children graduated. In subsequent years, she continued her generosity and active faith practice at St. Pius X Church, where her two youngest children attended and graduated.

After raising her children and closing her business, Mrs. Guess enjoyed her retirement and remained active, traveling the world, welcoming, and cherishing her 10 grandchildren, and perfecting her impressive culinary skills. She was known for passing on her recipes, always remembering to leave out one key step or ingredient that left your results a little short of her perfect outcomes.

For the last nine years, she resided in Atlanta, Georgia under the watchful care of her two devoted daughters, Ann and Tina.
Mrs. Guess was preceded in death by her daughter, Carole Lindsey; a stepson, Francis Guess; a son, William Guess; brothers, Howard, Ronnie and Calvin Rutledge; and a sister, Malissa Rutledge.

She is survived by her son, Deacon Harry Guess Jr. (Cheryl); daughters, Ann Nga (Ibrahim) and Tina Guess; 10 grandchildren; 10 great-grandchildren, sister, Bernice Murphy; brothers, Mayo Rutledge and Charles Rutledge: many nieces, nephews, cousins, godchildren, and dear friends.
Lewis and Wright Funeral Directors in Nashville are in charge of funeral arrangements.