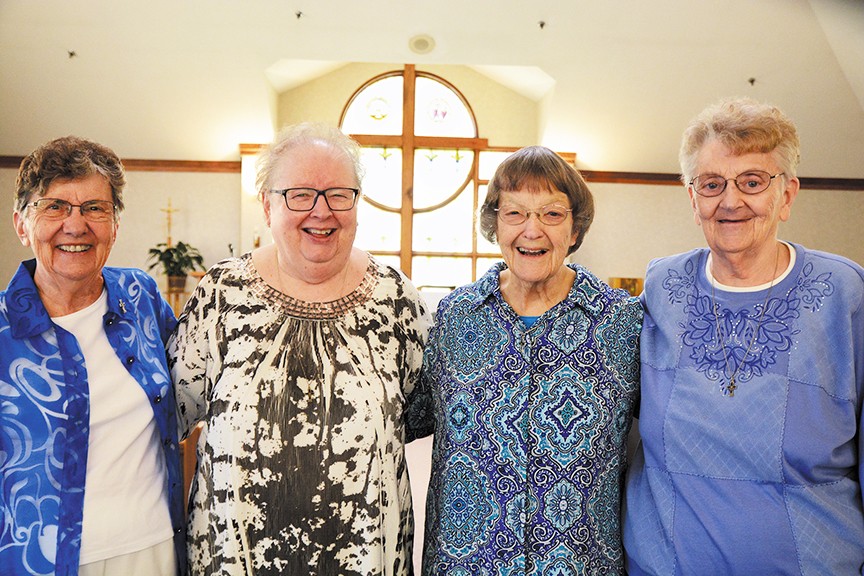 They taught young children, cared for patients in hospitals, provided spiritual support for the sick and their families, conducted retreats, shepherded people into the Church, provided a safe place for young mothers battling addiction, and more.
In every ministry, they carried the mission of the Sisters of Mercy to extend Christ's compassion to those in need. 
Four Sisters of Mercy marked important anniversaries of their entry into the community at the Mercy Sisters Convent in Nashville on Wednesday, Sept. 8. Sister Eileen Mary Pistor and Sister Pat Soete marked 70 years as Sisters of Mercy, while Sister Mary Yvette Gillen and Sister Kathleen Marie Noonan marked 60 years.
All four entered the community by following the example of Mercy Sisters they had met.
"I have two aunts who were Sisters of Mercy. It's probably because of them I joined the Mercies," said Sister Pat, who grew up in Cincinnati and served more than three decades in the Diocese of Knoxville. "I was in touch with their caring. I liked what I saw, and I wanted to be like them."
Sister Kathleen felt the Mercy Sisters' compassion first-hand growing up when there was a fire at her home in Piqua, Ohio.
She and her friends saw a fire truck race past them, and they followed to see where it was going. "It landed at our house," Sister Kathleen said.
After the fire, the Mercy Sisters, who taught at her parish school at St. Mary Church, were quick to offer help to Sister Kathleen's family. "That was pretty impressive."
Mercy Sisters had taught her through all 12 years of Catholic school. "I was very attracted to them," she said. "At least by eighth grade, I was pretty settled I was going to be a Mercy."
Sister Eileen had religious sisters every year in school while growing up in Brooklyn, New York, and Memphis, "but I never thought I'd be a sister."
That changed when Sister Mary DeLellis Allison of Knoxville came to Immaculate Conception School in Memphis to teach music when Sister Eileen was in eighth grade. "I thought she was wonderful. I'm going to be just like her."
"That sister taught me to pray," Sister Eileen said. "She planted this deep inside of me."
Sister Yvette first heard of the Mercy Sisters from a friend she worked with whose daughter, Sister Marie Therese Regan, was a Mercy Sister.
It was from Sister Marie Therese that Sister Yvette heard about Our Lady of the Pines High School in Fremont, Ohio, for girls aspiring to be Sisters of Mercy. She attended that school for her sophomore and junior years of high school.
Sister Yvette also met some Glenmary Sisters and considered joining that community.
"I was going back and forth with the Mercies and the Glenmarys," Sister Yvette said. "I sent two letters. Whoever answered first, I was going.
"I think my mother hid the Glenmary letter," she said with a smile.
When they were young sisters, the Mercy Sisters were involved in two ministries: teaching and nursing. All four started as teachers.
"I wanted teaching," said Sister Kathleen, who taught at several schools in Ohio and also at Sacred Heart School in Knoxville. "I was very grateful to be a teacher. I loved every day I went to the classroom."
Although the other three sisters started out as teachers, they eventually went into other ministries.
Sister Yvette started as a teacher in schools in Cincinnati and Tennessee, including the former St. Mary School in Knoxville, St. Joseph School and Immaculate Conception School, both in Memphis, and Holy Rosary Academy in Nashville.
She then changed her ministry to pastoral care at the former St. Mary's Hospital in Knoxville. "I liked that I could help people," Sister Yvette said.
Not long after she started working with cancer patients and their families, Sister Yvette learned her brother was dying of cancer. When she was offered a chance to move to another floor in the hospital, she declined.
"I could relate to these people," Sister Yvette said. "It was very special to prepare those people for dying."
After 10 years as a hospital chaplain, Sister Yvette was invited to work in parish ministry by Msgr. Bill Gahagan at St. Therese Church in Clinton, Tennesse. She was there for 33 years, and then spent seven-and-a-half years in parish ministry at Our Lady of Fatima Church in Alcoa, Tennessee.
"My past life was a stepping stone," Sister Yvette said. "God was preparing me for parish work."
Sister Pat followed a similar path. After starting as a teacher, she moved into a pastoral care ministry at St. Mary's Hospital in Knoxville.
"I knew that was what the Lord was asking me to do, to be in touch with the people," Sister Pat said.
Father Dan Whitman invited her to be a pastoral associate at St. Jude Church in Helenwood, Tennessee. Her first response was, "I don't know if I can do that. I've never done parish work."
When she started, "I was scared to death," Sister Pat said. "But the Lord's grace gave me the courage I needed."
"It was an awesome gift the Lord gave me to accept myself to be the person the Lord meant for me to be," she added.
Sister Pat stayed in Helenwood for 27 years before retiring to the Mercy Convent in December 2020.
Sister Eileen was a teacher and principal for 20 years in schools in Tennessee "mostly in little towns around," she said. As the community began to change in the wake of the Second Vatican Council, Sister Eileen said, "I really wanted to get into some spirituality work."
She directed retreats during the summers for 10 years while also teaching and then moved into parish ministry, including at St. Ignatius of Antioch Church in Nashville, "when they were practically brand new."
During her seven years at St. Ignatius, she started one of the first parish RCIA programs in the diocese. She also started a small faith group for young mothers. "We still meet 40 years later," she said.
Sister Eileen then got a degree in pastoral counseling and began working at Vine Street Christian Church in Nashville as a pastoral counselor. One of her clients had a daughter battling addiction. A friend of Sister Eileen's in the Mercy community had started a House of Mercy for young mothers with addiction problems in Ohio, so she decided to open a similar House of Mercy in Nashville. 
Vatican II ushered in many changes for religious orders, including the Sisters of Mercy. One of the Council's documents, "Perfectae Caritatis: Decree on the Adaptation and Renewal of Religious Life," called on religious communities to rediscover their roots and the original charisms of their founders.
For the Sisters of Mercy, that meant reimagining the work of their founder Catherine McAuley, who started the order to care for homeless women and children and to educate the poor. The community broadened its ministries beyond teaching and nursing after Vatican II. 
"One of the reasons we could do different kinds of work was because of Vatican II," Sister Yvette said. "It allowed us to be open to what our talents were."
"We were like a rosebud gradually opening," Sister Pat said. "So you were able to have a sense the Lord is in this and he's going to help us through."
The changes are continuing. "It's an evolutionary process," Sister Eileen said. As the number of Sisters has declined, the number of lay associates carrying on the charisms of the Sisters of Mercy is growing.
"We have a very active group here in Nashville" of Mercy Associates, Sister Eileen said.
"There will always be a vocation in life for celibate women devoted to prayer and ministry," Sister Kathleen said. "We may become less, but we'll never die out."
Father Bill McKenzie was the main celebrant of the Jubilee Mass and Msgr. Gahagan, Father Mark Hunt, the Mercy Sisters' chaplain, and Father Pat Kibby, were the concelebrants.
At the Mass, the four sisters renewed their vows of poverty, chastity and obedience, vows that all religious sisters make. But as Mercy Sisters, they made and renewed an additional vow: to serve the poor, sick and uneducated.
In their lives as Sisters of Mercy, they followed the words of St. Paul in his speech at the Aeropagus in Athens as recounted in the Acts of the Apostles. "In Jesus," said Sister Kathleen, "we live and move and have our being."