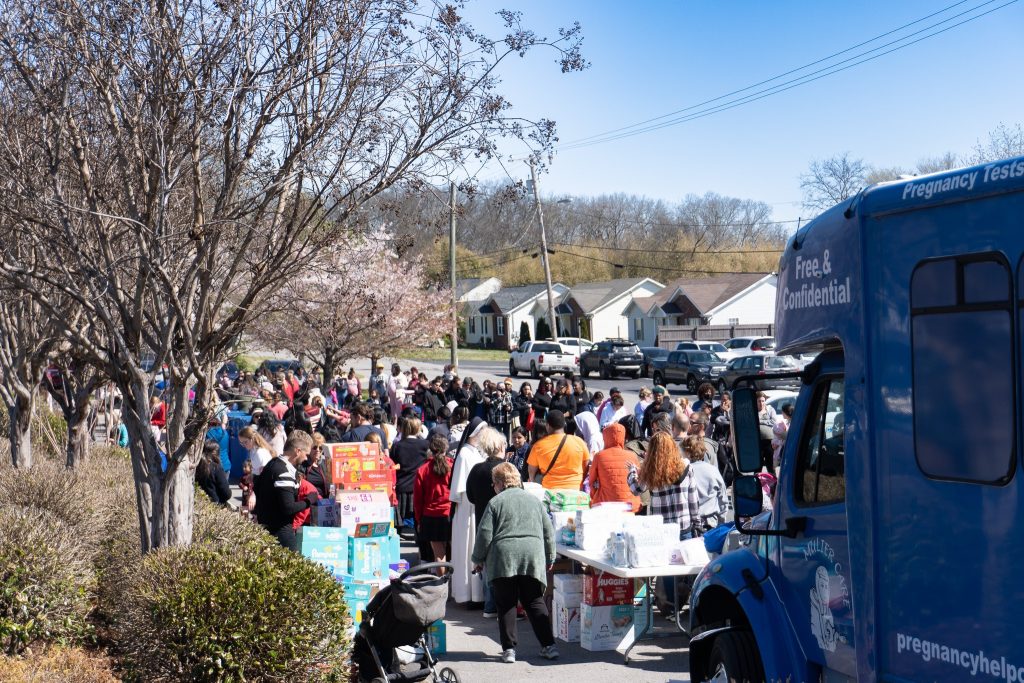 On Wednesday, March 29, Mulier Care and St. Edward Church teamed up to host a community-wide baby shower for new mothers and families in need.
The host of volunteers passed out free resources, including diapers, wipes, shampoo, and clothing to 643 expectant mothers and families, according to Jessica Johnson, executive director.
"We want to say thank you to all who volunteered, partnered with us, and helped show the love of Christ to our neighborhood, especially Mother to Mother, the St. Edward staff, all of our volunteers, and you for your generous donations that helped steward this vital event," Johnson said in a message to the organization's supporters. "We could not do this work without you.
"We hope to make this a bi-annual event because we love pouring into our patients, but we're so excited to be able to watch God grow this ministry in order to pour into our community as well."
Mulier Care has been partnering with St. Edward for more than two years now, using the east parking lot of the church as a spot for its mobile pregnancy center.
"We had that space available and we were in the process of, with myself coming in as the pastor, taking a good look at all our different assets so we could make sure all of our campus was being utilized with something that connected with our mission … as a parish and as the Catholic Church to serve everyone and love our neighbor and proclaim Jesus Christ to them," said Father Andy Bulso, pastor of St. Edward. "It was also a good location in the sense that St. Edward is surrounded by the kind of demographics that will need this kind of service."
"We were very supportive from the moment that Jessica Johnson told me about the idea" for the baby shower, he added. "I thought it was a very good idea from a couple of different perspectives.
"First, it really exemplified Mulier Care's mission, which is not just to convince women to carry their babies to term, but to support them after they give birth and to continue to enable them to accept the gift of motherhood that they have received," Father Bulso said. "This was a very good example of that because they were handing out items that they need but would be a challenge for young single mothers to obtain."
Secondly, it made Mulier Care more visible to the community, he added. 
"And the response was incredible," he added. "It didn't formally start until 10, but we had young mothers lined up starting at 8 a.m. … It was a pleasant surprise to see so many people."
Father Bulso said it is also an example of how the conversation goes farther than just getting a woman through a pregnancy.
"In the political conversation, we can get fixated on the time of pregnancy and whether or not it will be allowed for a woman to end her pregnancy, but we do have to realize on a practical level that this is not a nine-month question," he said. "This is a human life that, especially for the first 18 years, is going to be very dependent on their parents; hence, the importance of supporting not just in the time leading up to a woman giving birth, but afterwards when it comes to raising the children."
Mulier Care is a non-profit organization based in Nashville, "which provides assistance to women who have a minimal support network," according to the official website.
"We assist these women with crisis and unplanned pregnancies in their initial decision to make an informed choice for themselves and their children. We help them become better prepared to care for themselves and their children, both before and after they give birth.
"Mulier Care focuses on providing women the basic education, advocacy, and help they require during their greatest time of need," the site continues. "Providing a continuum of care is essential to helping a woman thrive during her crisis. If the mother cannot thrive, her unborn child will not survive."
For more information, visit muliercare.org.