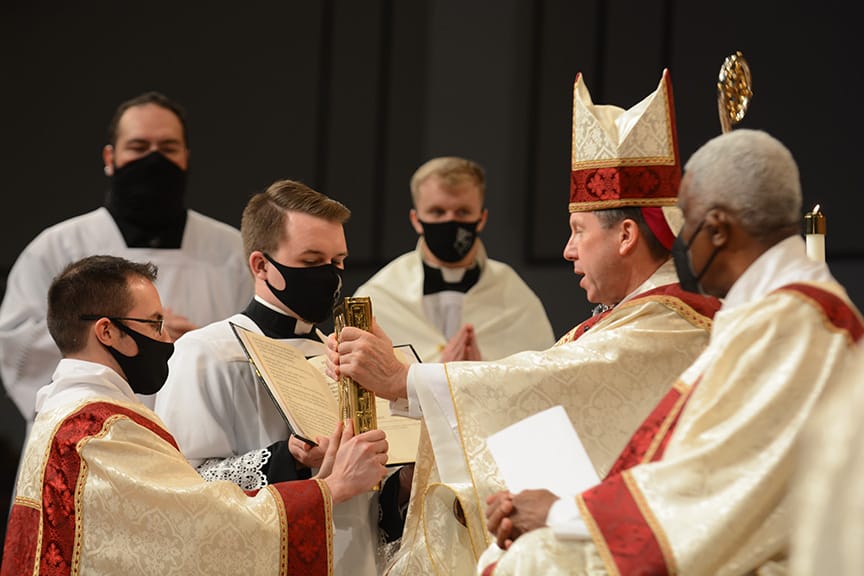 Bishop J. Mark Spalding asked Diocese of Nashville seminarians Nonso Ohanaka and Brent Thayer during their ordination as transitional deacons on Saturday, March 27, to use the gifts God has given them to serve the Church.
"What kind of love does Jesus ask of us? A love that constantly gives for another," Bishop Spalding said in his homily during the ordination Mass celebrated at Sagrado Corazon Church in the Catholic Pastoral Center.
Deacons Ohanaka and Thayer, both studying at St. Meinrad Seminary in Indiana, are scheduled to be ordained as priests in 2022.
When people make the great promises to the Church, whether in Baptism, Holy Orders, religious life, or marriage, Bishop Spalding said, "We make those promises … as though Christ is working through our very selves.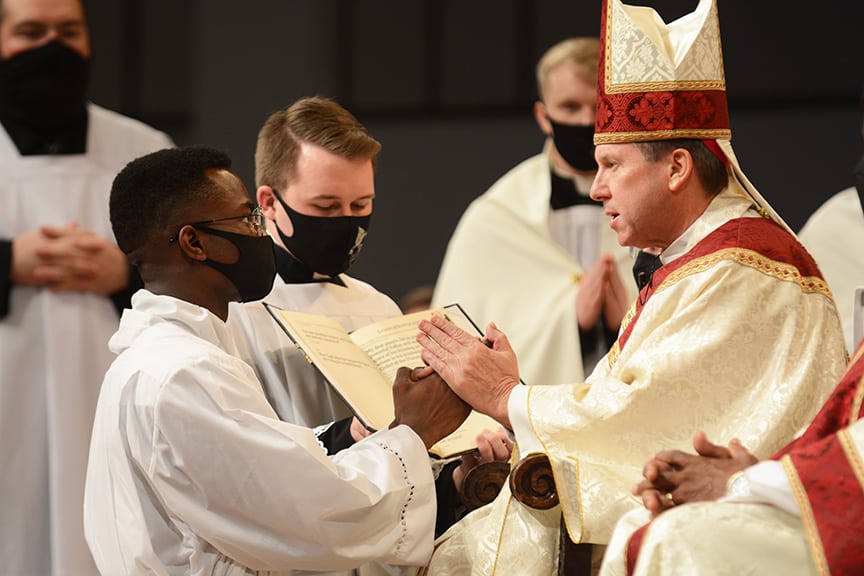 "Whenever I say that I do, it means I am doing for others," he said. "You are called to serve and not be served."
"You're going to be a sign and symbol to the world that I gave everything and absolutely in the way Christ gave for the good of others," Bishop Spalding told Deacons Ohanaka and Thayer. "The world more and more doesn't understand this type of promise. …
"But in the sacrifice … the world is made better, and we need it. We're starving for it," he added.
As deacons, their role will be to draw people "into the light that is Jesus," Bishop Spalding said.
"Look out into the world, see those on the margins, and love them and bring them in," Bishop Spalding said. "The diaconate always goes out to the poor and brings the poor to the Church and the Church to the poor. Never forget that."
"Everything about it was beautiful," Deacon Thayer said of the ordination. "I'm looking forward to serving the people more" as a deacon.
Deacon Thayer preached his first homily on Palm Sunday, March 28, at St. Catherine Church in Columbia, where he had served over Christmas break. "I had such a great experience there, I wanted to go back."
Deacon Ohanaka preached his first homily on Palm Sunday at St. Ignatius of Antioch Church, where his family often attends Mass.
At the start of his ordination, "my heart was beating fast," Deacon Ohanaka said. "Once I gave the promise of obedience, I had a lot of peace."
To see a video of the ordination Mass, visit the Diocese of Nashville's Facebook page.