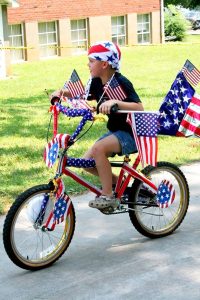 The annual Fourth of July picnic hosted by Sacred Heart Church in Loretto is typically the most festive day of the year for the small Catholic parish in Lawrence County. The annual event has brought together parishioners, school alumni and community members for more than 100 years.
This year, however, will be different.
There will be no friends gathering around communal tables to eat the famous corndogs and hamburgers, no games for the kids, no large-scale 5K run.
"The Coronavirus pandemic makes it impossible for us to have a traditional July 4th Picnic as we have had for years. The pandemic forces us to think outside of the box as we adapt to new ways of gathering," Sacred Heart Pastor Father Paul Nguyen wrote in a message to parishioners. "However, one thing this coronavirus cannot and will never take away from every one of you is the love, the generosity, and the kindness that you have for Sacred Heart School."
The Fourth of July picnic is the biggest annual fundraiser for Sacred Heart School, and last year raised about $34,000, according to Amy Brown, Sacred Heart parish secretary. While everyone is disappointed about not having the same festive event as years past, "people are generous, and are still donating," she said. "They want the school to survive."
The school, one of the oldest in the Diocese of Nashville, was founded in 1872. It's also one of the diocese's smallest schools, with about 84 students in pre-K through eighth grade.
"Sacred Heart School continues to benefit from the generosity of all of its benefactors. Due to this generous support, the school has been able to focus on providing a quality, Catholic education year after year," Sacred Heart School Principal Shelly Stepp wrote in a message to school families, encouraging them to participate in the July 4th picnic in its modified form.
Instead of the typical 5K race held the morning of the picnic, participants are encouraged to purchase a T-shirt and run a 5K on their own anytime from now until July 6. The parish has set up an online auction page, which includes items from local artisans such as wood carved items, homemade jams, and more.
"We encourage people from other parishes to check out our online auction," said Brown.
Parish volunteers will still prepare food that day for drive-thru sales of corndogs, hamburgers, sno-cones and ice cream.
"We have to re-invent what we've been doing, but hopefully we'll be back next year," Brown said. She encourages everyone to save the date for next year's picnic: July 3, 2021.
For more information about Sacred Heart's Fourth of July picnic, visit: shsjparishes.com/4th-of-july-picnic.
You can bid on the auction items here: www.biddingowl.com/SHS4thofJulyPicnicAuction.
Parishes to hold annual summer BBQ fundraisers
Summer is synonymous with parish barbecue picnics for two parishes in the Diocese of Nashville, which hold their biggest parish fundraisers and events of the year in late July and early August.
St. Patrick Church in McEwen has held the Irish Picnic and Homecoming for 165 years, and will hold it again this year, in a modified form, on July 25.
"Uncertainties about health restrictions from the state and diocese require us to hold a smaller event and take advantage of online sales," according to a message on the parish website. "On July 25, we will sell BBQ shoulders, sauce and souvenirs, and we will also have the prize drawing."
St. Patrick will have an online auction to replace the traditional silent auction. For more information visit: www.stpatrickmcewen.org.
St. Lawrence Church in Joelton is also in the process of planning a smaller annual barbecue picnic than in years past. Their 138th annual picnic will take place on Saturday, Aug. 1, with drive-through plates available for purchase. They will update the parish website as more information becomes available: www.stlawrencejoelton.com/138th-annual-bbq-picnic.