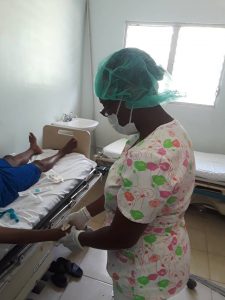 The Visitation Hospital Foundation is raising funds by asking people not to go anywhere or do anything but make a donation.
The Foundation, which operates the Visitation Clinic in Petite Riviere de Nippes, Haiti, is conducting a no-show fundraiser during the COVID-19 pandemic.
"During these unprecedented times the safety and health of our families is of utmost importance," said an email from the Visitation Hospital Foundation announcing the fundraiser. "The best news is this event will never take place and you don't have to worry about giving up an evening or worrying about social distancing! That being said, we do need your support – just not in person – so you get to stay home!"
Visitation Clinic is a full-service outpatient clinic serving the area of southwest Haiti, which has limited health care facilities.
Besides raising funds for ongoing operations, Visitation Hospital Foundation also is raising funds to help the clinic through the COVID-19 pandemic, including providing personal protection equipment for the staff and purchasing additional supplies and medications for COVID-19 patients.
To make a contribution, visit www.visitationhospital.org/donate/ or mail a check to Visitation Hospital Foundation, 237 Old Hickory Boulevard, Suite 100, Nashville, TN, 37221.
For more information, call or email Executive Director Theresa Patterson at 615-298-3002 or parishprogram@aol.com.