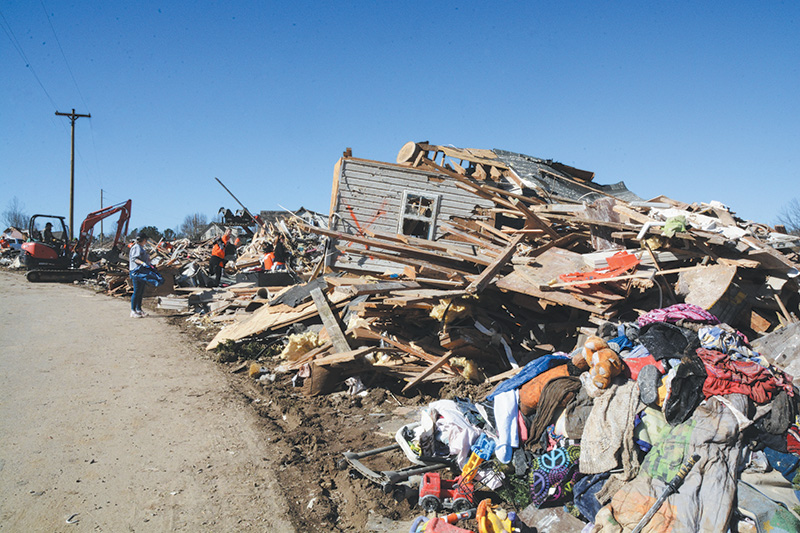 Catholic Charities of Tennessee's annual fundraising breakfast, Pathways to Possibilities, had to be converted to a virtual event this year because of the restrictions on large gatherings due to the COVID-19 pandemic, but donations are nearing last year's totals and are still coming in.
"People are being very generous," said Catholic Charities Executive Director Judy Orr. "They recognize the great needs out there."
Pathways to Possibilities was planned as a breakfast event on Tuesday, April 21, at the Music City Center. Instead, the event moved online with appeals from Bishop J. Mark Spalding and Orr posted on the agency's website and social media sites April 20-23.
By April 28, Catholic Charities had collected about $95,000. Donations are still coming in, and people can continue to donate online at https://bit.ly/CCPathwaysDonate or by mailing a donation to Catholic Charities, ATTN: Pathways, 2806 McGavock Pike, Nashville, TN 37214. Last year's gross proceeds were about $128,000.
By moving the event online, Catholic Charities was able to reach more people with the appeal for help, Orr said.
"We would have had at best about 500 people seated at our event," Orr said. Instead, Catholic Charities emailed the appeal to about 4,000 people and reached another 2,500 through its various social media platforms. About 450 people watched videos of Bishop Spalding and Orr explaining the need.
"We hope we've found a new audience through this process," Orr said.
"We're also extremely grateful to all of our sponsors who honored their commitments even though it wasn't the event they signed up for," Orr said. When Catholic Charities offered refunds to their sponsors, she added, "Everybody said, 'Put it to work.'"
In the past, proceeds from Pathways to Possibilities have been used to address the greatest needs in the community rather than for specific program. Due to the deadly March 3 tornadoes that whipped across Middle Tennessee and the COVID-19 pandemic, "There is a bottomless pit of need in this community right now," Orr said.
Many low wage workers have been affected by the pandemic, particularly in the hospitality and tourism industries in Nashville. Catholic Charities has received grants from United Way of Middle and the Nashville Convention and Visitors Bureau to provide direct financial assistance to people who have lost their jobs due to the pandemic.
"That's a program we have every day, all day long, year in and year out," Orr said. "We are experts at funding people who need a little bit of help to get through a crisis."
"As more and more layoffs occur, we're seeing a broader range of people seeking help," Orr said. "People who have never sought social services help before in their lives are turning to us."
The COVID pandemic followed the tornadoes, hitting some people with a double dose of setbacks. That has led to more people in the community who need help getting food and housing, Orr said. "There's a lot of despair."
Catholic Charities has been focused on meeting immediate needs, arranging housing for people who lost their homes in the tornado, and providing meals to people who have lost their jobs.
In addition to providing assistance to people in Nashville, Catholic Charities has also been helping people in Lebanon and Cookeville, which were hit hard by the tornadoes.
"Some got unemployment and some got stimulus checks, that's only going to go so far," Orr said. "The possibility of some of them losing their housing is great. If we can help stave off that threat during this time they're unemployed, we'll have done a great service to the community."
But for some people, the fallout from the tornadoes and the pandemic will be long lasting.
"This is the kind of precipitating event for people who were already living on the margins from which they cannot recover," Orr said. "It spurs cascading events. It could be generational effects. … That's going to be really hard for people to bounce back from."
Catholic Charities has experience helping people through such traumatic events. Friday, May 1, is the 10th anniversary of the floods that devastated Nashville.
"We're seeing some of the same things," said Mark Barry, director of communications and fundraising for Catholic Charities. "We're seeing people coming to the receiving side who have always been on the giving side, so there's some awkwardness."
Some people are showing signs of post traumatic stress disorder, he said. "We're seeing activity with our counseling program."
Catholic Charities is here for the long haul as people struggle to recover from these concurrent crises. "We're not a first responder … but we are the long-term support responders," Barry said. "On March 3 we knew we were in for 12 months, 18 months, two years of assisting people.
Besides the donations that were raised through Pathways to Possibilities event, Catholic Charities has received about $400,000 to help tornado victims, including a $100,000 grant from the Diocese of Nashville, $30,000 from the Diocese of Memphis, and donations from people, parishes and dioceses throughout the country.
"A significant amount of the money is going to help people rebuild, both in the short term and the long term," Orr said.
The money from the Diocese of Nashville, as well as grants to Holy Name Church, Assumption Church, St. Vincent de Paul Church, all in Nashville, and St. Thomas Aquinas Church in Cookeville, and St. Mary Villa Child Development Center in Nashville, all of which were in the path of the tornadoes, came from donations for tornado relief, said Ashley Linville, stewardship director for the diocese.
"The parishes, a lot of their costs will be covered by insurance," Linville said. The money from the diocese was intended "to help them out in the immediate time being and cover things insurance won't cover," he said.
Catholic Charities has also used some of the money to help those outside the diocese. After Chattanooga was hit by a deadly tornado at Easter, Orr said, "I felt a gut punch because I knew they would never get the help we got."
She contacted her counterpart in the Diocese of Knoxville, which includes Chattanooga, to see what kind of help they needed. "We ended up sending them $15,000 to help," Orr said. "We absolutely want to pay that forward."
Although people have been generous, Barry said, "The needs are still great. There's a long road that many will be walking along, and we will be walking with them."