This year, Catholic Charities is expanding Pathways to Possibilities into a week-long virtual event to share its mission and raise vital funds.
It will take place April 12-16 through Catholic Charities' newly redesigned website and through diocesan social media channels.
"The need for services increased by 50 percent last year," according to Judy Orr, executive director of Catholic Charities of the Diocese of Nashville.
In 2020, the social service arm of the diocese responded to multiple disasters, including the March 3 tornado, the economic fallout of the pandemic, and the Dec. 25 bombing in downtown Nashville, in addition to offering all its regular services like school counseling, refugee support, and community food programs.
With the increased demand for services comes a need for increased donations to support the breadth of work that Catholic Charities does. The goal for this year's Pathways to Possibilities is to raise $200,000, according to Orr.
"This is about all of us," Orr said. "People who never needed help turned to Catholic Charities this past year. Through no fault of their own, they found themselves without a safety net," impacted by multiple disasters that hit Nashville in 2020, she said.
Outside of the government, Catholic Charities is the largest provider of social services in Middle Tennessee. With a 59-year history and such a broad scope of services, Catholic Charities doesn't have a niche focus like many other local non-profits.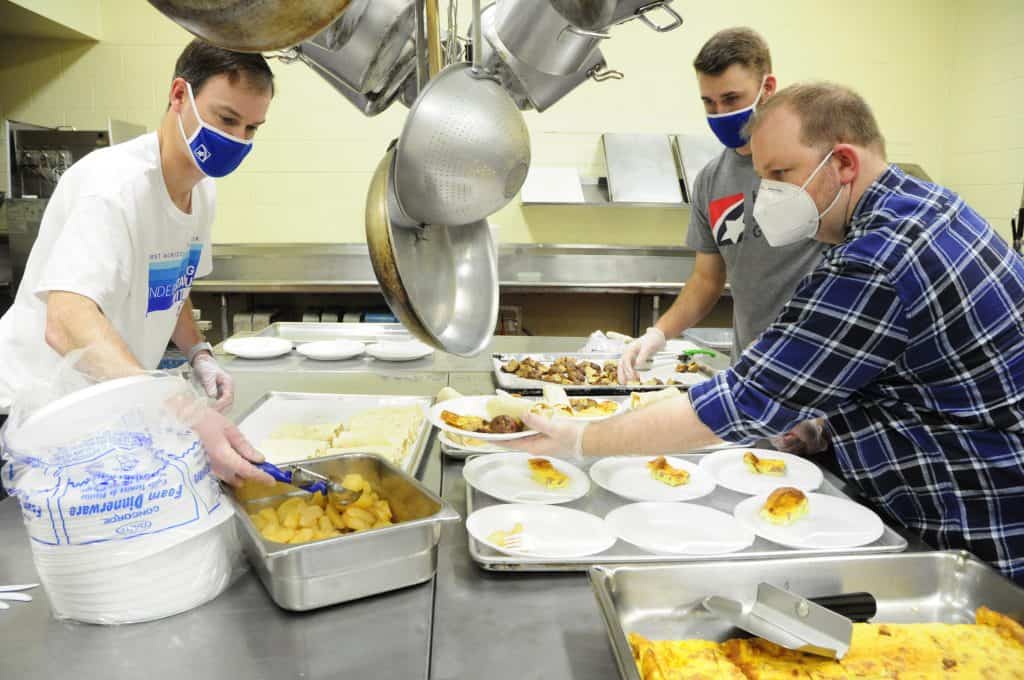 This makes it an appealing cause for corporate donors, and Catholic Charities' Director of Development Gene Gillespie is working hard to build more relationships with these major donors ahead of Pathways to Possibilities.
"This is a growing initiative for Catholic Charities," he said, "to align with our corporate sponsors and engage their employees in the work we do, as it also supports their philanthropic vision and commitment to the community."
Catholic Charities already has 35 sponsors committed to this event and another 8-10 pending sponsors soon to be finalized, said Gillespie. "This year will be the largest Pathways held to date, both in committed sponsors and generous gift donations."
First Horizon Bank donated $30,000 to Pathways to Possibilities, making it the largest presenting sponsor so far. They have also committed to volunteering at Loaves and Fishes once a quarter.
"Making an investment of time in our community is equally as important as making the financial donation," said Drew Rodgers, senior vice president of the commercial banking department at First Horizon Bank and a board member of the Catholic Business League.
"Food scarcity is one thing we wanted to address," Rodgers said, and "this is a program we want to support," he said while volunteering for the Loaves and Fishes breakfast service on a recent morning.
"We're very excited about being a presenting sponsor," Rogers said. "The scope of services Catholic Charities provides is a story we feel like needs to be told."
The five-day online Pathways to Possibilities event will begin on Monday, April 12, with a message from Bishop J. Mark Spalding and give an overview of Catholic Charities' acts of "love, hope and healing" from the past year.
Tuesday, April 13, will focus on love and being present and will highlight how Catholic Charities staff members are "available, supportive and empathetic whenever and wherever people need help," and that the organization serves "all neighbors regardless of race, economic status, religion, nationality."
Wednesday, April 14, will focus on hope and realizing possibilities and focus on how Catholic Charities offers long-term support and encourages positive change once a current crisis has abated through case management and counseling.
Thursday, April 15, will focus on healing and the power of self-reliance, highlighting Tennessee Serves Neighbors, "our biggest expansion and perhaps most important program ever – building on everything we have learned," according to the promotional materials for the event.
Friday, April 16, will wrap up Pathways to Possibilities by thanking supporters, recognizing sponsors, and sharing a movie with stories of Catholic Charities clients.
Pathways to Possibilities is "really about awareness building and that starts with telling stories of the people we serve," said Orr.
Support Catholic Charities now and during Pathways to Possibilities here: https://cctenn.org/.
Read more about Catholic Charities' work here: