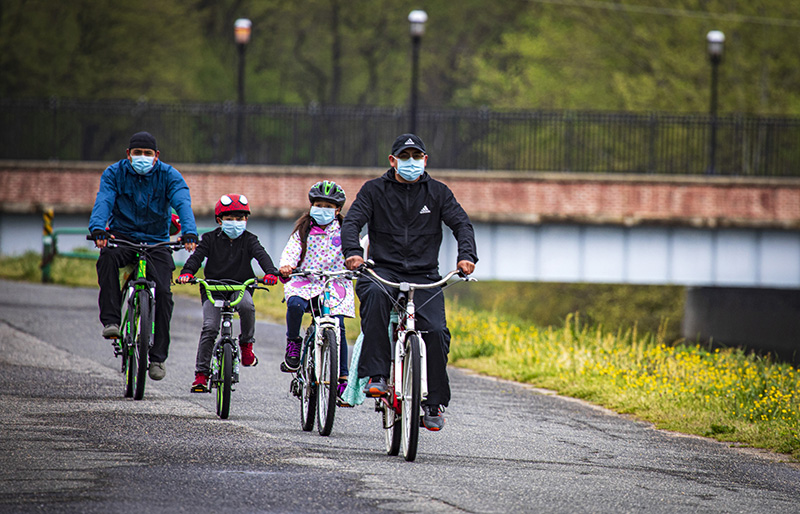 We are all chafing to get back to normal. To get out of our homes and go to a restaurant, a movie, a ballgame, to work, to school, and especially to Mass.
Government leaders, who have watched the economy crater as we have all hunkered down in our homes to slow the spread of the deadly COVID-19 virus, are particularly anxious. Among the things we citizens expect our public servants to do are: create conditions for a healthy economy that serves the common good; and protect the health and lives of the public.
For some governmental officials, who are trying to gauge when people can return to public spaces without putting their lives in danger unnecessarily, those two missions are now in conflict with each other.
Some are more eager to get the economy revving again than others. In an extreme example, Texas Lt. Gov. Dan Patrick thinks it is so imperative to lift the stay-at-home orders so businesses can reopen that he recently said, "There are more important things than living, and that's saving this country for my children and grandchildren and saving this country for all of us."
Earlier, he said he thought grandparents would be willing to sacrifice themselves to keep the economy going for their grandchildren. He didn't say whose grandparents he was talking about, nor who he thinks should give up living so we can all go shopping.
There is no denying that people are suffering not only from the COVID-19 virus but from an economy in freefall. Those particularly threatened by the current recession are small business owners who can only watch helplessly as their business collapses, and those low-wage workers who were already living on a razor's edge when they lost their job. They are feeling real pain and are desperate to get back to work or to open their business.
Father Augusto Zampini, adjunct secretary of the Vatican's Dicastery for Promoting Integral Human Development and a member of Pope Francis' COVID-19 response commission, said, "We are all in the same storm, but we're in different boats."
According to his analogy, people with a home, an income and food are in a big boat. They may get a bit seasick from the current storm, but they don't fear they are going to die.
The elderly, the immuno-compromised, day laborers, migrants and refugees, people in abusive relationships and the extremely poor are in "tiny little boats," he said, completely at the whim of giant waves.
As with most things in life, rebounding from the pandemic will be complicated. If people flood back into the public square they could reignite the pandemic and put people's lives at risk, their own and the lives of others. What will happen to the economy then? And there's no guarantee that the public, still fearful of the virus, will follow political leaders back into public places like restaurants or sports stadiums or their workplaces.
Churches are not immune from this conundrum. The pandemic has blown a huge hole into the lives of people of faith, having taken away their ability to come together to worship. The Diocese of Nashville, like other dioceses, is now weighing how it can resume the public celebration of Masses in the safest manner possible. At least in the initial stages, life in our faith communities is sure to look different than what we were used to before the pandemic.
In this situation, patience and prudence are important virtues. Patience and prudence on the part of political leaders, business leaders, church leaders and the public at large. We are still learning about the COVID-19 virus. We need to be careful not to make things worse. We know that even as lockdowns are lifted, we still will have to follow the social distancing and personal hygiene guidelines.
Pope Francis encouraged everyone, as the stay-at-home restrictions are relaxed, to follow the rules to protect all of us from another devasting wave of the virus. "Let us pray to the Lord that he gives his people, all of us, the grace of prudence and obedience to the regulations so that the pandemic does not return," he said.
The road back to normalcy will be long. We don't want to leave anyone along the roadside. We need to step carefully, correct course if we need to, and trust in God.