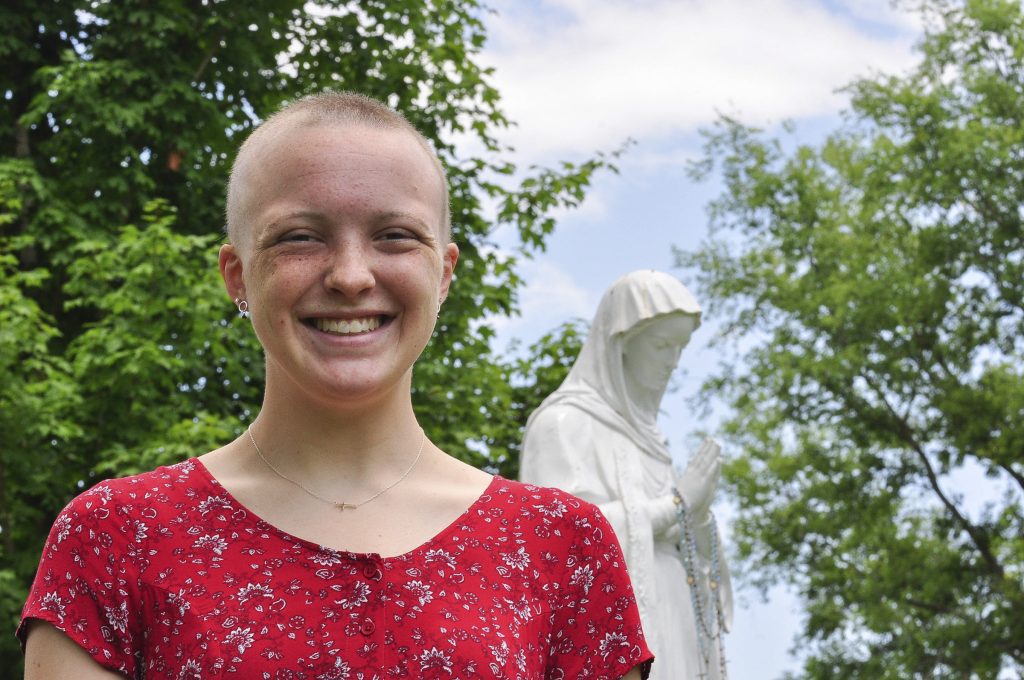 Rosemary "Rosie" Therese Robinson, who was named St. Cecilia Girl at St. Cecilia Academy in 2020 and is the sister of Reed Robinson, a seminarian for the Diocese of Nashville, died on Saturday, Oct. 23, 2021, surrounded by her family, after a long bout with cancer. She was 19.
"In Rosie's own words, she's 'on to her next grand adventure,'" her family wrote on a CaringBridge website. "After all this time of your faithful prayers for our girl, we hope you find comfort in knowing you now have another prayer warrior for you up in Heaven."
A funeral Mass was celebrated on Wednesday, Oct. 27, at the Cathedral of the Incarnation, with burial at Harpeth Hills Memorial Garden on Highway 100 in Nashville. 
A funeral Mass will be celebrated at 10 a.m. Wednesday, Oct. 27, at the Cathedral, with a Rosary at 9:30 a.m. Burial will follow at Harpeth Hills Memorial Garden on Highway 100 in Nashville.
Oct. 23 "is the day on which the Church always honors Our Lady, and we are convinced that Mary took special maternal care of Rosie and her family throughout her whole life but especially in these recent weeks," Sister Anna Laura, O.P., principal of St. Cecilia Academy, said in a message to the school community announcing Miss Robinson's death.
"God bless Rosie, who ran the race of this life so valiantly and with extraordinary virtue," Sister Anna Laura added.
Miss Robinson was diagnosed with rhabdomyosarcoma, a rare form of cancer, in August 2019, six days before the start of her senior year at St. Cecilia Academy.
After 10 months of chemotherapy, she was declared cancer-free, and in July 2020 graduated with her classmates.
"I'm cancer free, and that's due to prayer," Miss Robinson told the Tennessee Register at the time. "It's honestly amazing. I received so many letters from people I knew and people I didn't know. It's so comforting to know people are praying for me. … I think I'm proof that prayers do work."
Miss Robinson was able to keep a positive attitude throughout her treatment. "Once you start being negative it's just a spiral, everything becomes negative," she posted on the Team Rosie Caring Bridge website. "I really do have a lot to be positive about. … Some kids I see will never have a normal life. I had a childhood and got to grow up normal and a lot of them won't get that opportunity. It helps to put it in perspective."
With her trademark good humor, she dove into her senior year with gusto, balancing chemotherapy treatments with her school work, continuing to be a part of the St. Cecilia cross country, basketball and track and field teams, attending the March for Life in Washington, D.C., with her schoolmates, and scoring the winning touchdown for the seniors in the Powder Puff football game during the school's annual Spirit Week.
"It really comes from God," Rosie told the Register in 2020. "I'm sure it was all his graces that allowed me to be that positive."
Her fellow students and teachers noticed and bestowed upon her St. Cecilia's highest honor, being named the Class of 2020's St. Cecilia Girl, an award given to a senior who best exemplifies the ideals of the school.
When Miss Robinson was first declared cancer free, doctors had warned her the type of cancer she had tends to recur. In May of this year, doctors discovered the cancer had returned.
Among Miss Robinson's survivors are her parents, Jeanne and Mark Robinson, and her siblings: Brooks (Lindsey), Hayley (Barry) Shovlin, Gracie, Quinn and Reed.