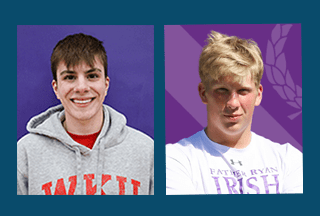 Father Ryan High School junior Drake Carlson won a state championship in both the discus and the shot put and senior Ciro Albamont claimed the title in the 800-meter run to lead the Irish at the recent Division II-AA State Track and Field Championships.
"Everybody pretty much performed up to or better than expectations," said Father Ryan Track Coach Doug Jones. "That's always what you're looking for going into the state meet."
For Carlson, the state championships capped a perfect season. "He went undefeated in every throwing event we competed in this year," Jones said. "That's pretty remarkable. I don't remember one person winning both (the discus and the shot put) in the state meet."
Carlson won the shot put with his personal best of 56 feet 3 inches, which was 18 inches farther than the runner-up, B.J. Robinson of Christian Brothers High School in Memphis.
He won the discus state championship with a throw of 165.08 feet, more than 10 feet farther than second place finisher Aaron Crowder of McCallie School in Chattanooga.
The throws are a family tradition for the Carlsons. Drake's father Rob, threw for the University of Tennessee and his brother Brock now competes for Tiffin University in Tiffin, Ohio.
"I've known him since he was a kid," Jones said of Drake Carlson. "He's a hard worker. He's a super-competitor. When he gets into competition, he really turns it on. … He's the kind of kid you want out there."
Carlson not only shines in track and field but is getting a lot of attention from colleges as a football lineman.
He was not the only member of the Irish team to do well in the throws at the State Championships, held May 25, at Middle Tennessee State University's Dean Hayes Stadium.
Junior Katie MacClary finished second in the girls discus with a throw of 120 feet, one inch. "A lot of years, 120 would be right up there to win," Jones said. But this year, Mensi Stiff of Brentwood Academy far outpaced the competition with a throw of 155 feet, 1 inch to claim the state title.
Carlson, MacClary and the other Father Ryan throwers were coached by Assistant Coach Scott Shaver, with some help from Rob Carlson. "Scott had a heckuva year," Jones said.
Albamont and fellow senior Aiden Nix had been mostly long-distance runners before this season but shined in the middle distance of 800 meters this year. Albamont, who came into the State Championships seeded fourth, won the state championship with a time of 1:57.96, and Nix finished third with a time of 1:59.61.
"He's had a heckuva a year," Jones said of Albamont. "He and Aiden Nix."
Albamont only started running the 800 a year ago, Jones said. "I would have guessed he was more of a mile, two-mile guy. But both he and Aiden's 800 time came really down" throughout the season.
Albamont won the 800 in the sectionals, and then repeated that performance in the State Championships. "He took over at the 400-meter point and led wire to wire from that point on," Jones said.
Both Albamont and Nix will be running in college for Western Kentucky University in Bowling Green, Kentucky. "Those guys are good friends … and really pushed each other this year," Jones said.
Albamont and Nix were part of the 4×400 relay team, along with Ryan Jones and Carson Spalding, that finished second. Jones' son Ryan, a freshman, ran the first leg of the relay. "I ran three distance guys after that, and we almost won it," Jones said.
Albamont also finished seventh in the 1,600-meter race.
Sophomore Charlie Becker, who set a school record in the 300-meter hurdles this season, finished third in both the 300-meter and 110-meter-high hurdles at the State Championships.
"He's the only kid to run under 40 seconds in the 300 for Father Ryan," Jones said. "He's definitely a competitor. He didn't have a great race at state (in the 300), but he worked hard to stay in it."
Ryan Jones finished fifth in the 400 meters, and the 4 by 800 relay team of Carson Spalding, Royson Trumble, Sam Wiggins and Will Thompson finished fifth.
Father Ryan's boys finished seventh in the team standings.
For the girls team, besides MacClary, junior Grace Feltner and sophomore Katie Knapp finished seventh and eighth, respectively, in the 3,200-meter race. The girls finished 14th in the team standings.
Soccer state runners-up
The Father Ryan boys soccer team fell in the Division II-AA state championship to the Baylor School of Chattanooga on penalty kicks.
The score was tied 2-2 after 80 minutes of regulation time and two 10-minute overtime periods. Baylor converted four of their five penalty kicks to seal the state championship 4-2. Father Ryan's Dylan Kleiner, who scored both of the Irish goals in regulation time, and Jackson Drinko were the only Ryan players to convert their penalty kick attempts.
Father Ryan entered the state tournament with an 8-4-5 record and beat Christian Brothers 2-1 in the semifinals to advance to the championship match. Luca Daniels and Ben Emerson scored for the Irish.
Against Baylor, Kleiner opened the scoring by converting a penalty kick at the 25:49 mark of the first half. Anthony Weekley tied the score for Baylor on a header at 30:48 with an assist from Guilherme Gragnano.
Kleiner scored again at 50:06 to put Father Ryan up 2-1. But Mohammed Wumpini brought Baylor even again with a goal at 68:16.
Neither team scored again, setting up the deciding penalty kick round.
Baylor finished the season with an 18-1-1 record.