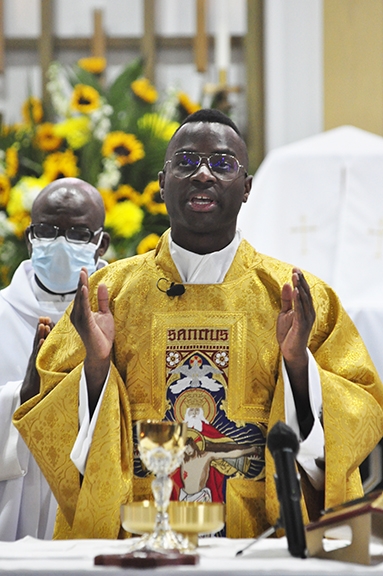 When Bishop J. Mark Spalding read the prayer of ordination for Father Chukwunonso "Nonso" Ohanaka, laid his hands upon his head, and anointed his hands, it was a special moment for two particular communities in the Diocese of Nashville: the parishioners of St. Vincent De Paul Church and the members of the Nigerian Catholic Community.
Father Ohanaka was born in Nigeria and grew up in Nashville, attending St. Vincent de Paul Church with his family.
After his ordination on Saturday, May 28, along with Father Brent Thayer, both communities had special celebrations.
Father Ohanaka returned to St. Vincent de Paul on Sunday, May 29, to celebrate a Mass of Thanksgiving and a reception in his honor.
Over the years, St. Vincent parishioners have watched Father Ohanaka grow from a child into a priest. They reminded him that no matter where his priesthood takes him, he will always be a part of their parish.
They also expressed their pride in his decision to follow the Lord's call to the priesthood, and their hope that it would be an inspiration for other young men in their community.
At his ordination and at the Mass of Thanksgiving at St. Vincent, the Nigerian Catholic Community was there to celebrate and support the new priest. They held another celebration on Sunday, June 5, at St. Edward Church, the regular Mass for the Nigerian Catholic Community held on the first Sunday of the month.
Father Ohanaka's ordination is "very, very important" for the Nigerian Catholic Community, said Father Theo Ebulueme, Pastor of Holy Name Church in Nashville and the chaplain for the Nigerian community.
Father Ebulueme was Associate Pastor at Immaculate Conception Church in Clarksville when Father Ohanaka was a student at Austin Peay State University. "I would pick him up, and we would go to the Nigerian Catholic Mass."
After years of seminary formation, "all that effort comes to fruition" for Father Ohanaka, said Father Ebulueme, himself a native of Nigeria.
"We rejoice in this gift of Father Nonso's priesthood to us because we need it so," Father Francis Appreh, pastor of St. Vincent, said in his homily at the Mass of Thanksgiving there. "This world desperately needs the priesthood. The world needs this witness; it needs to be taught how to love."
At the end of his Mass at St. Vincent, Father Ohanaka thanked the community for their prayers and support. "I couldn't be here without all of you," he said.
Father Ohanaka encouraged them to continue to pray for vocations, particularly from the African-American community. "It's important to have that voice in the Church."