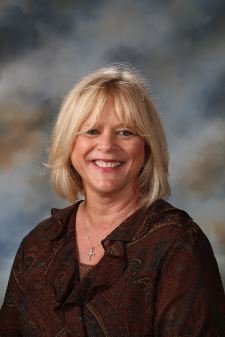 Teresa Leon, who previously was a teacher at Sacred Heart School in Loretto, is returning, this time as principal.
"I'm home. That's the best way I can explain it," said Leon. "When you walk through these doors you just feel at home.
"It reminded me of my Catholic school that I went to when I was a little girl. It just took me back to my childhood," growing up in a cattle ranch in Osteen, Florida, she said.
Previously, Leon taught third and fourth grades at Sacred Heart for five years in the late 1990s and early 2000s after she and her husband Mike moved their family to Middle Tennessee so he could pursue a career as a singer and songwriter, she said.
They returned to Florida, and she was a teacher and administrator for 14 years at Blessed Trinity Catholic School in the Orlando area.
She and her husband moved back to Middle Tennessee in 2017, this time following their adult children. "My children wanted to come back to Tennessee and they took my grandchildren. My children didn't follow me, I followed the grand babies," Leon said with a laugh.
Since returning to the Nashville area, Leon has served as the vice principal of students at Overbrook School in Nashville. "They prepared me for this job."
"They taught me how to manage my time and they gave me opportunities to delve into different areas" of school administration, such as marketing, admissions and working on curriculum, Leon said of her time at Overbrook. "Now, I have a background in all of those areas."
When the principal's job at Sacred Heart became open, several people approached Leon about the possibility of her applying, she said. When Leon talked to Sister Immaculata, O.P., Overbrook's interim principal, she encouraged her to apply.
Leon earned her bachelor's degree in elementary education from Stetson University in DeLand, Florida, and a master's degree in education leadership from Barry University, a Catholic college in Miami. "And then I finished out with another master's in theology from Saint Leo University in the Tampa Bay area. So, I like school," she joked.
More seriously, she added, "I love the kids. I love working with the students. I love working with the teachers and inspiring them to the be the best they can possibly be."
As Leon heads into her first year as principal at Sacred Heart, which like Sacred Heart Church in Loretto, has been around for nearly 150 years, "What I've been thinking about is trying to get the students more involved in service activities for the community, because there is a need," she said. The school's service projects were curtailed last year because of the COVID pandemic.
She also would like to institute a "buddies" program with the older students befriending and helping the younger students, Leon said.
And she wants the parents to get more involved in the school, Leon said. "I want to get the parents in here and … take the love that the grandparents have for the school and instill it in the younger parents that may be new to the area, so we can be around for another 150 years."
Sacred Heart will start the school year with 84 students, about the same as last year, Leon said. Boosting enrollment is always a challenge for the school, Leon said.
"My prayer is we slowly add students to our enrollment," she said. "Slow and steady is my motto. God will take care of us. He'll send us the people that we need here at Sacred Heart."
She has been meeting with real estate agents in the area to let them know about the school so they can share the information with their clients, many of them moving into the area from out of state, Leon said. She's also working with diocesan officials on ideas for marketing the school, Leon added.
The school's Catholic identity can be a draw for families, Leon said. "You can see it and feel it."
Leon is also working to maintain the high expectations for the school's academic program, she said.
"I'm excited to see what the future holds for Sacred Heart."
For more information about Sacred Heart School in Loretto, visit shsjparishes.com.