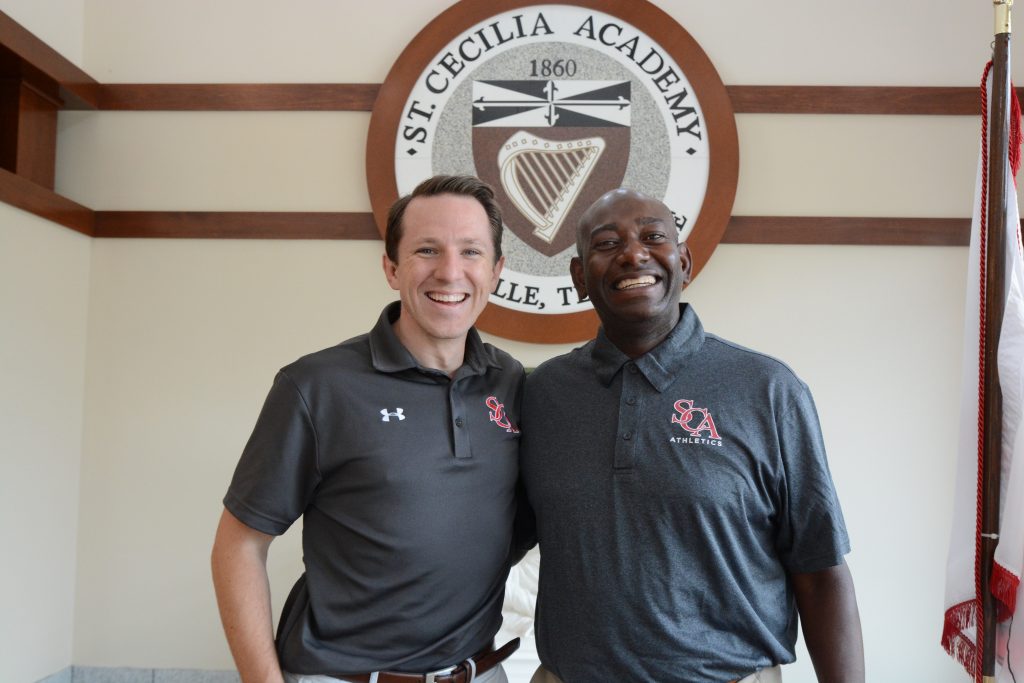 St. Cecilia Academy has hired two new members of its leadership team that have names familiar to many in Nashville's Catholic community. 
John Michael Simpson, the brother of Father Mark Simpson, associate pastor at Holy Family Church in Brentwood, and a member of the Simpson and Derrick families that have produced a host of hall of fame coaches at Father Ryan High School and other schools, has been named Vice Principal of Student Life.
Robert Jemison, a former teacher and coach at Father Ryan, including a stint as the school's head football coach, has been named Director of Athletics. He also will serve as a coach for the track and field team.
As vice principal for student life, Simpson will be responsible for attendance, discipline, security, student activities, and "general student life at the school," he said.
"My vision is to oversee and support all the students here," Simpson said, as well as "all the amazing faculty and staff."
The goal is to create a healthy environment to nourish the students at the all-girls school "in their growth to be confident leaders in the faith," he added. "I hope to do more intentional programs to provide a balanced student experience."
Jemison will oversee St. Cecilia's athletic program, which includes 14 varsity sports.
"It's all about the girls, number one, and their passion for athletics," Jemison said. He wants the athletics program to "inspire young female minds to challenge themselves and step out of their comfort zone to be all around St. Cecilia girls," Jemison said.
"When you speak with adolescents, you never know which words are going to turn that light on for them," Jemison said.
The two men's jobs complement one another, Simpson said. "Athletics is very valuable aspect of student life, especially in a rigorous academic setting," such as St. Cecilia's, he added. "What I learned in sports helped build my character as a man."
Simpson graduated from Montgomery Bell Academy where he won a state championship wrestling for his father Frank Simpson. After high school, he attended the U.S. Military Academy Preparatory School in West Point, New York, for a year before entering the seminary for the Diocese of Nashville.
He earned a bachelor's degree from the Pontifical College Josephinum in Columbus, Ohio, but decided to leave the seminary program. He worked for part of the school year at Father Ryan before moving to Christian Brothers High School in Memphis. In his seven years at Christian Brothers, Simpson served as a theology teacher, campus minister, assistant athletic director and assistant wrestling coach.
He also earned a master's degree in theology from Christendom College in Virginia and a master's degree in education from Vanderbilt University in Nashville.
"I wanted to get back to Nashville," Simpson said, and he was exploring options with Catholic schools in the area when his brother Patrick Simpson, the wrestling coach at MBA, told him about the vice principal opening at St. Cecilia.
His family has a long history with the school. His grandmother Sue Ann Mannion Simpson, his mother Margaret Derrick Simpson and his sister Christine Simpson Wessa all graduated from St. Cecilia and received the school's highest honor, being named St. Cecilia Girl. His other sisters, Clare Simpson Marchetti, Bridget Simpson, Rose Simpson Hodsden and Helen Simpson, also are all St. Cecilia graduates.
Before taking the job at the all-girls St. Cecilia, nearly all the schools Simpson has attended or worked for have been all-boys schools. A single-sex school "is a powerful experience whether it's a brotherhood or a sisterhood," Simpson said.
"The all-girls experience at St. Cecilia empowers women," he added.
Jemison graduated from Father Ryan in 1984, after attending St. Vincent de Paul and Christ the King Schools. After attending Marion Military Institute in Marion, Alabama for a year, where he played football, Jemison graduated from Texas A&M University with a bachelor's degree in sports medicine. He later earned a master's degree in sports management.
After graduating from Texas A&M, he returned to Father Ryan in 1989, as a coach in several sports, including football, wrestling and track and field.
Jemison left Father Ryan to become the athletic director and to coach football, wrestling and track at Harding Academy for five years before moving to Battle Ground Academy in Franklin. In 11 years at BGA, Jemison served as athletic director, middle school football coach, middle school and high school wrestling coach, and middle school and high school track coach.
"I left a situation where I had great relations with my students and families" and a supportive administration, Jemison said.
"I wasn't looking to leave BGA," Jemison said, but he was encouraged to talk to St. Cecilia Principal Sister Anna Laura, O.P., about the athletic director's job.
His conversation with the principal convinced him to make the change, Jemison said. "I'm here because of Sister Anna Laura and I missed Catholic education," he said.
"There's an incredible spirit to unleash here at St. Cecilia," Jemison added.