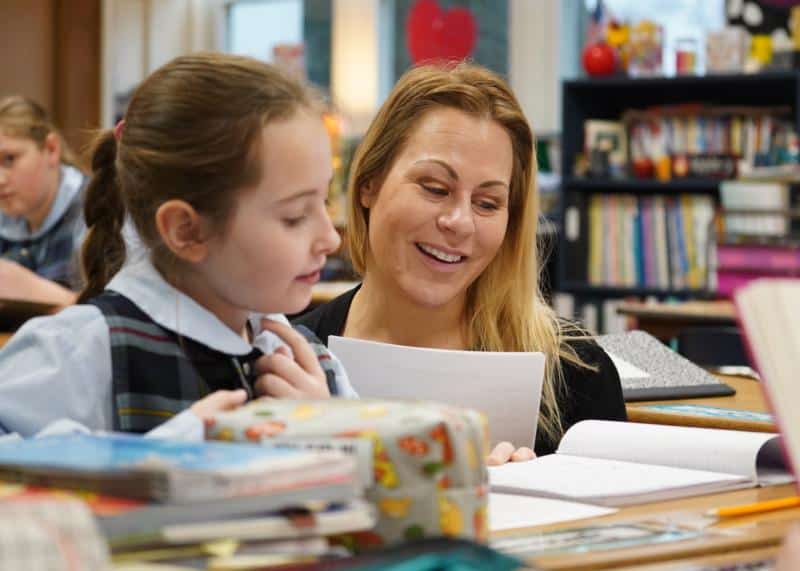 WEST PALM BEACH, Fla. (CNS) — An informal survey of local families about schools recently conducted by the Diocese of Manchester, New Hampshire, found that eight out of 10 families indicated their child missed interaction with classmates and teachers during the pandemic-related national lockdown.
So with confidence in those results, the Manchester Catholic schools have opted to reopen in the fall with full classroom-based education.
"Teachers have missed the one-on-one interaction with their students, and students have missed their teachers and friends. Everyone involved rose to the challenge, but we recognize that remote learning is not ideal," David A. Thibault, superintendent of schools for the statewide Manchester Diocese, indicated in a July 9 news release.
But with a summer resurgence of coronavirus infections well underway in the U.S., there are indications that some families are undecided what to do about enrollment amid the public health uncertainties and are stuck in wait-and-see mode with less than a month until schools reopen.
An ongoing enrollment crisis could further threaten the viability of Catholic education at a time when parochial school closings are already in evidence around the U.S.
The Manchester Diocese is hoping to stabilize its enrollment with a fresh appeal to families who haven't yet given Catholic education a chance. The appeal comes in the form of a Transfer Incentive Program, or TIP, for newly enrolled students.
Any first grader through eighth grader transferring from a non-Catholic school will receive a grant for $1,000 off tuition the first year, and $500 off the second year. Any student grades 9 through 12 transferring from a non-Catholic school will receive a $2,000 grant off tuition the first year, and $1,000 off the second year.
"We're calling this the 'See You in Class!' campaign," said Alison Mueller, director of marketing, enrollment and development for Catholic schools in Manchester. "We want as many young people as possible to join our wonderful communities. We'll see them in class, in person, this fall."
North of San Francisco, the principal of St. Vincent de Paul High School in Petaluma has been telling parents that his communication lines are open and that he wants to hear from them, but that ultimately if they don't enroll and make a commitment the reduction in enrollment, revenue will translate into teacher furloughs and reduced programing.
"It is not a good way to operate a business," said Daly, who represented Catholic schools at a "National Dialogue on Safely Reopening America's Schools" with President Donald Trump July 7 at the White House.
"Parents are stressed and worried and they don't know what is going on in many aspects and for us it is really important that we are available and reach out to families," Daly added.
In Chicago, Catholic Schools Superintendent Jim Rigg said he recognizes that among the 199 Catholic schools in the Chicago Archdiocese, there many families who have suffered economically as a result of the national lockdown and will struggle with tuition this year.
Rigg said he schools will work with such families on a case by case year and that there are both archdiocesan and local school and parish funds available for emergency situation including loss of employment, furloughs or loss of a family member.
A third-party assessment determines the family's ability to contribute toward tuition.
Chicago Catholic schools have announced they will offer both in-person education and a centralized virtual learning academy option.
"The idea is to come up with solutions that enable the families to remain in Catholic education while still allowing them to make a reasonable payment relative to their needs," Rigg said.
"There are funds available to help families when they go through hard times … and so we encourage parents if they haven't done so already to enroll for next year, to commit to returning."
Kathy Mears, interim director of the National Catholic Educational Association, said some families are still "sitting on the fence" in mid-July, wondering if tuition fees are justifiable in the current climate of uncertainty.
There are more than 6,000 Catholic schools in the U.S. and it is important that those schools to have sufficient enrollment going into the fall, according to Mears.
"Parents have told me they love their Catholic school but they don't know if it is worth it especially if it is online," Mears told CNS. "We are telling them it is worth it, we are here for you, your child is going to get a great education and learn the academics and none of that is changing just because we are online."
"I fear even though it's still July, parents aren't making decisions and if they leave it too much longer schools will have no choice but to say they have to close and that would be tragic," she said.