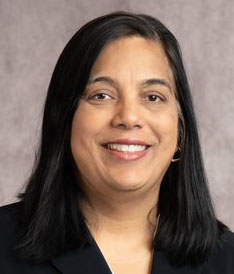 The Diocese of Nashville has announced that Shana Druffner has been appointed as the inaugural principal for St. Michael Academy, currently under construction in Nolensville. She will assume her new position as principal on July 1, 2023.
"I am humbled and honored to accept the position as the inaugural principal of St. Michael Academy," Druffner said. "I believe in the mission of a Catholic education for our children because education is ultimately a search for truth. Through the gift of Catholic education, we come to know the truth, which is Christ himself. The truth of Jesus Christ is central to the complete formation of our children. It is through the teaching of faith and reason that our children will grow into the people God intended them to be."
Druffner has been an educator since 2006 and since 2018 has served as principal of All Saints Catholic School in Dallas, Texas. Under Druffner's leadership, All Saints School has grown from 265 to 325 students, constructed a new innovation lab, started a Mandarin language program, enhanced its award-winning fine arts program, and added an honors program for students grades four to eight. The Diocese of Nashville looks forward to having Druffner's zeal and leadership contribute to St. Michael Academy and the diocese.
Brian L. Cooper, Chancellor and chief operating officer of the Diocese of Nashville, expressed his enthusiasm over this recent key hire.
"As it has been with several members of the leadership team selected to join the diocese, we feel the Holy Spirit has brought us the right person at the right time," he said. "With Shana's many exceptional qualities, I believe she will be able to propel St. Michael Academy toward success.
"Shana's impressive qualities include her visionary program skills, entrepreneurial spirit, and, most importantly, an authentic life of Catholic servant leadership focused on building community and fostering personal growth around a profound relationship with Jesus Christ," Cooper said.
"Shana's prior roles as an award-winning principal, practicing attorney, Catholic educator, chairman of a large nonprofit, and successful entrepreneur have prepared her well for this important leadership position," Cooper added.
"Leadership is an integral component of a school's success. This is especially true when opening a new school," stated Rebecca Hammel, Ph.D., superintendent of schools for the diocese. "I have full confidence that Mrs. Shana Druffner will deliver the leadership needed to bring to life the vision we all hold for St. Michael Academy. As an experienced Catholic school leader, Mrs. Druffner will build a culture of excellence, focusing first on students' encounters with Jesus Christ and developing virtues in their daily interactions.
"As we toured the building and I described the spaces we designed for learning, Mrs. Druffner envisioned it all in motion," Dr. Hammel said. "As she shared her different ideas and programs, I knew we had found the right candidate, thanks be to God!
"St. Michael Academy will flourish as a school community under Mrs. Druffner's leadership," Dr. Hammel said. "She will hold high expectations for all and ensure the children have rich learning experiences that prepare them for a fulfilling life."
"I enjoyed getting to know Mrs. Druffner," stated Very Reverend Austin R. Gilstrap, Episcopal Vicar for Education and Formation for the diocese. "Her integrity, authenticity, and deep love and commitment to our Lord Jesus Christ came across very clearly. There is no question in my mind that Mrs. Druffner is an exceptional candidate.
"Given her previous experience and deep faith life, I look forward to Mrs. Druffner instilling the same characteristics of integrity, authenticity, and a deep love of our Lord into the fabric of this amazing new venture of St. Michael Academy," Father Gilstrap added.
Druffner and her husband, David, have four adult daughters. She received her juris doctor from Georgetown University Law Center and her undergraduate degree in music performance from Rutgers University. She also holds a master's degree in educational leadership from Creighton University and is a doctoral candidate in educational leadership and administration at Saint Louis University.
St. Michael Academy, newly established within the Diocese, will benefit from enthusiastic leaders such as Druffner. Opening in the fall of 2024, St. Michael Academy will be the only co-educational K-12 Catholic School in Tennessee when fully operational.
Located on 166 acres in Williamson County, St. Michael Academy will be the new standard for Catholic education, infused with state-of-the-art facilities; innovative indoor/outdoor learning spaces; a rigorous curriculum; and an ever-present pursuit of truth, beauty, and goodness.
With the hire of this executive leadership position, St. Michael Academy comes closer to opening enrollment for grades Pre-kindergarten through primary grades for the fall 2024 semester. The admissions process will begin in August 2023. Interested parents should visit stmichael-academy.com or contact Jo Lind Weaver, director of development, at jweaver@nolensvillecampus.com.
Diocese of Nashville Catholic Schools educate students from age two through high school graduation. Its 16 diocesan schools, including one high school, one preparatory school (grades 6-12), and 14 elementary schools, are located in seven of the 38 counties of Middle Tennessee that comprise the diocese. Diocesan Catholic schools are Cognia and State of Tennessee accredited.
Additionally, three independent Catholic schools operate within the diocese: St. Bernard Academy and two schools operated by the Dominican Sisters of St. Cecilia Congregation, which are Overbrook School and St. Cecilia Academy. Visit dioceseofnashville.com/catholic-schools to learn more.