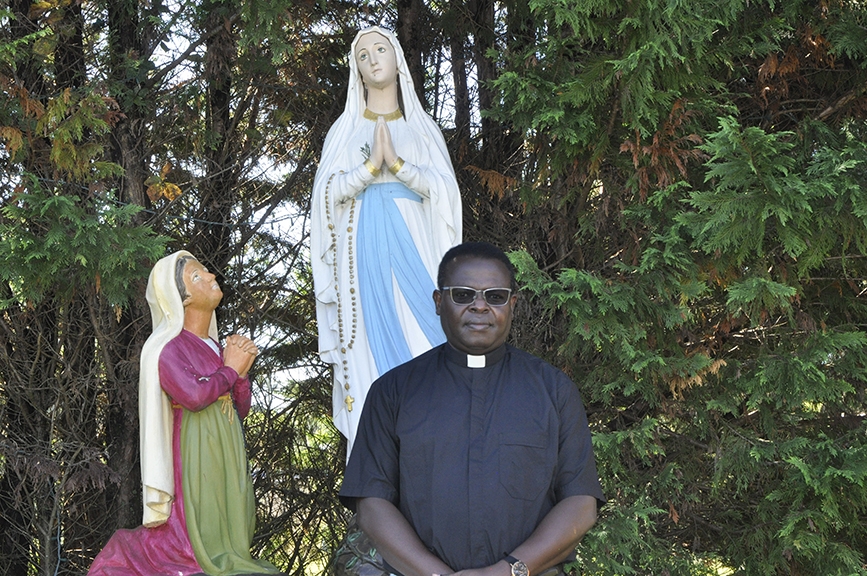 Energetic, advocate and humble are just some of the words members of the Serra Club of Williamson County use to describe the club's chaplain Father Zack Kirangu, pastor of St. Patrick Church in McEwen and St. Elizabeth Ann Seton Church in Tennessee Ridge.
They recently showed Father Kirangu their appreciation for him with a full-page ad in the program for Serra's 78th International Convention Oct. 7-10 in Chicago.
"Father Zack is a great supporter of our club, and we wanted to share with other Serrans how important he is to us," said Mary Word, vice president of membership for the club and parishioner of Holy Family Church in Brentwood.
The gesture was a surprise for Father Kirangu.
"It was definitely unexpected, but they just wanted to indulge me with great sentiments and great love," Father Kirangu said. "It was a way for them to just be generous with sweet words of what we do together at Serra Club."
Serra was formed in the United States in 1935 "when a group of Catholic lay persons decided to organize for the distinct purpose of promoting and fostering vocations to the priesthood and consecrated religious life," according to www.nashvilleserra.org. "Serrans can be found serving Christ all over the world. They are Catholics that come from a wide array of professional and job-related backgrounds, ethnic roots and generational age groups.
"Serrans are united by their passion for faithfully serving our Lord through their ministry of fostering vocations to religious life and the priesthood."
Father Kirangu became the chaplain of the Serra Club of Williamson County, which mostly consists of parishioners from St. Philip Church in Franklin and Holy Family Church, in January 2019. He first got involved with the club in 2015, while he served as associate pastor of St. Philip.
"I have this passion for vocations, and here are men and women who have chosen in their faith to support vocations, so it was so huge for me seeing that we are in this together," Father Kirangu said. "We, the priests, have people who are praying for vocations, we have people who have even given their lives to support seminarians and religious priests by always saying prayers and sending cards and gifts.
"They immediately attracted me," he continued. "They are men and women of strong faith who are extremely friendly and welcoming."
Father Kirangu also appreciates the fact that the club officers bring in speakers at the monthly meetings to share their vocation story, which in the past have included Bishop J. Mark Spalding and Dominican Sister Veronica Marie Buckmaster, principal of St. Patrick School in McEwen.
"Just listening to how people fell in love with the Lord and wanted to become priests or sisters, it is just so powerful and empowering at the same time," Father Kirangu said. "It's just the beauty of how we can take different paths along the way and yet experience the love of God in our life."
As the club's chaplain, Father Zack travels with the members to conventions such as the one in Chicago, plans prayerful retreats for members at Bethany Retreat House in Dickson, and attends the monthly meetings to lead members in Vespers, or evening prayers.
"He's a traveling chaplain. He goes with us when we go to all these events, and that's new for us," said Don Stacy, Serra Club of Williamson County president and parishioner of St. Philip. "Then Vespers is a new fun thing that we haven't really done before either, and the members really appreciate that."
Father Kirangu said it's just about being present.
"I can be more effective if I'm present," he said. "For me, the goal is bringing spirituality, a life of prayer, a life of faith.
"It's also supporting and praying for the vocations," he added.
This effort has also included the implementation of a vocation cup at St. Patrick, which rotates among families each week to encourage them to pray for vocations.
"I'd like to see that happening in all the parishes, so we can bring even more awareness of vocations," Father Kirangu said.
Stacy said he believes Father Kirangu's commitment to the promotion of vocations is part of the reason there has been an increase in membership of the Williamson County club, which is now up to 119 members.
"He helped give us visibility, and he even brings people over from St. Patrick in McEwen on occasion to our dinners, so he's trying to get the word out there," Stacy said. "Without priests, there is no Eucharist."
Word, her husband, Bill Word, vice president of communications for the club, and Stacy all agreed that Father Kirangu is a prime example of why supporting vocations is so important.
"He is very involved in all aspects of the two parishes of which he is their pastor," Mary Word said. "He is a hard worker and has a great attitude."
"He is a kind and gentle man that leads by example," Bill Word added. "While Father Zack is extremely intelligent, he is very humble and easy to talk to. He is fun to be around and has a wonderful sense of humor."
"When people see him as a priest and the things that he does and the way that he is, that's a good example for young men who are discerning the priesthood," Stacy said. "He's so personable. When you're interacting with Father Zack, there is no one else in front of him but you; he's focused on you."
For more information about the Serra Club, visit www.nashvilleserra.org.