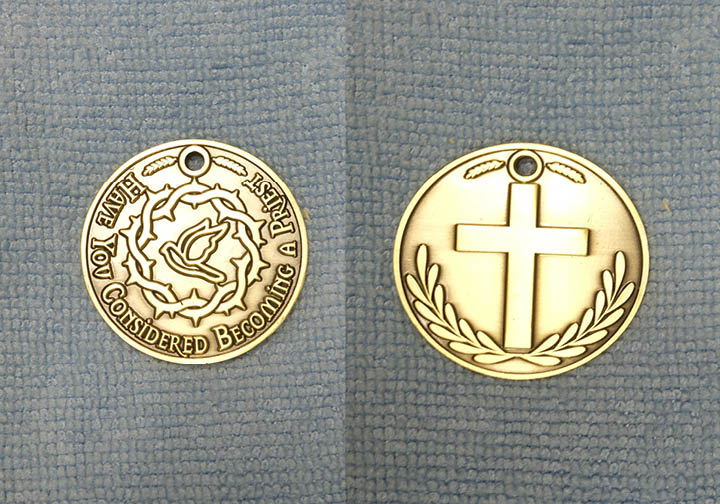 It can only take one question to change the course of a young man's life and help him realize the call God has for him.
"Have you considered becoming a priest?"
It's a question that is at the heart of a new program sponsored by Serra International, which will encourage priests around the world to actively search for and identify promising candidates to the priesthood. By asking these young men this question, and then presenting them with a challenge coin with the question engraved upon it, it serves as a reminder to that young man that he will be supported through his journey.
"I see it as a very strong national and international program," said Bob Rudman, Serra International's vice president of communications for the executive committee, who recently presented the idea to the Serra International Board during one of their meetings. "Upon explaining it to the board, they've all been excited about it because they realize that yes, we pray for vocations, but we really haven't asked the priests to go out of their way and select the people that they consider to be appropriate and capable people of being priests.
"This is a simple way of doing that, and it reinforces to the recipient that a priest thinks enough of you to feel that you're capable of being a future priest," he said. "It's like a snowball. It's really an awakening of a priest that this is a big priority, that they should be constantly looking for individuals."
By having the coin to present to the potential candidate, "it's a neat way to not have to do a whole lot of work but come off as a giver and an inviter, which is neat," he said.
The coin, designed and made by Copy Solutions, features a simple cross and olive branches on the front. When flipped over, the words "Have You Considered Becoming a Priest" surround the image of the crown of thorns with the dove of the Holy Spirit at its center.
Rudman formally announced the program to Serra Members from around the world during the 2023 Serra International Rally Jan. 13-15 in Irving, Texas.
It will be the job of Serra Club members to present priests with the accompanying challenge card, which encourages the priests to thoughtfully consider who he believes is capable of becoming a priest, and then reach out to acquire the corresponding number of coins to present. When the priests order the coins, Serra members will encourage them to share the initials or name of the men so they can personally pray for each of them.
"This was an overwhelming success in Dallas," Rudman said. "Besides those attending (Serra Club) members, each presenter was given a card and a coin. Additionally, one cardinal, two bishops, and many priests all commented on such a tangible way of encouraging young men, and all were very thankful for this."
Developing the Program
Rudman, who is a member of the Williamson County Serra Club and a parishioner of St. Philip the Apostle Church in Franklin, said his idea for the program first began with the late Bishop David Choby, and the significant spike in enrollments to the seminary during his 15 years as bishop of Nashville.
"Bishop Choby always mentioned that whenever he met a promising candidate, he'd ask him 'Have You Considered Becoming a Priest,'" Rudman explained.
Further research into various studies and books, including "Five Conversations About the Priesthood" by Father Michael Pratt, revealed how much more of an impact the question has when it's asked by a priest.
Additionally, "To Save a Thousand Souls" by Father Brett Brannen, a spiritual director at the Pontifical College Josephinum in Columbus, Ohio, explained how a priest asking the question implements the four "i"s in forming a vocation program – inspiration, invitation, information, and intimacy.
Then, during Serra International's Convention in Toronto, Canada, last spring, Rudman said, the organization's spiritual advisor, Cardinal Thomas Christopher Collins of Toronto, mentioned the importance of the priest's role in recruiting candidates for vocations in his keynote address, "Witness to the Word."
"I remember when I was in my former life, when I was a director of seminary, I put out a little questionnaire asking what inspired you, what brought you to the seminary, what helped you, what witnessed you in a sense to become a seminarian, to try it out," Cardinal Collins said in his address. "I put several options. Vocation literature: zero. Imagery/beautiful pictures: zero. The influence of being invited by a priest: 45 out of 50."
Testing the response
Rudman mentioned his idea for the program to several priests throughout the diocese, including Father Luke Wilgenbusch, director of vocations, and Father Zack Kirangu, chaplain of the Serra Club of Williamson County and pastor of St. Patrick Church in McEwen, as well as others.
"I thought it was great to see the initiative in thinking of creative ways to invite young men to consider a calling to the priesthood," Father Wilgenbusch said. "It's no secret that the most effective tool for the promotion of vocations is a direct, personal invitation from a priest. I'm very excited to see the fruit of this endeavor."
"Bob showed me the coin in one of the Serra Club meetings, and I thought it was a perfect way of welcoming young men and their families to vocations," added Father Kirangu. "The coin itself is precious. It's rich in look and anybody would want to proudly keep it. … It's a constant reminder to anyone who receives it."
Living proof
The day after Ash Wednesday last year, proved vital for one such man who was asked a similar question. Griffin Brewster just happened to be off from work and was able to serve a Mass at St. Patrick Church in McEwen. Bishop J. Mark Spalding was visiting that day, with Father Gervan Menezes serving as his master of ceremonies.
"Nothing major happened, and Mass went as planned," recalled Brewster. "Then as we were cleaning up from Mass, Father Menezes, who has always faithfully assisted the bishop, asked the question I had heard so many times. 'When are you going to visit the seminary?'
"For the first time ever, I didn't have an excuse," he said. "I now believe it was a small act of divine intervention that put me in the right place at the right time. I made discernment my Lenten practice … and it has all led up to my joining the seminary (in August) and to today.
"To this day, that phrase, 'When are you going to visit the seminary,' rings in my mind," he concluded. "Not if, but when, as if it were already decided, and we just needed to schedule it."
Rudman said a similar coin for women discerning religious life is currently in progress.
"In sharing with some of the Dominican Sisters the idea, they were thrilled," Rudman said.
For more information about the program, email Rudman at rrudman273@aol.com. To order coins, call Vianney Vocations at 817-585-1551 or visit www.vianneyvocations.com.