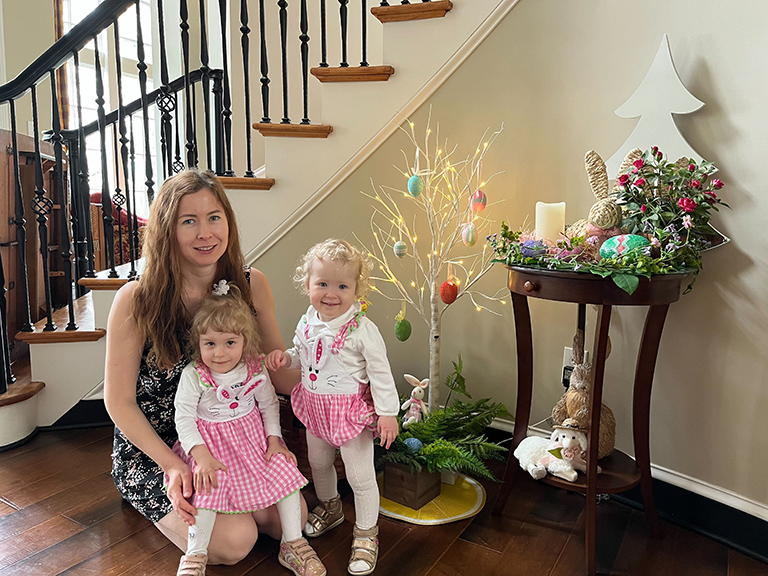 It's been two months since Russian forces invaded Ukraine, and Olesia O'Bryan, a parishioner of St. Philip Church in Franklin, was one of many in the Diocese of Nashville who watched everything unfold with anxious eyes. As a native of Ukraine, she had parents, two sisters, nieces, and in-laws there in the midst of it all.
While that's still the case for some of her family, some of that was relieved in early March when her sisters and nieces were able to successfully escape. Now, one sister, Tetiana Saikevych, and her 9-month-old daughter are safe in Italy and her other sister, Oksana Herheliuk, and her two daughters are living with O'Bryan in Spring Hill.
"It felt good knowing they were safe and out of danger, especially knowing how unpredictable it is in Ukraine," O'Bryan said. "At first it was really hard because you don't know how bad it is going to develop, how bad it is going to get.
"It slowed down for a few weeks, but in the last few days, it escalated a lot," she said. Her sisters "are really stressed and concerned by it. They watch the news all the time, and they get worked up by all the stuff that's happening there. But, at the same time, they're happy that they're able to get out because it's so dangerous for them and their kids to be there."
And worry for their family has not completely ceased as O'Bryan's parents are still in Ukraine, as are her sisters' husbands who were not allowed to leave Ukraine because of martial law.  
At first, her parents couldn't leave because of a recent operation her father had, but even though he can travel now, O'Bryan said it doesn't make a difference.
"I don't think they want to leave unless it's like really bad," she said. "They're one of those people (that says) 'It's our home, we'll stay here.'"
Herheliuk has that sense of wanting to be home, too, especially with her husband still there, but said she needs to keep her children safe.
"I want us to go back to Ukraine because I want to help my country," Herheliuk said. "But I understand that now I must think about my children because they're the future of Ukraine.
"When we return to Ukraine and we must rebuild our Ukraine, these children will do it," she continued. "If I don't save them, who will rebuild our country?"
And there is now even more concern of what actions Russian forces will take to declare victory, now that Vladmir Putin has expressed interest that the war be ended before May 9, to coincide with the annual Victory Day when Russia celebrates victory over the Nazis in World War II.
"They may invade other cities," Herheliuk said. "It will be very hard for Ukraine, and I worry about my husband, about my parents.
"It was very terrible" when the invasion came, Herheliuk said. "We understand that our lives changed, and we are in a time where there is a point of no return."
But there has been a semblance of comfort knowing that people all around the world, particularly those of their own Catholic faith, are praying for them, and they especially note Bishop J. Mark Spalding's participation in the Prayer to Consecrate Russia and Ukraine to the Immaculate Heart of Mary in unison with Pope Francis on Friday, March 25, at the Cathedral of the Incarnation in Nashville.
"Our family was really proud and happy to see it," O'Bryan said. "They're praying for Ukraine, and it makes us feel good."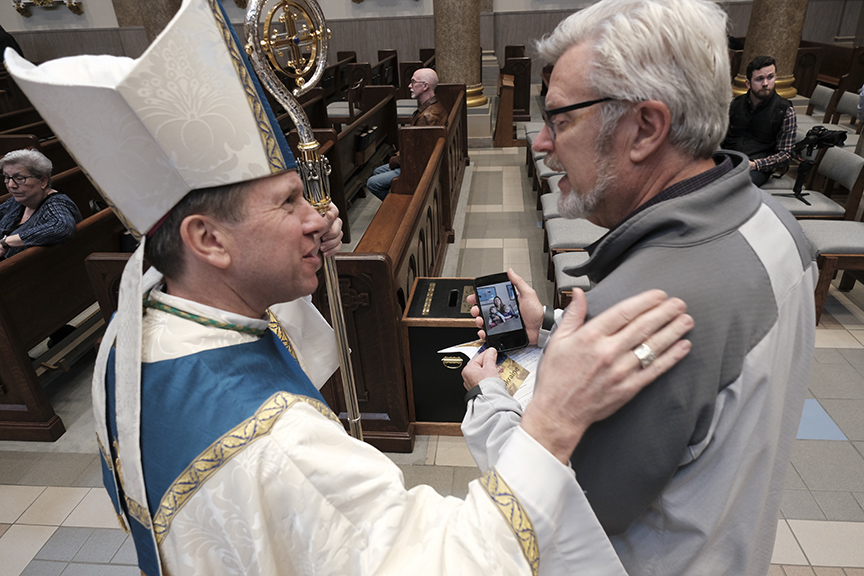 And it was that day when O'Bryan's father-in-law, Steve O'Bryan, who is also a parishioner of St. Philip, shared a photo of Herheliuk and her children with Bishop Spalding, and told him their story.
"I thought it was important that he was aware that in his diocese we actually had a refugee here that fled the war and that we're a Catholic family," Steve O'Bryan said. "I thought it was important that he was aware that this touches us personally."
And Bishop Spalding took a moment to grant blessings to Herheliuk and all of her family still in Ukraine.
"Any prayers that can be offered up for the people over there is part of our mission of getting the word out and getting the blessings for these people that are suffering," Steve O'Bryan said. "We're hoping that through the grace of God through the Virgin Mary that peace can be brought back to this very religious country.
"I'm very devoted to Mary," he added. "We're hoping that prayers can bring a positive and peaceful resolution to this attack on their country and let them get back to their normal lives."