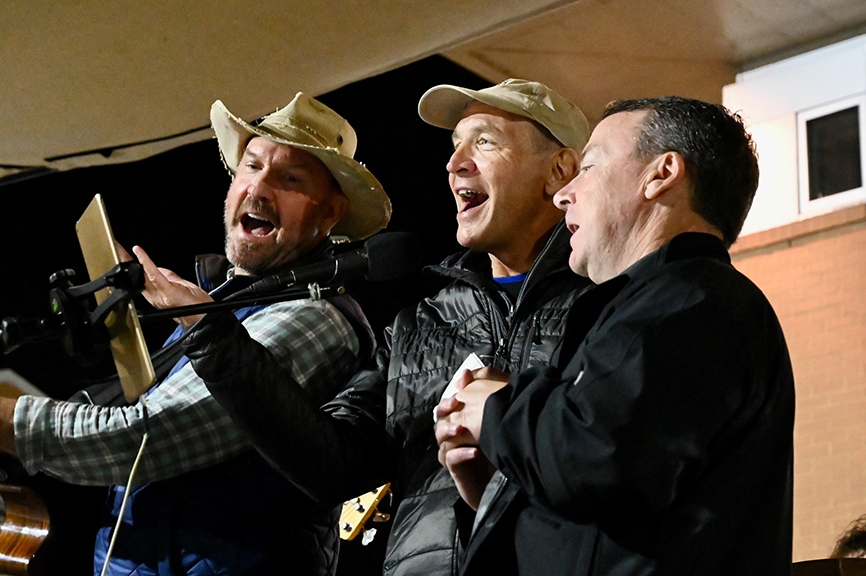 Running with an idea he picked up in Spain that "music brings people together," Father Mark Beckman, pastor of St. Henry Church in Nashville, started organizing Songs at Sunset for his parishioners following a year of isolation after COVID.
For the events, Father Beckman brought together parishioners and friends from various churches to perform including Joe Pouliot, a parishioner of St. Matthew Church in Franklin where Father Beckman used to serve as pastor.
The monthly event became a popular one among attendees from June through October, as the musicians came and performed on the stage outside St. Henry School where outdoor Masses have been celebrated because of COVID precautions. Attendees were able to bring lawn chairs to set up in the parking lot, as well as food and drinks to enjoy while the music played, Father Beckman said.
"After the year that we had with the COVID pandemic and how isolated people felt from each other, my thought was to find new ways to gather our community together in as safe a way as possible," Father Beckman said. "I thought in an outdoor setting, people could spread out, while still helping them reconnect.
"There is also just something about music and singing that just seems to bring people together."
Father Beckman first realized this in 2014 when he went on a pilgrimage through the Camino de Santiago. While in a small village in Spain at the end of the pilgrimage, his friend and fellow pilgrim Pouliot borrowed a guitar from a local bar and began playing music in the village square.
"People just came from every direction," Father Beckman recalled.
Pouliot also recalled that trip, noting that Father Beckman's request of "Take Me Home, Country Roads" by John Denver inspired a sing along among American, Irish, German and French tourists alike.
"Before you knew it, we had the multitudes singing in chorus," Pouliot said. "It was very cool."
Father Beckman and Pouliot, along with Father Mark Sappenfield, pastor of St. Matthew, reprised that performance at the most recent Songs at Sunset event in October, when Pouliot's band, The Rhythm Kings, performed.
"That's the one that I can sing best," Father Beckman said.
"It was so awesome to have both my former pastor and my current pastor up singing," Pouliot said. "I enjoy the fact that two priests were up singing and having a good time.
"We need to support our priests more," he said. "They do so much for us. It's great to see them out, having fun, out in the community with their flock. The parishioners love it."
John Foreman, parishioner of St. Henry, agreed having attended four of the five events.
"It truly was like a community picnic centered around music and centered around the church," Foreman said. "It was so much fun to see folks who we've known at St. Henry for 30-40 years, but also young families."
It wasn't just St. Henry parishioners who attended either, Foreman said.
"I saw folks from all kinds of parishes," Foreman said. "It was akin to a parochial sports game where you see families from the wider Nashville Catholic community.
"For our local culture, music really resonates," he added. "It is part of the way people celebrate, and these were our celebrations."