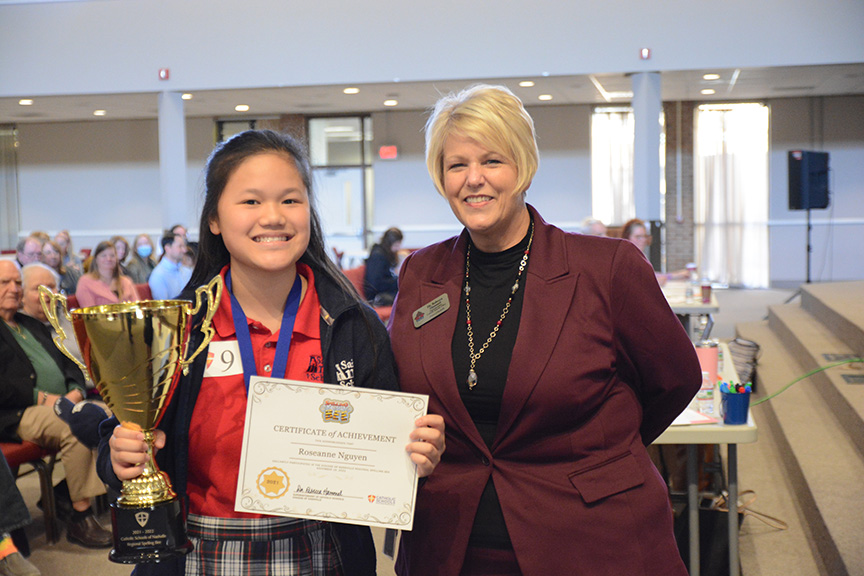 Roseanne Nguyen stepped to the microphone and awaited her word to spell.
When she heard the word "coincidental," "I was confused," the St. Ann School eighth grade student said. "I tend to overthink myself. I suddenly found the ground very interesting to look at."
She spelled the word to herself before spelling it for the judges and the parents, teachers, and fellow competitors watching in the audience. By spelling it correctly, Nguyen claimed the trophy as the winner of the second annual Diocesan Spelling Bee.
Nguyen outlasted 12 other spellers from diocesan schools during the bee, which was held at the Catholic Pastoral Center on Friday, Nov. 19.
Nguyen readily admitted she was nervous during the competition. To calm herself, "I think about it in my mind. I try to spell it on the ground. I smile at my dad," who was sitting in the audience. "I find that very comforting."
"I was definitely nervous," Tuan Nguyen, Roseanne's father, said. "I kept smiling at her to encourage her."
Tuan Nguyen helped his daughter study for the bee. Roseanne's mother is Thanha Nguyen.
Andrew Vick, an eighth grade student at Christ the King School and last year's champion, was the runner-up. He misspelled the word "aqueduct," which gave Nguyen the opening to win the championship in the final round.
The bee was open to fifth through eighth graders at the diocesan schools.
"It's an opportunity for us as a diocese to bring our kids together in a fun competition," said Dr. Rebecca Hammel, diocesan superintendent of schools. "And it emphasizes the importance of spelling and the value of words."
The other competitors were: Laney Bledsoe of Holy Rosary Academy; Savannah Montana of St. Edward School; Conrad Wright of St. Joseph School; Della Kittrell of St. Henry School; Kane Blaszkowski of Immaculate Conception School in Clarksville; Riley McLain of St. Rose of Lima School in Murfreesboro; Aiden Sissons of St. Matthew School in Franklin; Jason Baggett of St. John Vianney School in Gallatin; Sophia Woronzoff-Dashkoff of Pope John Paul II Preparatory School in Hendersonville; Matthew Mirabella of St. Patrick School in McEwen; and Marianny Duronslet of St. Pius X Classical Academy. 
Runners-up from each school were also honored at the conclusion of the bee. They included: Saba Michael of St. Edward School; Ella Gibson of St. Joseph; Rachel Spencer of St. Henry School; Angie Hernandez of Immaculate Conception School; Sofia DiMaggio of St. Rose of Lima School; Carson Lampe of St. Matthew School; Graeme McGuinness of Christ the King School; Eleanor Weiss of St. Ann School; Danny Garwood of St. John Vianney School; Jenna Byrum of Pope Prep; Giselle Williams of St. Patrick School; and Karina Duronslet of St. Pius X Classical Academy.
Judges were; the pronouncer, Sarah Kieffner, of Father Ryan High School; Matt Puryear of Father Ryan; Deanna Kendall of St. Cecilia Academy; and Michelle Barber of Pope Prep.