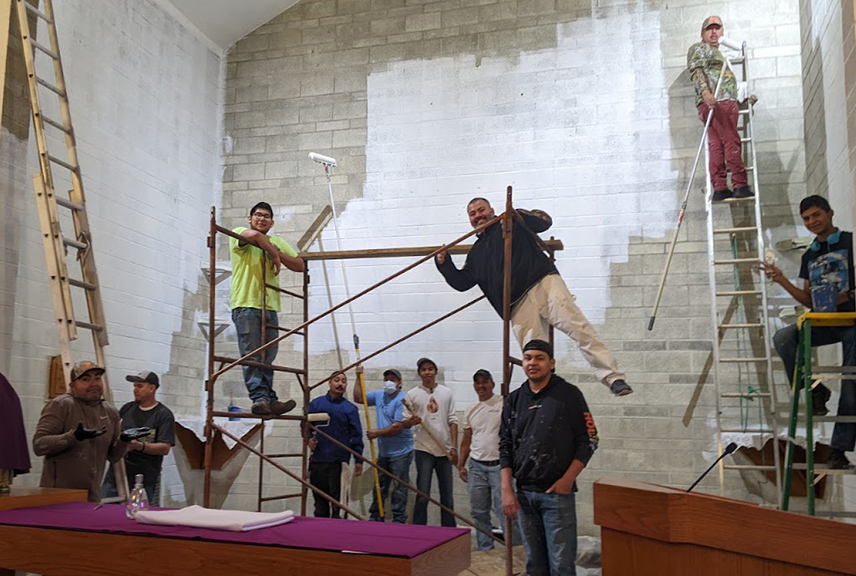 After Father Marmeni "Bala" Showraiah, OFM, arrived at St. Catherine Church in McMinnville in the summer of 2020, he set the parish's sights on freshening up the church.
A group of parishioners recently tackled the project, painting the interior of the church.
"This project was one of the first things that Father Bala wanted to do … when he came to our community," said Damian Guzman, a parishioner who coordinated the project.
Originally, the parishioners considered covering the block walls of the church with drywall but decided that would be a big challenge, Guzman said. Instead, they decided to paint the church, which was built in the late 1950s.
"It all worked out perfect," Guzman said.
Joining a group of adult parishioners to help with the project were a group of about 20 teens at the church who were off school for spring break, Guzman said.
"They helped us during the whole spring break week," he said. "I thought they were going to go in there one day and give up. They were so encouraged and so happy to do it they ended up doing the whole week."
The volunteers worked from 8 a.m. to 9 p.m. through the week to finish the project, Guzman said. "Everybody was so enthusiastic about it."
After seeing the success of the painting project, parishioners are excited to tackle more projects, Guzman said. "It makes us want to do more."
On tap are the paintings of other rooms at the church and some needed drywall repairs, said Guzman. The next big project is building a playground on the church grounds for the children. 
Guzman, 36, who has been a parishioner at St. Catherine since his family moved to the area in 1996 and was an altar boy as a youngster, bought a used playground and donated it to the church. "It's something just to start."
The plan is to complete the installation this year, including preparing the site on the church grounds where Father Bala wants to put the playground, Guzman said. "The biggest expense we're needing right now is the fence around the playground," he said.
Guzman, who works in construction for a living, has been helping out at the church for awhile.
"A long time ago, before (Father Bala) got here, I saw the need for maintenance of the facility," Guzman said. He organized a group of parishioners to work on projects at the church on Saturdays.
But as everyone's schedules got busier and busier, the initiative dwindled, Guzman said. The enthusiasm is back, he said. "We needed some motivation, and when Father Bala got here … he encouraged us to go out there and help him."