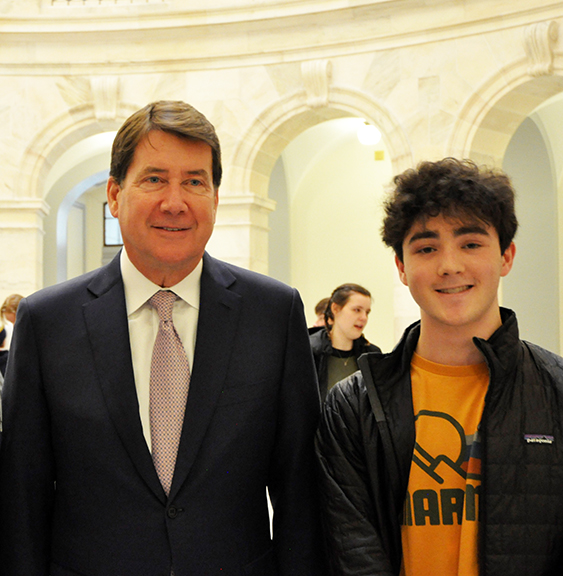 As high school seniors prepare for graduation and plan to start college in the fall, one St. Henry Church parishioner is preparing to start on a path to serve the country following his acceptance into the U.S. Naval Academy in Annapolis, Maryland.
Max Buenahora, a senior at Montgomery Bell Academy, got word of his acceptance in early January.
"I was interested in military service for a long time, ever since I was little, and as I got older it became more of a serious idea that I was considering," Buenahora said. "I started looking for a way to give back to the United States because my grandparents immigrated here from Colombia, which wasn't really doing very well at the time, and I've just been really grateful for all the opportunities my family has had since they were welcomed here."
He chose the Naval Academy because of his interest in world affairs.
"A lot of what's going on in the pacific with China is pretty interesting to me, so the Navy obviously has a pretty big role to play in that in the future," he explained. "China, they've been doing a lot of island building. … They talk about trying to take over Taiwan a lot, so I was pretty interested in that and obviously the Navy is going to be the main thing to protect its interest in that area."
Buenahora's acceptance into the Naval Academy came after several steps including physical evaluations, interviews and more. And even though he received a letter of assurance, he still had to wait for a nomination from a senator, which eventually came from Sen. Bill Hagerty.
"America lives up to its namesake as 'land of the free and home of the brave' because of the men and women who pursue a career of military service," Sen. Hagerty wrote in an email. "Each student I am nominating has demonstrated integrity, leadership, patriotism and hard work and will undoubtedly be invaluable additions to our Armed Forces. I am proud of these Tennesseans for answering the worthy call to serve and deeply admire them for their dedication to our nation."
Buenahora said he hopes his time at the Naval Academy will lead to a career as a surface warfare officer.
"That's the ships, the ship systems, the weapon systems and navigations and just managing teams of sailors, which is what I'm most excited about," Buenahora explained. "I've always tried to get lots of leadership positions in everything that I do, and I really hope that I can try to apply some of this stuff that I've already learned and stuff that I'll learn at the Naval Academy about leadership and helping other people accomplish their goals and get the mission done together."
And he said he thinks his Catholic faith will play a role in that, too.
"I think having a strong faith helps in any trying and difficult situation, just having the confidence that you're following God's plan, his vocation for you, so it's having that knowledge that you have an endless source of strength for any situation that you might find yourself in," he said. "I think a lot about Catholicism because it helps people. There are a lot of successful Catholic people in the military because it adds a lot of structure and discipline to people's lives already, so I think a lot of what you learn through the faith applies to the military career in a lot of ways."