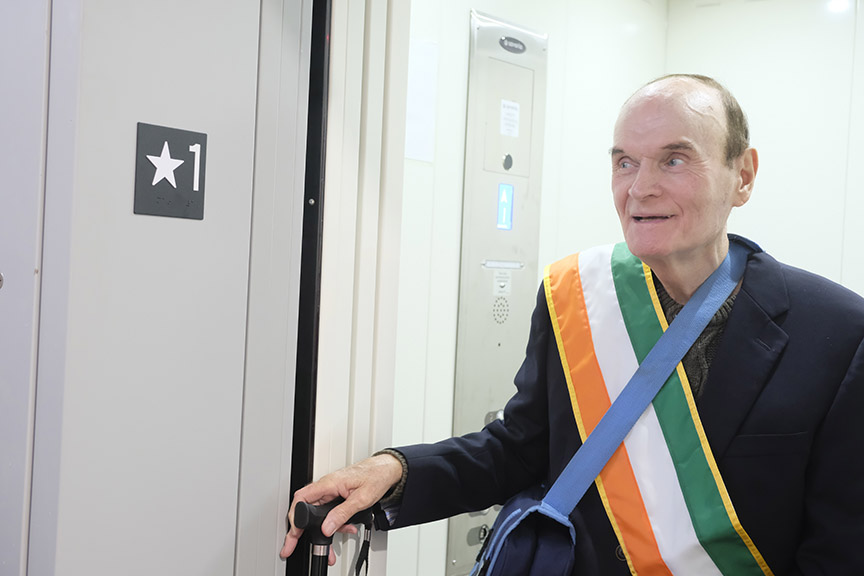 During a special Mass on Friday, March 17, Bishop J. Mark Spalding officially blessed and dedicated the Father Abbott Hall and the John G. Burns Memorial Elevator at St. Patrick Church in South Nashville.
The Mass and blessing ceremony marked the completion of the church's parish shares project from the $50 million A Legacy of Faith, Hope and Love Campaign.
The Legacy Campaign is a diocesan-wide fundraising initiative to build up endowments to support in perpetuity parishes, schools, ministries, vocations, and agencies of the diocese. Some of the money raised will be returned to each parish for a project of its choosing.
The campaign was rolled out at churches across the diocese in three waves, with a different group of churches in each wave. St. Patrick Church, under the leadership of co-chairs Kathy and Ken Hartman, and Hal and Brenda McCard, was part of the first wave of churches that kicked off in the fall of 2021.
Construction to install an elevator, as well as an upgrade to the bathrooms, was led by Goodrum Construction and architect Kristen Newton. The construction began in September 2022.
"It was really neat to be able to lead that charge, but we have such an amazing community here at St. Patrick that everybody wanted to participate," Kathy Hartman said. "We also had amazing people on the committee who made phone calls and followed up with people and met with people and talked about the campaign, so their hearts were in it, too."
"It really has been very cool to see it all come together from our perspective," she added. "It was an honor to be able to lead this to tonight, and it's so gratifying."
Ken Hartman agreed.
"Everything we have access to and everything we have to share with each other in the faith was built on the backs of our fathers and our grandfathers and our great-grandfathers," Ken Hartman said. "It became obvious to me that with the growth of Middle Tennessee that the endowments needed expansion to be able to serve the community the way it always has, and I kind of felt like it's my turn, it's my responsibility now to pass it forward to the next generations.
"We were gleeful and delighted to participate because we knew all the money was going to a good cause."
Hal McCard said it's a blessing to see the fruits of the campaign come together.
"Our parishioners are so dedicated and responded so generously to the Legacy Campaign," he said. "This accomplishment is really more about their support and belief in Bishop Spalding and the vital goals of the Legacy Campaign, and they're truly taking to heart the commission to build a legacy, not only for St. Patrick Church, but for the diocese as well."
Brenda McCard said the legacy campaign providing an avenue to make updates to the church was a blessing, too.
"It's always a challenge to make updates to an historic building," she said. "These improvements ensure that St. Patrick will maintain a neighborhood presence well into the future."
Remembering St. Patrick School
At the conclusion of Mass, Father John Hammond, pastor of St. Patrick and Judicial Vicar and Vicar General for the Diocese of Nashville, addressed the congregation.
"For 134 years, this has been an extraordinary place of worship of God, growth and enrichment in faith, and service to our neighbor," Father Hammond began. "We have truly been given a legacy of faith, hope and charity, and I cannot adequately express the joy and honor that I feel in my service as the 23rd pastor of this parish."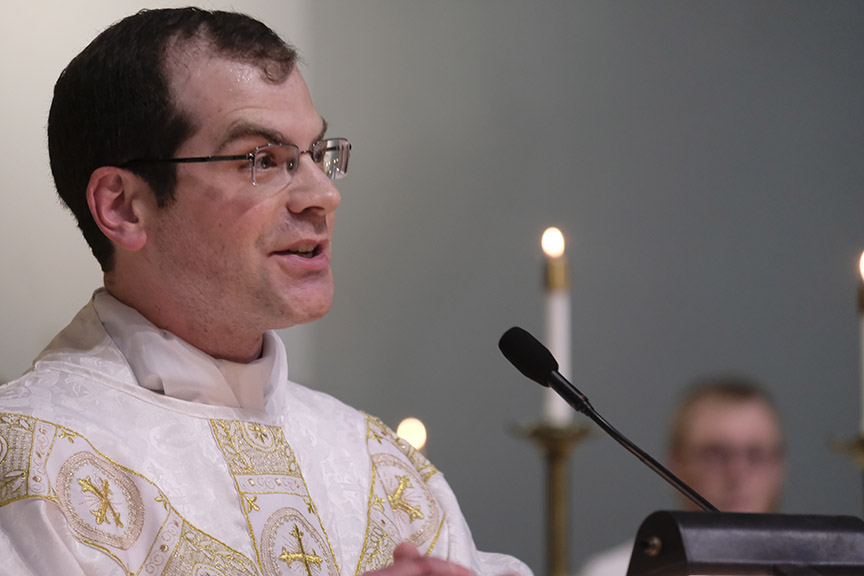 By installing an elevator in the narthex of the church, the space above the church, the former home of St. Patrick School from 1890 to 1954, was once again made accessible to all parishioners.
St. Patrick School may have been open only a little more than half a century, but through the education to children in first through eighth grade that was provided, it has continued to leave a lasting legacy through many of its students, including the late Mary Catherine Strobel and the late Bishop David Choby.
"St. Patrick School was an important and vibrant ministry of this parish until 1954, staffed and operated by the Sisters of Mercy," Father Hammond said, noting the presence of alumni and two Sisters of Mercy at the Mass.
Addressing the Sisters of Mercy, "We are honored that you are here to represent the indispensable collaboration between your community and this parish for those blessed 65 years," Father Hammond said. "Please know that the spirit of humility and service that your community brought to this place continues to dwell here."
Carol Stewart Hall, who attended St. Patrick School from first through third grade, before transferring to St. Edward School, said she was glad to be at the event.
"It was such a dream come true to have my former elementary school transformed into a beautiful, usable space for our parish after so many years," Hall said. "I love this beautiful old church and former elementary school. Words cannot describe how I felt seeing that space with its old blackboards, the hanging lantern globes, and the high casement windows."
Knowing that the Legacy Campaign was able to bring about the occasion, Hall said, it's "outstanding!"
"I longed for the day when funds could be made available to bring St. Patrick School to a place that shined a light on a 134-year-old historic and beautiful building."
Father Hammond said that the naming of the parish hall was decided on by the continued theme of "legacy."
"In considering the idea of 'legacy' and all those generations of persons who have given us the enormous gift of this parish … it seems to me almost obligatory to begin with our outstanding first pastor, the Right Reverend Msgr. Timothy C. Abbott, 'Father Abbott' as he was always known," Father Hammond said. "That visionary leader who answered the call of Bishop (Joseph) Rademacher, the fourth bishop of Nashville, to form a community and start a parish here on the Chestnut Hill in South Nashville, along with an excellent school to serve and educate so many.
"He was pastor for 43 of our 134 years, and this, in so many ways, is still the parish he built for us," he said. "Many years ago, the main room upstairs was dedicated most worthily to Mary Catherine Strobel in honor of her outstanding service to those in need. While maintaining that dedication for the main upstairs room as the "Strobel Room," with the support of our parish council, I am inviting the bishop this evening to bless the entire upstairs, former school area in honor of our first pastor as Father Abbot Hall."
Remembering a beloved son
Then, moving on to the construction of the elevator, which made the opportunity to give the upstairs space new life, Father Hammond continued.
"There is a man who went to God just a few months ago, who to me was a perfect example and manifestation of our legacy," Father Hammond emotionally began. "A man who, in his 95 years, knew every one of our 23 pastors right back to Father Abbott, an alumnus of the school and a veteran of the Second World War, an important businessman and citizen of Nashville, and an outstanding supporter of our parish for decades.
"Again, with the support and encouragement of our parish council, it is my profound joy to invite our bishop to dedicate and bless the John G. Burns Memorial Elevator," he concluded.
The Burns family can trace their history in Nashville back more than 100 years, beginning with their time as engineers on the railroad. John Burns' history began in the late 1920s and into the 1930s when he started at St. Patrick School. He graduated in 1940 and went on to attend Father Ryan High School, from which he graduated in 1944. He and his wife were married at St. Patrick Church, and they raised their family of seven children in the church as well. He passed away in January of 2022.
Several members of the Burns family were present at the Mass, including his son, Billy Burns.
"The peace that this place has brought to our family and to my dad will always be remembered," Billy Burns said, noting his dad's specific devotion to the Blessed Mother and how he would often sit and pray in front of the statue of the blessed mother at St. Patrick. "He would come here and go to Mass and walk out of here with peace in his heart. He wouldn't have any worries.
"He prayed and got on his knees every night, and he went to bed every night at 9 with such a peaceful heart and that's how he lived so long," he continued.
Noting how the family continues to come to Mass together every Wednesday, a tradition his dad started, Burns continued, saying, "I say thank you for the peace that you Lord brought to our family, but this place, too, because we walk in here, we feel every relative.
"My family is so proud of what he's instilled in us, especially the importance of faith," Burns concluded. "If you want peace in this life, it comes through here, it comes through God, it comes with a community in the church and your friends, the people you're with."
The Blessing and Dedication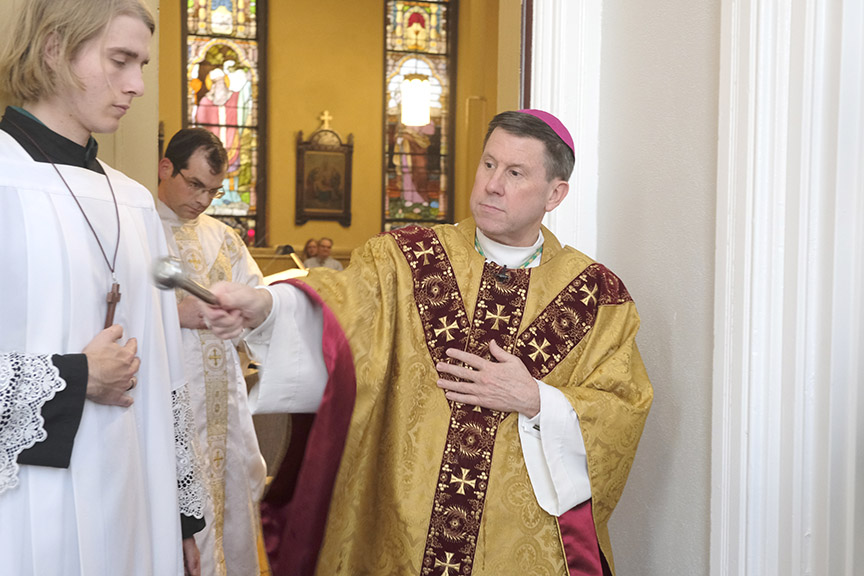 After Father Hammond completed his remarks, the congregation stood as Bishop Spalding made his way to the narthex to dedicate and bless the new elevator and parish hall.
"Almighty Father, we give you thanks for the legacy of faith, hope and love present here, virtues which have defined this parish for 134 years," Bishop Spalding began. "We give you thanks for the vision and tenacity of our founding pastor, Father Timothy Abbott, in whose honor we dedicate this space.
"We also honor and pray for Mr. John G. Burns, who loved and served this parish for 95 years, and in whose honor this elevator is dedicated," he continued. "We give thanks, too, for the parishioners and friends of this parish, whose generosity and devotion have made this moment possible.
"Through the intercession of the Blessed Virgin Mary, St. Patrick, and all the saints, bless this elevator, this new construction, and this place for the gathering together of your people in fellowship," Bishop Spalding concluded. "May your blessing remain here and with the people who will gather here always, through Christ our Lord."
Following the Mass, blessing and dedication, St. Patrick hosted a traditional St. Patrick's Day Dinner for the inaugural event in the newly dedicated Father Abbott Hall, made possible with many inaugural rides on the John G. Burns Memorial Elevator.