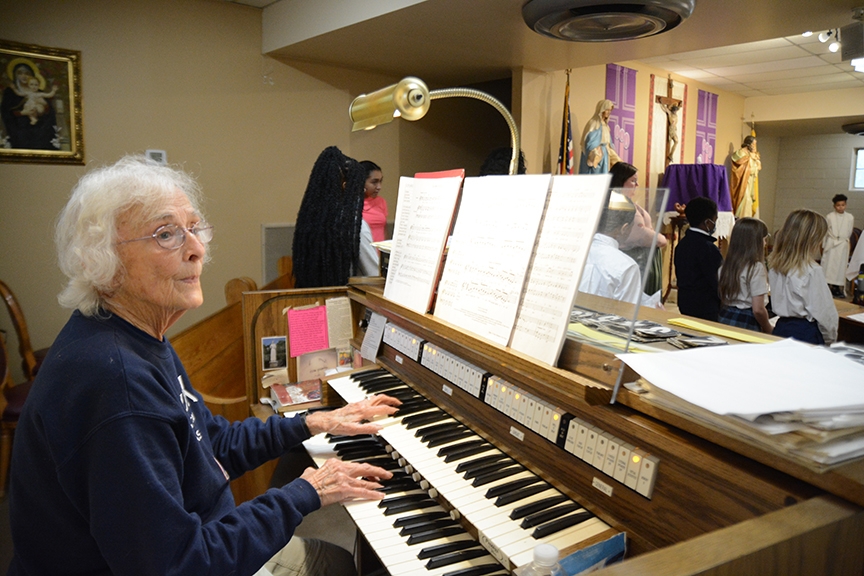 Ann Geist has been a fixture at St. Pius X Church and School for the past 64 years, serving as the church organist as well as playing organ at the school's daily Masses.
Earlier this year, Geist was recognized for her years of service to the St. Pius community at a diocesan teachers' in-service day at Father Ryan High School. "I was very shocked and wasn't expecting it at all," Geist said. "I just play at the church because I enjoy doing it."
Geist, who learned to play the organ when she was in sixth grade, began at St. Pius at age 20 in 1958 when the parish first opened. "Our first pastor, Father Dan Richardson, asked me to be the church organist and I said, 'Yes,'" she explained. "I've been there ever since."
Recognizing Geist at the in-service was the idea of St. Pius principal Samantha Kaufman.
"Mrs. Geist and I have worked together for roughly a year and a half now. I love that she's so committed to her faith and the St. Pius community," Kaufman said. "We have Mass every day for our students at 8 a.m. and she's always there. We collaborate with each other about ideas for special feast days and holidays and school celebrations. She's such a kind and gentle person to be around. The kids here think of her as an extra grandmother.
"Typically, people who work for our schools are given recognition on five-year marks. But Mrs. Geist's husband passed away earlier this year, so I thought this would be a good time to let her know how much we love her and appreciate her," she added. "This year, there's a Eucharistic revival happening in the Church, and we had adoration at the in-service. I told her about that and all the priests from around the diocese who were coming. She thought it was a great idea and accepted the invitation to go with me. When we recognized her there, she was trembling and tearing up. She had no idea it would be happening at all."
Geist said she appreciates the recognition and loves her job and the St. Pius community.
"At my age, it feels nice to be needed and appreciated. I don't play the organ for the recognition. I play it mostly on a volunteer basis because it's what I love to do," she said. "I've been a part of this community for such a long time, through many different pastors. My family and I always have been and always will be St. Pius people. It has a special place in my heart."