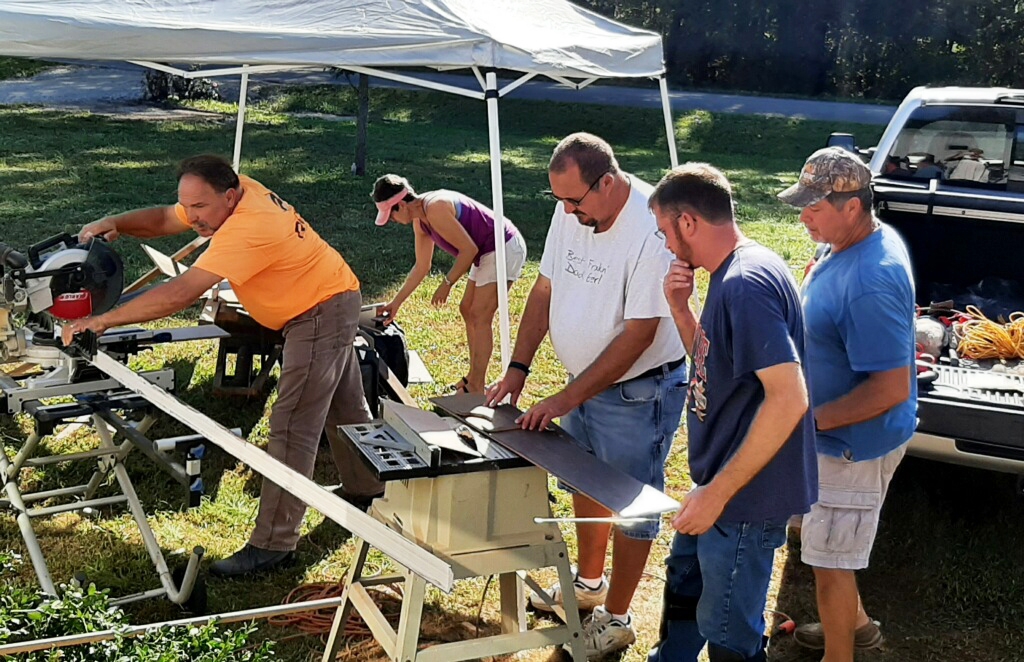 Jessica Autenried is smiling just a little bit bigger every day according to her neighbor, Kathy Rice, as progress on renovating her home off Trace Creek Road in McEwen continues following the flash floods that hit Humphreys County in August.
Autenried's home became the first the St. Vincent de Paul Society chapter at St. Patrick Church in McEwen renovated following the flooding in its mission of spreading light amid the darkness.
"Jessica has been so patient and has not complained one time," Rice said. "It's going to be beautiful, and she's so grateful."
Autenried first met Rice after the flooding occurred when Rice came knocking on the door to check on her. Seeing she needed the help, she put her in touch with Barbara Hooper, flood relief coordinator and chapter vice president for the St. Vincent de Paul Society.
Renovations have included spraying for mold, replacing the plumbing, cleaning out air ducts, putting in new insulation, flooring and sheetrock, painting, bringing in a new bathroom vanity and faucets, and more. Work began in early September and is on track to be completed by Thanksgiving.
"It's a feeling I can't describe. To not only see how the rebuilding is coming along, but even more so the people, love, help and support has been more than I could've ever imagined," Autenried said. "It's been unbelievable seeing it all come together.
"I know we said we thought it would be better than before, but this has exceeded all my expectations," she said. "It looks absolutely amazing."
The St. Vincent de Paul Society is continuing its mission of spreading light and hope after the devastating flood as they prepare to help more families who were affected.
"They are the people who know the people. They know the families, and they know the community very well," said Father Zack Kirangu, pastor of St. Patrick Church. "They are the ones who really know who are most in need."
Helping our neighbors
St. Vincent de Paul has been able to provide relief to victims at no cost to them thanks to donations from all throughout Tennessee and the United States, Canada, other St. Vincent de Paul societies, the Knights of Columbus, churches and more. Donations have added up to approximately $20,000 worth in gift cards and more than $100,000 in cash.
"The community has really come together in the most beautiful way. I hope we find everyone a safe and nice place to live, and when that is complete, I hope we continue to help one another," said Eddie Bozman, St. Patrick chapter member and flood relief committee member. "I have seen teen-agers cleaning up trash and helping to fix up homes, so I hope to see that continue, too.
"It is important to continue to help with the relief effort because our friends and neighbors are still in need of assistance. The town is not back to normal and probably will never be," he said. "But we will continue to help by writing checks or laying flooring or whatever we can to help."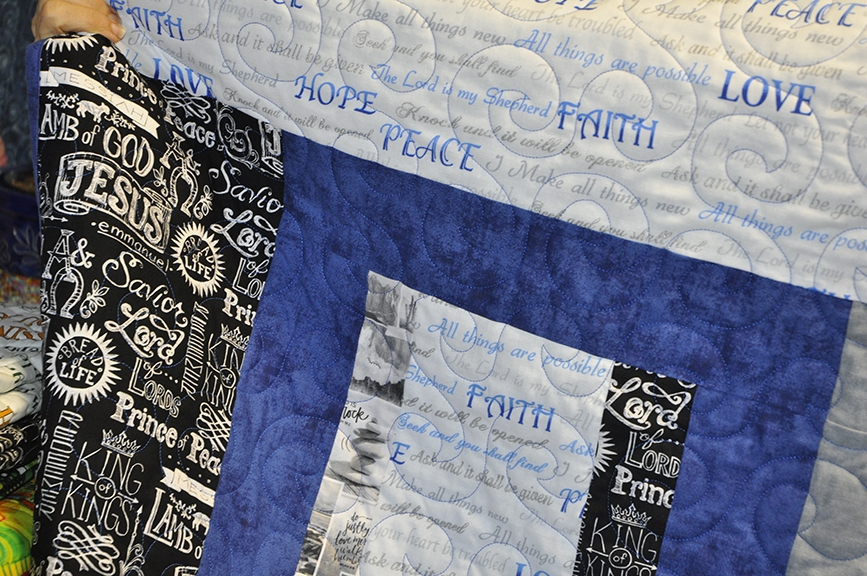 House in a box
As the conference prepares to help more families, one of their new ways to help is "house in a box," a national disaster relief program with the St. Vincent de Paul Society.
"It's the necessities for starting a home," Hooper said.
Each house in a box includes a twin mattress, full mattress, queen mattress, frames, box springs, bedding and a three-drawer chest for the bedroom; a sofa and chairs for the living room; a kitchen table; shower curtains and towels for the bathroom; and pots, pans, dishes and dish towels for the kitchen.
Each box costs about $3,200 but receiving families will not have to pay a thing, Hooper said.
Desiree Toller and her family including her husband Joseph, and their two daughters 7-year-old Peyton and 3-month-old Presley, is one family set to receive "house in a box." It's something she said they'll find helpful since their insurance only covered the home itself.
"It is very helpful knowing that we'll have some beds and things to sleep on once we do get back into our house," Toller said. "That's one thing we won't have to worry about getting expense wise."
The day of the flood, Toller said, she and her family were woken up by the flood alert, and when they first looked outside thought they had time to pack a bag and leave. But that was not the case as water began coming up through the vents in the floor.  
"I had the baby in my arms, and we put our 7-year-old on a couch to start off with then moved to the dining room table, then the countertops in the kitchen, then the loft bed," Toller explained. "That's finally where we stayed. We were trapped in the house for six hours."
But while Toller and her husband were beginning to panic, she said 7-year-old Peyton remained calm.
"She was just praying," Toller said. "She was just praying to God that we'd survive this, that our family would be safe, and that the water would go down, and we'd be able to get out."
Peyton's prayers were answered as people across the street from the Toller's home on Weems Place helped them out by tying a rope across the street that the family could hold onto while they swam out, and then 1-month-old Presley floated out in a clear container.
"We didn't want her to get wet because the water was gross and cold," Toller said. "Both my girls were dry until my oldest had to go in with the life jacket."
Now, as they make plans to rebuild, Toller said she's grateful that her family is together, and that people and organizations like the St. Vincent de Paul Society have stepped in to help.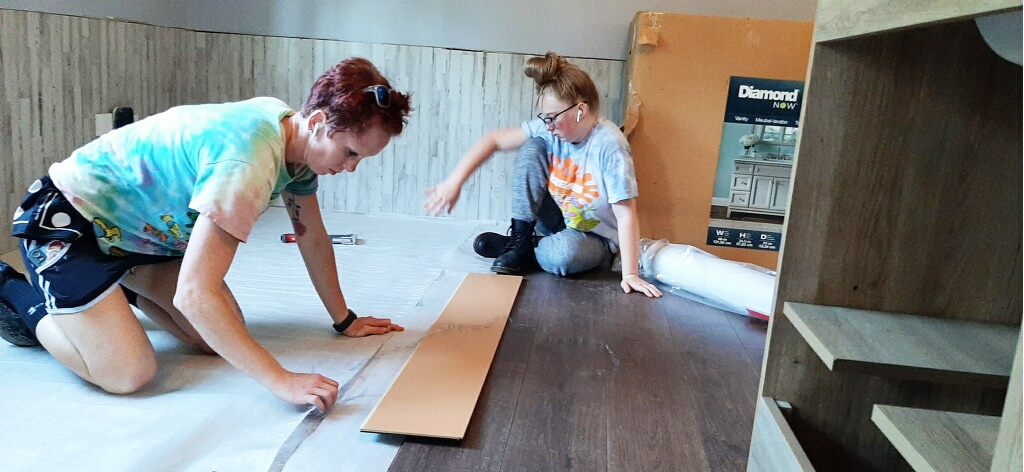 "It's a really good feeling, especially afterwards when you find out how many people did lose their lives," Toller said. "You don't really think about it because you're in your own trap. … You don't know what's going on outside.
"It was really relieving to know that I had my babies, but others did lose their babies, so I can't even imagine what kind of pain they were going through," she said. "Through it all, people have been so generous in giving us hope toward the future."
An unexpected gift
A single mom of twin boys, Desiree Sanders is another Waverly resident whose home was severely damaged by the flooding and will receive a "house in a box" from St. Vincent de Paul. The Society has even gone one step further.
Along with her home, Sanders also lost her car in the flood and had been borrowing a friend's car to get to and from work at Humphreys County Nursing Home. But then she received a call from Hooper.
"Miss Barbara called me and said, 'I have a wonderful gift for you. You're not going to have to borrow that car anymore. Someone has donated a car, and they trusted to give it to you,'" Sanders recalled. "I just started crying because I wasn't expecting it at all."
On Wednesday, Sept. 22, Sanders went to the courthouse in Waverly where she met the generous stranger.
Scott Lochbihler, parishioner of St. Christopher Church in Dickson, first made known that he wanted to donate his late mother's 2002 Mazda Tribute, when he brought it to the church where donations for flood victims were being collected Wednesday, Aug. 25.
His only request was that it be able to go directly into the hands of the person that needed it.
"How I see it is, there's a lot of people, like with the flood, who through no fault of their own get caught between a rock and a hard place," Lochbihler said. "For someone to reach out and help them like that really just lets them know that there are people out there who do care, and who do believe in helping people.
"It's not about color or race," he said. "It's just about Americans and Christians helping each other as we should."
Lochbihler went beyond just donating the car. He also filled the tank with gas, put on new tires and gave it an oil change. Additionally, Carolyn Hooper, member of the St. Patrick chapter, paid the license plate fee, which Lochbihler then installed on the car.
"For all the damage that was done (during the flood), to bypass all the red tape and all that, it was great to see it go directly to somebody," Lochbihler said.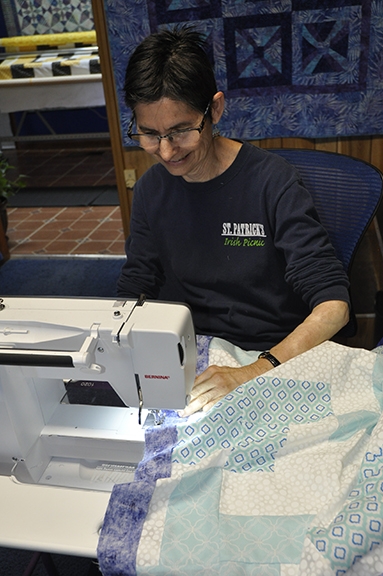 Sanders said she couldn't resist giving Lochbihler a hug when they came face-to-face.
"I tear up every time I think about it. Me being chosen, it feels amazing and awesome," Sanders said. "I thank God for getting us out of there and for the help we've been shown from complete strangers and how many friends I have gained through this situation."
Providing comfort
Renovating homes and giving financial gifts are not the only way the St. Vincent de Paul Society is serving flood victims.
Chapter member Cindy Barnes is putting her 35 years of quilting-experience to good use as she creates quilts for various victims. She has already completed and given away 12.
"It's what I love to do, and it's how I can relate to people," Barnes said. "I'm a widow and 12 years ago …when my husband died, the verse in the Bible that consoled me the most was, 'God is close to the brokenhearted,' Psalm 34:19.
"Anytime I can console somebody who needs comfort, that's my way of doing it," she said. "Everyone but one person, it has brought tears to their eyes. It makes me happy and sad because it means that much to them, but that they are still suffering makes me sad."
Autenried and her daughters, Kaydence and Skylin, all received a quilt from Barnes.
"When Barb brought the quilts, it pulled at my heartstrings because all of the ones my grandmother had made me were ruined by the flood, and it hurt my heart," Autenried said. "I have looked to get one from a few places, but it was just not the same as a handmade one coming from someone with sentimental value.
"I hope I have the opportunity to meet Miss Cindy in person and let her know how much her quilts mean to me and how much they lifted my spirits."
While Barnes said she most likely won't be able to give a quilt to everyone St. Vincent de Paul helps, she will give away as many as she can.
"My hope is that we can all just show each other that we care, that it matters to us that they're suffering, and that we want to do what we can to help them."
Related story
Recent flash flood proves blessing in disguise for McEwen resident