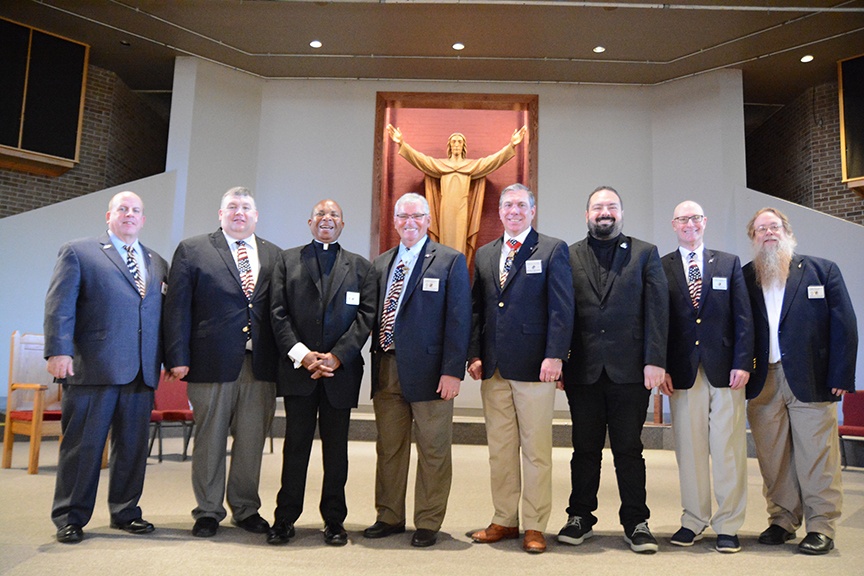 Putting Christ at the forefront of everything the Knights of Columbus do has led to enormous growth for the order in Tennessee over the last three years.
It's an approach the next Tennessee State Deputy, Fred Laufenberg of Fairfield Glade, plans to continue after his election as the top official in the state.
"It would be absolutely wrong if I deviated in any way," said Laufenberg, a member of the Msgr. Philip Thoni Council 16088 at St. Francis of Assisi Church in Fairfield Glade.
Laufenberg was elected State Deputy during the 118th Tennessee State Convention, which was held virtually April 30 and May 1 from the Catholic Pastoral Center in Nashville. He will succeed Michael McCusker, a member of the Timothy J. Coyle Council 9317 at St. Francis of Assisi Church in the Memphis suburb of Cordova, who is wrapping up his second year as State Deputy.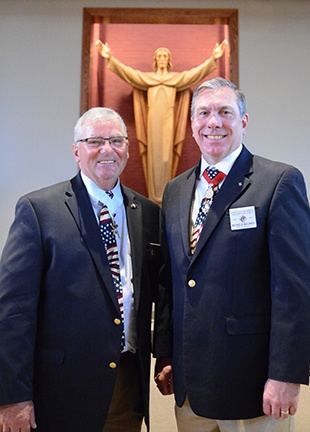 For the third year in a row, the Tennessee State Council has qualified for the Circle of Honor for meeting its quota for new members. This year the goal was 548 new members, which Tennessee reached on April 24, the earliest anyone can remember.
McCusker credited his predecessor, Immediate Past State Deputy Tracy Staller of Council 12961 at Holy Family Church in Seymour, with launching Tennessee Knights on the Christ-centered approach.
"We've focused on putting Christ at the center of everything we do as Knights," Staller said in 2019 when his term as State Deputy ended. "We found that's what most Catholic men have been hungry for. It's what they've been looking for."
In his address at the State Convention, Laufenberg said his father's wish for his children was not that they make the most money, have the biggest house or drive the most expensive car. It was that they make a difference in their communities, their church and with their families. "The Knights of Columbus, they have been a tool for me. They have been a gift to me as I try to fulfill my father's wish," he said. "It has allowed me to be in a community of good Catholic men on the same journey to get to heaven."
Laufenberg wants the Knights to help their pastors bring people back to church in the wake of the COVID-19 pandemic.
"If we can't help our priests get people back into church, practicing the faith, we don't have the opportunity to grow our order because the men are just not there," he said. "We need to get people back in the church. We need to help them feel comfortable with their faith."
The Knights of Columbus, founded in 1882 by Blessed Father Michael McGivney in New Haven, Connecticut, to help Catholic men and their families, is one of the largest Catholic lay organizations in the world with more than 2 million members in several countries. The Knights, which are open to Catholic men 18 and older, are dedicated to serving the Church, families and their communities through various spiritual and charitable activities. The Knights also offer life insurance and other financial products to its members.
Laufenberg was born and raised in Wisconsin. He served in the U.S. Army and earned a Purple Heart after he was wounded in Vietnam.
After the Army, he returned to his job with DuPont in Iowa. "I regretted not being a college graduate," Laufenberg said, so he earned an associate's degree from an Iowa community college and then a bachelor's degree from St. Ambrose University in Davenport, Iowa.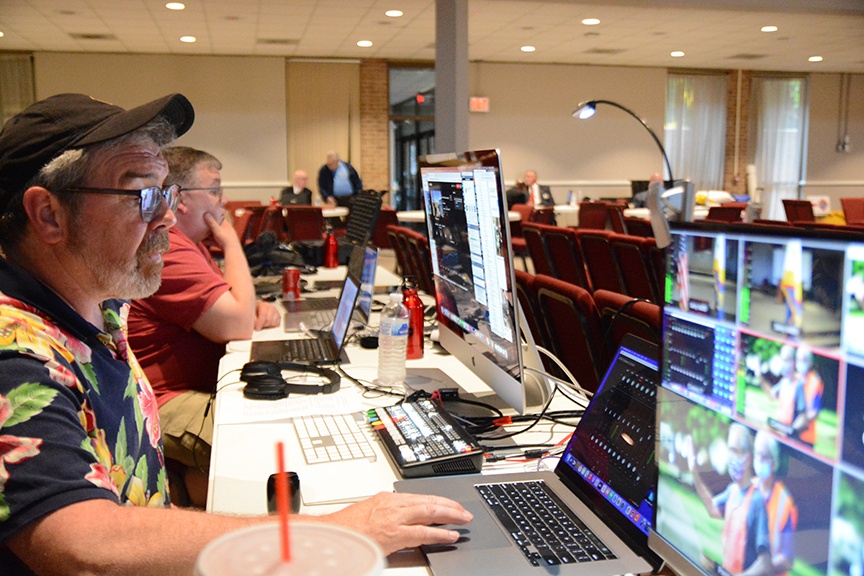 He moved into supervisory roles with DuPont and worked for the company in Missouri, Michigan, Virginia and Germany.
While living in Clinton, Iowa, he joined the Knights of Columbus in 1978. Although he continued to pay his dues even as he moved to new locations, he wasn't very active, he said.
After retiring to Fairfield Glade, his wife, Donna, told him he needed to do more than just play golf, Laufenberg said. He knew some men from the parish who were Knights and decided to get involved in the local council. That started him on a journey to several state-level positions and his eventual election as a state officer.
The tradition in Tennessee is for state officers to start as the State Warden and then advance through all the state offices – State Advocate, State Treasurer, State Secretary – before assuming the top job of State Deputy.
"I do not believe that any State Secretary has been better prepared to be State Deputy," McCusker said of Laufenberg during his address at the state convention.
His involvement with the Knights has helped him deepen his faith, Laufenberg said. "I read the Bible more now than I ever did," he said, and attends daily Mass as often as possible.
"I really want us to be focused on the Eucharist," Laufenberg said of his fellow Tennessee Knights. "I think about the Last Supper. Christ said take this … I'm giving you a gift," Laufenberg said. "With the cup, he said do this. I don't think that's an option."
Another goal for Laufenberg is "to get the insurance side and the fraternal side of the organization closer together," he said. "They are really here to help us in more ways than simply insurance."
'Proud they didn't give up'
The Tennessee State Council achieved its membership and programming goals while McCusker was State Deputy, despite several challenges, chief among them the COVID-19 pandemic.
"The two years started out terrific," said McCusker, who lives in the Memphis suburb of Germantown. Then came the deadly tornados that ripped through Nashville, Mt. Juliet, Lebanon and Cookeville in March 2020, he said. The Knights quickly mobilized to help their neighbors, donating $80,000 in tornado relief.
The tornado was immediately followed by the pandemic. "In an instant, we had to relearn and rethink how we do everything," McCusker said. That meant virtual meetings at the council and state level, including both the 2020 and 2021 state conventions. "The state has been run virtually for 14 months now," McCusker said.
"To Michael's credit, we learned how to do that," Laufenberg said. "We learned how to do that well."
McCusker is proud of the Knights' response to the tornado and pandemic, he said. "I'm proud that they did not quit. They got out and helped their communities, they helped their parishes."
Under his leadership, the state was divided into four regions, and a state officer was given responsibility for keeping in regular contact with the district and council officers for one of the regions.
"The regions are attached to a position not a person," McCusker said. So as a man moves through the state offices, he will be assigned to each of the regions and will work with Knights in every part of the state, he explained.
McCusker also was proud that the State Council didn't keep doing things just because that's the way they've always been done, he said.
At the annual mid-year meeting, council leaders from across the state would gather to listen to reports from various state officials, McCusker noted. "We need to inspire people."
This year, the state replaced its usual mid-year meeting with a livestreamed "Men of the Cross" retreat, organized by State Membership Director Jimmy Dee of Knoxville and featuring several nationally known speakers. The retreat was viewed by people in every state and 13 nations, McCusker said.
"We were able to serve not only the Knights in Tennessee, but around the world," McCusker said.
Other state officers elected during the state convention included: Bill Markiewicz of Council 4572 at St. Therese of Lisieux Church in Cleveland, State Secretary; Eric Pelton of Council 8576 at St. Jude Church in Chattanooga, State Treasurer; David Zwissler of Council 9317, St. Francis of Assisi Church in Cordova, State Advocate; and Alan Stanley of Council 9168 at St. Luke Church in Smyrna, State Warden.