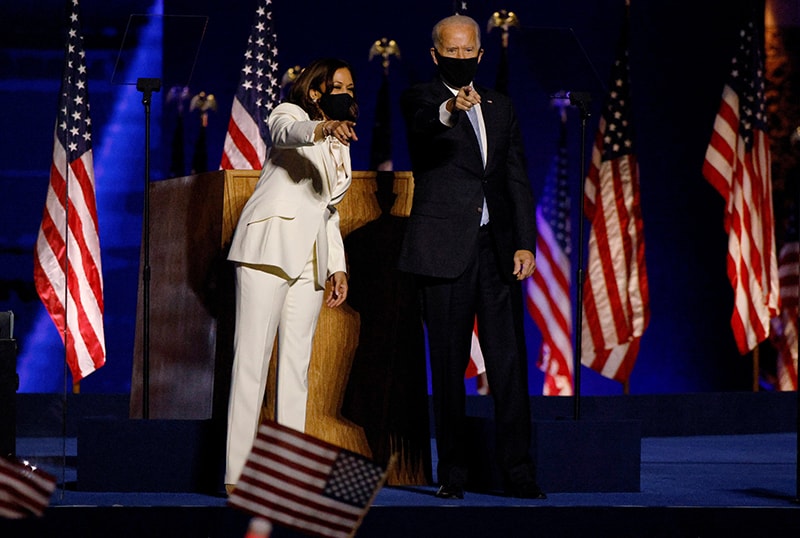 WASHINGTON. Horns blared near the White House just before noon Nov. 7 as major U.S. news organizations projected Democrat Joe Biden will be the 46th president of the United States, making him the second Catholic in the country's history to be elected to the nation's highest office.
The projection came following the announcement from Pennsylvania officials that Biden had won the state's cache of 20 electoral votes, putting him over the 270 electoral-vote-threshold needed to secure a victory. Biden's running mate Kamala Harris becomes the country's first female vice president-elect.
A few hours after the projection of Biden's victory, Archbishop José H. Gomez of Los Angeles, president of the U.S. Conference of Catholic Bishops, said it is "time for our leaders to come together in a spirit of national unity."
They also must "commit themselves to dialogue and compromise for the common good," he said in a statement issued late Nov. 7.
"We thank God for the blessings of liberty. The American people have spoken in this election," Archbishop Gomez said, congratulating Biden and Harris on behalf of the USCCB.
"As Catholics and Americans, our priorities and mission are clear," he said. "We are here to follow Jesus Christ, to bear witness to his love in our lives, and to build his kingdom on earth."
Archbishop Gomez said he believes "at this moment in American history, Catholics have a special duty to be peacemakers, to promote fraternity and mutual trust, and to pray for a renewed spirit of true patriotism in our country."
"Democracy requires that all of us conduct ourselves as people of virtue and self-discipline," he added. "It requires that we respect the free expression of opinions and that we treat one another with charity and civility, even as we might disagree deeply in our debates on matters of law and public policy."
The archbishop asked Mary, as "patroness of this great nation," to "intercede for us."
"May she help us to work together to fulfill the beautiful vision of America's missionaries and founders – one nation under God, where the sanctity of every human life is defended and freedom of conscience and religion are guaranteed," Archbishop Gomez said.
Sister Donna Markham, OP, president and chief executive officer of Catholic Charities USA, also congratulated Biden and Harris on their election.
"Now that the long and tense election process is over, it is time for us to unify as a country," she said in a statement. "In the throes of the pandemic and significant economic insecurity, too many families and individuals continue to experience great hardships. We look to your administration
and to Congress to address escalating unemployment, food insecurity and the looming housing crisis. Most especially, we call upon you to focus attention on people barely able to get by in these painful times.
"As our newly-elected president, we trust you to work with Congress in a bipartisan manner and prioritize helping those who are most vulnerable," Sister Markham added. "Clearly, we as a nation will be measured by how we have responded to the 'least of these brothers and sisters.'
On the morning of Saturday, Nov. 7, four days after election day, media organizations including CNN, The Associated Press, The New York Times and Fox News announced Biden and Harris had won the race.
Though President Donald Trump's campaign launched legal battles over votes in some electorally rich states and made allegations of fraud in vote counting, even the president's supporters, such as Fox News, said in a newscast after the race was called that they hadn't seen evidence of widespread fraud.
According to AP VoteCast, the presidential candidates split the Catholic vote, with 50 percent backing Trump and 49 percent Biden, with Latino Catholics, the second largest ethnic group in the Church, overwhelmingly casting votes for Biden.
Some Catholics said they could not support the Biden-Harris ticket because both support legalized abortion.
In reaction to announcement of the Biden win, Carol Tobias, president of the National Right to Life Committee, said the president-elect and his vice president "support radical abortion policies." She expressed regret their administration is expected to roll back "protective legislation such as the Hyde Amendment" and support taxpayer funding of abortion.
But many Catholic organizations were tweeting or released statements of congratulations for Biden shortly after news of his win.
Sister Simone Campbell, a Sister of Social Service, who is head of the Catholic social justice lobby group Network, said Catholics had voted for a range of issues.
"Catholics are not single-issue voters," she said in a statement. "Catholics rejected racism, hatred and division and embraced the politics championed by Pope Francis – a politics of love and inclusion."
Faith-based organizations that closely work with the Catholic Church on immigration issues, such as Hope Border Institute in El Paso, urged the presumptive president-elect to pass comprehensive immigration reform, to stop the building of the border wall, end a policy that keeps asylum-seekers to the U.S. in Mexico as they wait for their cases to be settled in U.S. immigration courts, and end family separations among migrants.
In a letter the organization released Nov. 7, signed by Jesuit Father Sean Carroll, executive director of the Kino Border Initiative, Sister Norma Pimentel, executive director or Catholic Charities of the Rio Grande Valley, and Dylan Corbett, the institute's executive director, they asked that special attention be given to immigrant issues along the border.
"What we need now is moral leadership to bring us together and reject hate in all forms. As a fellow Catholic, we urge you to embrace the oppressed and vulnerable in our midst, who we believe are no less than the Christ knocking at our door," the letter said.